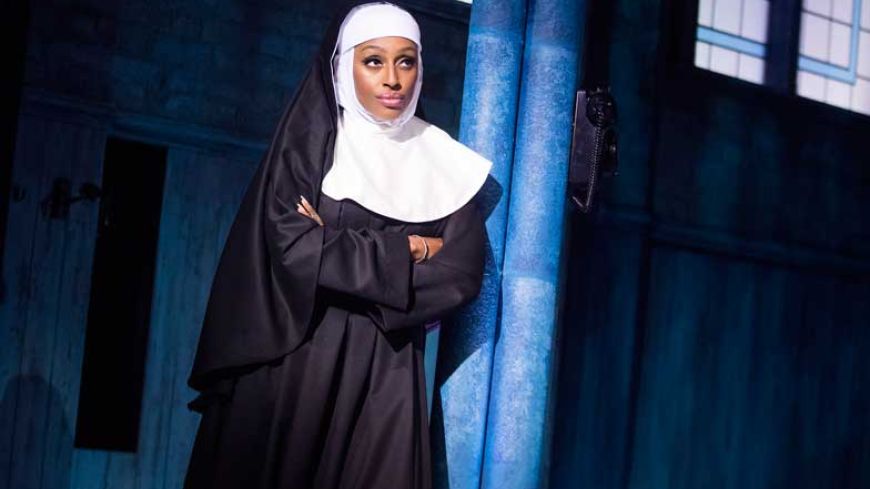 Company
Jamie Wilson presents the Curve, Leicester
Production
Craig Revel Horwood (Director/Chorographer), Sarah Travis (Musical Supervision/Arrangements), Matthew Wright (Set/Costume Designer), Richard G Jones (Lighting Designer), Richard Brooker (sound Designer), David James Hulston (Resident Director)
Performers
Alexandra Burke (Deloris Van Cartier), Joanna Francis (Michelle/Alternate Deloris Van Cartier), Karen Mann (Mother Superior), Aaron Lee Lambert (Curtis), Joe Vetch (Eddie), Sarah Goggin (Sarah Mary Robert), Susannah Van Den Berg (Sarah Mary Patrick), Lis Kitchen (Sister Mary Lazarus), Tim Maxwell-Clarke (Monsignor O'Hara), Allison Harding (Sister Mary Theresa), Ricky Rojas (Pablo), Samuel Morgan-Grahame (Joey), Sandy Grigelis (TJ), Aiesha Pease (Tina, Ensemble), Justin Wilman, Sally Peerless, Jennifer Douglas (Ensemble), Nicola Bryan, Lewis Cochrane (on Stage Swing)

Hold on to your habits, as here within the walls of the Edinburgh Playhouse the Fab-u-lous Deloris Van Cartier takes to the stage. Following the acclaimed success of The Bodyguard, the soulful sounds of Alexandra Burke have teamed up with the strictest of all, Craig Revel Horwood, to say their Four Hail (Sister) Marys.
After playing witness to her boyfriend committing murder, nightclub singer Deloris Van Cartier is relocated for her own protection. The out-spoken, limelight lover enters the safe arms of The Holy Order of the Little Sisters of Our Mother of Perpetual Faith, where she is gifted the aural disaster that is the Church Choir to keep her out of trouble. Recently called Sister Mary Clarence finds more than just refuge in the home the Lord.
Burke sashays into the role of Deloris Van Cartier, the fame hungry, habit-wearing, super-sister made famous by Whoopi Goldberg in the 1992 film. With ease and aplomb, she bounds through the score, leaving no note unblessed by her breathtaking voice. Her unfaltering energy is enhanced by the director's skillful choreography, with a step or two in every hymn and every hallelujah.
Taming Sister Mary Clarence with a firm and fair grasp, Karen Mann's Mother Superior is a match for Burke, ensuring to offer a crisp and sincere serenade against sin. She commands her eccentric band of nuns, including surprising soprano Sister Mary Robert (Sarah Goggin) and the always enthusiastic Sister Mary Patrick, through the halls of Matthew Wright's simplistic, pillared-hallway setting.
It is no doubt that Alexandra Burke's solo career aided in the gaining her place in the musical theatre world without having to play the ever eager understudy, however the energy and humble nature of her presence within the theatre was apparent throughout. She will take the rest of the U.K. to heaven on the rest this tour, then we will all wait and pray to see her again soon.
Running until 15 April
Tickets: www.atgticket.com/Edinburgh