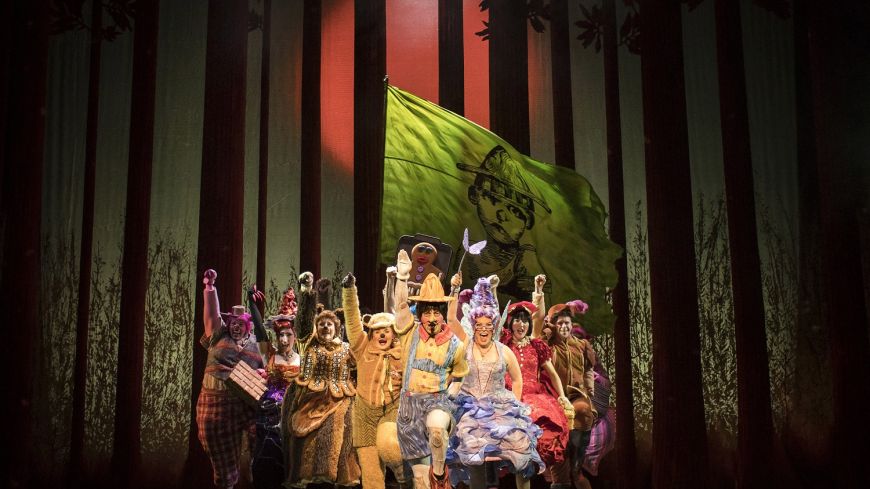 Company
Dreamworks Theatricals
Production
David Lindsay-Abaire (book and lyrics), Jeanine Tesori (music), Jason Moore and Rob Ashford (original londer production directors), Danny Groob (orchestrator), Nigel Harman (director), Josh Prince (choreographer), Tim Hatley (set, costumer, and puppet designer), Hugh Vanstone (lighting designer), Avgoustos Psillas of Autograph Sound (sound designer), Terry Jardine of Autograph Sound (sound designer), Duncan McLean (projection designer), Tim Weil (incidental music arrangements), Alan Williams (musical supervisor), Jacqui Sanchez (associate choreographer), John Clancy (associate orchestrator), David Brian-Brown (hair and wig designer), Naomi Donne (makeup designer), David Grindrod CDG (casting director), Matthew Sklar (dance music arrangements), Colm O'Regan (musical director), Jenny Sawyer (resident director), Jack Galloway (costumer supervisor), Ross Edwards (associate set design), Chris Hirst (associate lighting design), Andrew Barrett (original electronic music design), Stefan Musch (associate hair design), Craig Forrest (makeup supervisor), Richard Bullimore (production manager), Tom McEvilly (production manager), Andy Barnwell of Musical Coordination Services Ltd. (orchestral managers), Pete Harrison of Musical Coordination Services Ltd. (orchestral managers)
Performers
Steffan Harri (Shrek), Laura Main (Princess Fiona), Marcus Ayton (Donkey), Samuel Holmes (Lord Farquaad), Adam Baker (Ensemble, Understudy Shrek), Ethan Bradshaw (Swing, Understudy Pinocchio), Michael Carolan (Ensemble, Understudy Shrek), Joseph Dockree (Ensemble, Pinocchio), Will Hawksworth (Ensemble, Understudy Lord Farquaad), Sarah-Louise Jones (Ensemble), Reece Kerridge (Ensemble, Understudy Lord Farquaad), Thomas-Lee Kidd (Swing, Understudy Pinocchio), Amy Oxley (Swing, Dance Captain, Understudy Fiona), Jemma Revell (Ensemble, Understudy Fiona), Lucinda Shaw (Ensemble, Dragon), Sam Stones (Ensemble), Adam Taylor (Ensemble, Understudy Donkey), Jennifer Tierney (Ensemble, Understudy Dragon), Sophie Wallis (Swing, Understudy Dragon), Francesca Williams (Ensemble), Laura Wilson (Ensemble), Kevin Yates (Ensemble, Understudy Donkey)
Once upon a time has never been so lively, green, and grandiose with this tour of Shrek the Musical.
The saga of Shrek is much beloved by the movie's fan, but for those that haven't seen the film, here's the elevator pitch:
Shrek is a loveable (but unloved) green ogre living on his isolated swampland away from society's scorns and picthforks. In this land of Duloc, a "vertically challenged," narcissistic ruler named Lord Farquaad banishes all fairy tale creatures Shrek's domain, and, as a ploy to regain his domain, Shrek agrees to rescue a one Princess Fiona from a tower (guarded by fire-breathing dragon-ness) and deliver her to the crown-hungry Farquaad. But the heart is blind after all, as Shrek and Fiona, complete with sidekick talking Donkey, journey their way into unexpected love, friendship, and self-acceptance.
The musical takes this premise, the hilarious tongue-in-cheek humour, and quirky characters and turns up the volume, exploring more of a storyline with Farquaad, the absolute comedy star of this stage production. Everything with the stage production is ambitious, from the storybook brought to life with light projections and actors popping through the pages, the dazzling costumes, and the enchanting (pun intended) set pieces.
The cast in particular is like a bright mosaic, each piece each piece odd, distinct, and unique, and when brought together make something shiny and beautiful. Special shoutout to Pinocchio and the Gingerbread Cookie.
Princess Fiona, played by Call the MIdwife's Laura Main, leaves the crowd laughing in their seats and leaning back in awe with her powerful belt. Her take on the character is refreshingly different from that of the originally-voiced Cameron Diaz, although her American accent can at times stray into overdone.
Shrek, played by Steffan Harri, is the ultimate "unlikely hero." He's earnest yet sharp-tongued, vulnerable yet courageous, matching Fiona with the powerhouse belt.
Donkey is cutesy and definitely brings some laughs, but could take even more opportunity to ham it up for the audience. This could be due to the chemistry between this Shrek and Donkey lacking from the image in your mind, but hopefully this will develop through the run.
This production has something for kids of every age, it has fart jokes, political puns, and a plethora of musical theatre references from Les Miserables to Chicago to Dreamgirls.
Speaking of Dreamgirls... woooo, the Dragon played by Lucinda Shaw is a torch singer if you've ever heard one. Oops, there go the puns again. She comes out of left field with that voice that makes you wish she had more stage time. The life-size dragon puppet is massively impressive, and the puppeteers who operate her skilled in bringing her to life.
While it was at first deflating seeing that this production has opted to omit the trio of Fionas, child, preteen, and adult for I Know It's Today , the choice to use the character's puppet collection to play out the scene is imaginative and allows for the ending harmonies to sing out beautifully.
This was this reviewer's best Playhouse show of 2017. Ultimately, Shrek is more than just a colourful, hilarious fairytale for the stage, it's a story about loving yourself for who you are and celebrating that what makes you special, makes you strong.
Treat yourself this panto season with a topsy, hysterical, heart-warming fairytale. Shrek is playing through January 7th, 2018 at the Edinburgh Playhouse.
Runs till 7th January. Buy tickets.