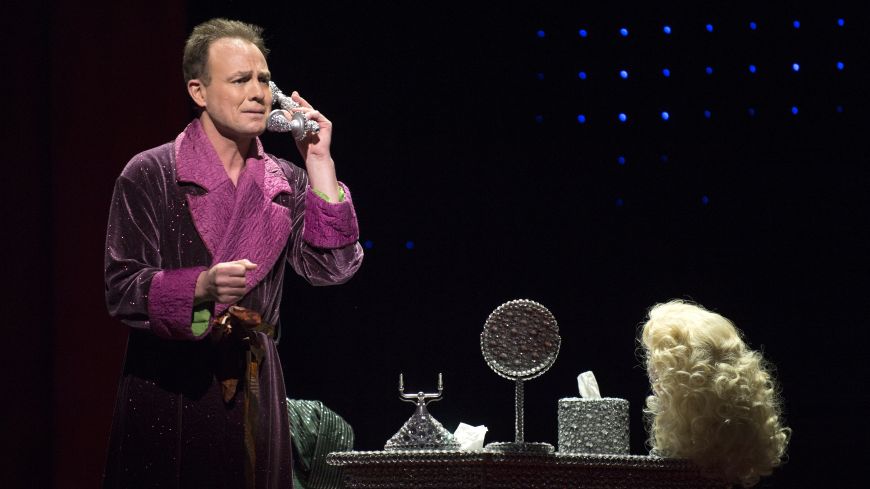 Company
avid Ian Productions/ATG in Association with Nullarbor Productions & MGM on stage
Production
Simon Phillips (Director), Stephen Spud Murphy (Music), Tim Chappel/Lizzy Gardiner (Costumes), Ross Coleman/Andrew Hallsworth (Choreography)
Performers
Jason Donovan (Tick), Richard Grieve (Bernadette), Liam Marcellino (Adam/Felicia), Philip Childs (Bob), Julie Stark (Marion), Ellie Leah (Diva/Shirley)
Priscilla Queen of the Desert, based on the rather brilliant 1994 Australian film, is a guaranteed crowd-pleaser for those looking to sit back, relax and let a torrent of Oz-infused gags and sparkly pop songs whisk them away from reality.
It's outrageously camp, high kitsch and impossibly glamorous but behind all the glitter, powder and lashes, the cacophony of colour, sequins and outrageous costumes can't cover up that this is all style over substance, as Stephen Elliot's nuances of a morality tale about making a stand against rampant sexual prejudice and stereotypes is lost in this jukebox musical of over-the-top bitchy, witty drag-queenery.
Tick (Jason Donovan) earns a living in a Sydney club as drag queen Mitzi. He accepts a gig at his wife's Alice Springs Casino to see his six year old son, embarking on a journey of nearly 2,000 miles with fellow "gender illusionist" Adam/Felicia (Liam Marcellino) and maturing transsexual Bernadette (Richard Grieve).
Their trip in the clapped out bus is one of discovery, offering opportune cues for disco hit after disco hit, as the odd trio traverse Australia and encounter both outback hospitality and homophobia.
The songs, costumes and quick paced delivery are all top-notch, with the cast clearly enjoying performing the cheese, but nearing the end of its tour – Donovan and Grieve have been touring with the show around the UK for the past 13 months – you can't help but feel fatigue from the production that seems to be simply going through the motions, with timings being notably off on this viewing, as well as the quality of some of the vocals.
While this production is not perfect, you can still have fun. Some of the snappy lines between the three leads are fantastic, the Divas are in fine voice (although disappointing that there was no flying this time around) and Frances Mayli McCann as bored, mail order bride Cynthia stole the show with her hilarious rendition of 'Pop Muzik'.
In spite of its road-weary aches and a failure to engage with the pathos of the characters, Priscilla still leaves you smiling and has the charm to get a Monday night audience off their feet and clapping along.
At the Edinburgh Playhouse until Saturday 8 March
Ticket prices
£17.90 - £48.90 (Concessions and group offers available).
Read Gordon Clayton's review of Priscilla, Queen of the Desert, Edinburgh Playhouse, 2013