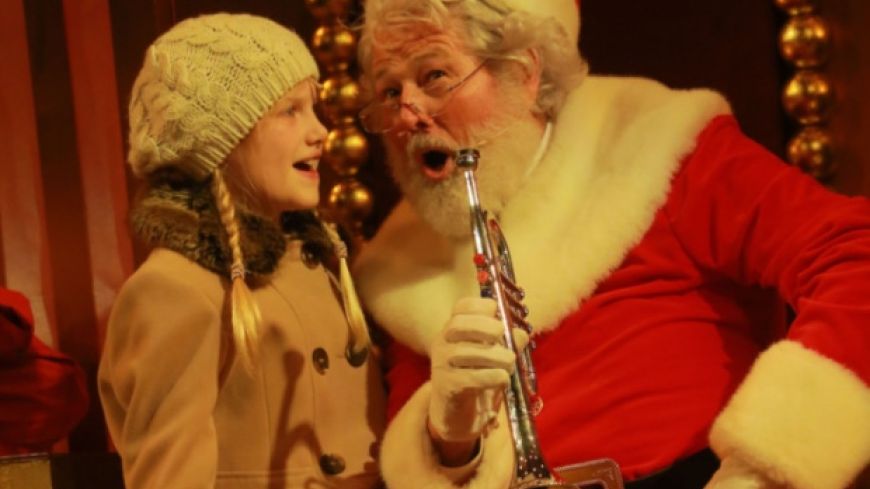 Company
Pitlochry Festival Theatre
Production
Meredith Wilson (book, music, lyrics), John Durnin (director), Adrian Rees (set and costume design), Dougie Flower (musical director, Lynn Bains (Dialect Coach), E.J Boyle (choreographer).
Performers
Isla Carter (Doris), Kirsty MacLaren (Susan), Stuart Reid (Fred), James Smillie (Kris Kringle), Scott Armstrong (Marvin), Carl Patricl (Sawyer), Robin Harvey Edwards (Judge Group), Dougal Lee (O'Halloran), Lincoln Hudson (Thomas Mara), Helen Logan (Mrs Finfer), Paul Bradshaw (Climber), Douglas Walker (Whitey), Helen Mallon (Miss Crookshank), Kirsty Malone (Hendrika's Mother). Blue team of children, Amy McVean, Eilidh Murray, Rory Stanger. The Band of Musicians.
You may have seen, (perhaps several times), "Miracle on 34th Street", the 1947 classic Christmas movie, (starring Maureen O'Hara and a young Natalie Wood). It won Oscars for Best Story and Screenplay, nominated for Best Picture as well as selected for preservation by the US Library of Congress as being "culturally, historically or aesthetically significant."
Valentine Davies had been inspired to write the story after a visit to a department store at Christmas, when he observed a mother and her disillusioned young daughter meeting "Santa Claus".
The narrative was then adapted into a Musical: In 1963 "Here's Love", with book, music and lyrics by Meredith Wilson, premiered on Broadway and ran for 334 performances. Thankfully, the curiously inappropriate title was later changed to "Miracle on 34th Street, The Musical".
Pitlochry Festival Theatre has enjoyed recent success presenting stage versions of popular, timeless Hollywood movies for their Christmas entertainment, such as last year's fabulous show, "It's a Wonderful Life."
So a brilliant choice by artistic director John Durnin to revive Wilson's rarely performed musical based on this charming Festive tale. The period setting is the late 1940s in Manhattan, New York City, between the end of November and Christmas Eve.
The stage is inventively designed. Here is a miniature New York, Empire State Building, towering office blocks, apartments, all the skyscrapers between 5 and 20 foot high.
Macy's on West 34th Street is preparing for its annual Thanksgiving Parade, the official kick off to the holiday season. Events executive, Doris Walker, is frantically trying to organise the performers, as children wave balloons and a troupe of clowns entertain the families. But a special guest is missing. Santa Claus is found drunk and disorderly and carried off in disgrace.
As if by magic, an elderly white-haired, bearded gentleman appears in the crowd and Doris persuades him to dress up in the Santa suit, climb into the sleigh to take part in the Parade.
Meanwhile Doris's young daughter Susan has met an attractive man Fred Gaily, a former marine and now a law student, whom she quickly sees as the perfect father-figure. Doris is divorced and cynical about marriage, men and romantic fantasies.
Having acted as Santa Claus, Doris persuades the jovial gentleman, Kris Kringle, to be employed by Macy's. He plays the role with extraordinary honesty, advising parents to buy wished-for toys at the rival store, Gimbels.
Not such a commercial faux-pas but a promotional gesture of good will: Macy's will be seen as the friendly store with true Christmas spirit.
True to the point that Kris Kringle admits he is the one and only, real Father Christmas.
And so the festive fairytale evolves with light hearted humour, a touch of drama and sweet romance. This is a neatly plotted play interspersed with melodic music, catchy songs (including "It's beginning to look a lot like Christmas"), and dance sequences.
Choreography in the opening ensemble scene is rather formulaic and stiffly performed, creating a rather plodding start. The routine will no doubt soon flow with Strictly Come Dancing flair.
With a seven piece band on stage, the show swings along with speedy scene changes. Manhattan street to Macy's store, Doris and Susan's arty apartment and Fred's batchelor pad next door.
The cast is excellent with some delightfully cheeky characterisations: Marvin, a hapless manager at Macy's, is portrayed with a camp voice and mincing walk by Scott Armstrong.
The Courtroom scenario is reminiscent of the TV comedy Law series, Ally McBeal: Robin Harvey Edwards (who actually resembles the Biscuit!), and Lincoln Hudson are wonderfully witty as the Judge and Prosecution Attorney.
Vintage frocks, suits, coats, haircuts and hats are spot on and feature authentic US army uniforms. Adrian Rees deserves praise for costume and set design - do keep a watch on the Empire State Building for a fun surprise!.
There are three children in the show. I saw the Blue Team – Amy, Eilidh and Rory, aged just 8, 9 and 11 - talented, confident young actors and singers.
The central roles lead the ensemble with sparkling panache. Isla Carter is a fine singer, portraying Doris as a woman of independent mind, yet hiding love in her heart. Susan is played with girlish innocence by Kirsty MacLaren while the cheery, chuckling, white bearded James Smillie is just perfect as Kris Kringle.
If this Musical doesn't fill you with festive spirit, I'll eat my Santa Claus hat!
Singalong now …
"It's beginning to look a lot like Christmas
Toys in every store
But the prettiest sight to see
Is the holly that will be
On your own front door .."
Showtimes:
28 November - 21 December, 2014.
Wed, Thur, Sat, Sun - matinees.
Wed, Thur, Fri, Sat - evenings.
Ticket prices: £15.00 - £32.50
Concessions: Seniors, family, school and group tickets
Travel advice for a great day out:
Enjoy delicious, home-cooked good food at Fern Cottage - with a warm welcome and log fires, just a ten minute walk from the theatre.
www.ferncottagepitlochry.co.uk
For a relaxing journey, take the train from Edinburgh to Pitlochry. www.scotrail.co.uk