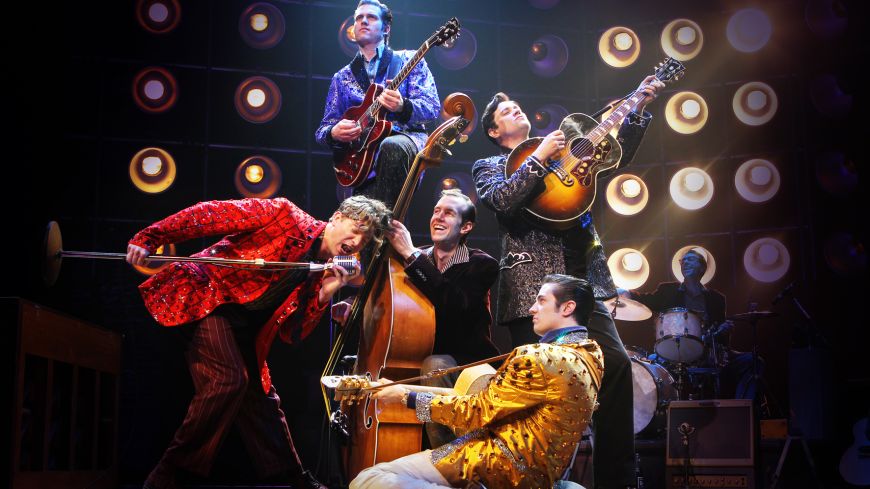 Company
Simon Friend & Mark Goucher with Tom O'Connell, Laurence Myers & Gavin Kalin Productions
Production
Ian Talbot (director), Colin Escott (book), Floyd Mutrux (concept and book), John Maher (musical supervisor & arranger), David Farley (set and costume design), David Howe (lighting designer), Ben Harrison (sound designer), Lizzi Gee (movement director), David Grindrod CDG (casting director), Tulchin Bartner Productions (associate producer), Just for Laughs Theatricals (associate producer), Phil Bartlett (assistant director), David Ferrier (production manager), Natasha MacMurdie (costume supervisor), Linda McKnight (wig supervisor), Peter Barnett (company manager), Charlotte Mechan (deputy stage manager), Chris James (head of sound), Robert Tweedie (deputy head of sound), Rebecca Barnett (head of wardrobe), Nick Newman (production sound engineer), Andy Fugle (production sound engineer), Sonic Harrison (production electrician), Jim Compston (production carpenter), Paddy Brant (props supervisor)
Performers
Martin Kemp (Sam Phillips), Rhys Whitfield (Elvis Presley), Matthew Wycliffe (Carl Perkins, Understudy Jerry Lee Lewis), Robbie Durham (Johnny Cash), Martin Kaye (Jerry Lee Lewis), Katie Ray (Dyanne), James Swinnerton (Bass/Jay Perkins), Ben Cullingworth (Drums/Fluke), Philip Murray Warson (Understudy Carl Perkins/Sam Phillips/Resident MD), Mitchel Baggott (Understudy Elvis Presley/Johnny Cash), Jennifer Caldwell (Understudy Dyanne/Resident Director & Choreographer),
Four legends. One night. Rock 'n' roll history!
The scrim in front of the set welcomes you as you usher into your seat, "On December 4th 1956, one man brought Johnny Cash, Jerry Lee Lewis, Carl Perkins, and Elvis Presley to play together for the first and only time."
Sam Phillips was that man, the "Father of rock 'n' roll." With Million Dollar Quartet, he's invited you into his Sun Records Studio to hear the tunes that made legends out of ex-service men, poor country boys, and truck drivers alike. The spectacle has the audience transported right into the throngs of Memphis, bringing to life favourite hits like That's All Right Mama , Real Wild Child , Fever , Hound Dog , Walk the Line , and Blue Suede Shoes .
Martin Kaye, this production's Jerry Lee Lewis-- man, this guy can play! Jumpy legs and laughs aplenty, he's the charmer of the bunch. Lightning fast hands and boundless energy, Kaye drives the show.
Martin Kemp playing Southern-drawled, Alabama boy Sam Phillips is host to the evening, guiding the plot and dialogue as the connecting force between the four powerhouses. What MIllion Dollar Quartet gets right where other jukebox musicals often miss: the plot doesn't feel contrived and arbitrary, it actually flows in a clever, succinct, and delightful way around the numbers throughout the show.
With pelvic thrusts, behind-the-back guitar swinging, and the rubber leg, Rhys Whitfield as Elvis Presley invokes "The King" but without ever becoming a caricature of the man, really all four legends succeed in doing this. And, great balls of fire, does Whitfield have a most dulcet and bolstering voice. Robbie Durham as Johnny Cash has a hunky tambre, such an impressive bass, and his demeanor as Cash is spot on. Matthew Wycliffe as Carl Perkins is entertaining, but is outshined by the other three, though this may be due more to writing than anything else. Katie Raye has a rockabilly swing and bluesy voice suited for her role as Dyanne, but the direction of the kissyface schtick with Presley goes on a bit too long.
It seems as if the audio design aims to create a sound with a stark contrast between studio mics and regular amplification for the show. While this evens out towards the end, the first half was hard to understand at times. Audio issues notwithstanding, the production's shining moments come through when the four come together in harmony. Unanimous shivers overtake the audience in Peace in the Valley .
With outstanding accompaniment on bass and drums by James Swinnerton and Ben Cullingworth, Million Dollar Quartet is a night of nostalgia that is not to be missed. Ending with a recreation of the picture taken of the original four those many years ago, this production will touch your soul.
24-28 October 2017
7:30