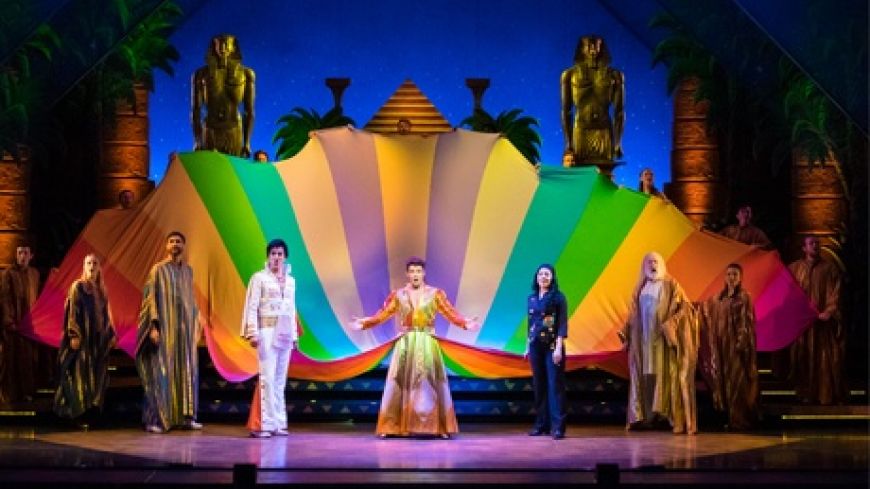 Company
Bill Kenwright (Director)
Production
Henry Metcalfe (Choreographer/Associate Director) Sean Cavanagh (Designer) Nick Richings (Lighting Designer) Dan Samson (Sound Designer) Richard Morris (Musical Director) Alex Stewart (Costume Supervisor)
Performers
Joe McElderry Lucy Kay, Henry Metcalfe, Ben James-Ellis, George Knapper, Sallie-Beth Lawless, Lewis Asquith, Richard J Hunt, Matthew McCabe, Michael Colbourne, Michael Lapham, Matt Jolly, Will Breckin, Darren Charles, Lloyd Green, Amana Jones, Gemma Pipe, Kevin Grogan
Once again Tim Rice and Andrew Lloyd-Webber's hit musical makes its way around the UK for the 50th Anniversary Tour, this time with 2009's X Factor winner Joe McElderry at its head. Landing in Edinburgh for ten performances, this dazzling, swinging band of biblical songbirds waft many, many colours onto the Playhouse stage.
It is something of a miracle that a show such as this – almost literally the oldest story in the book – is still running in 2017.
The story tells of how Joseph, the favourite of Jacob's 12 sons, sees the meaning of dreams. Jealousy (and questionable parenting) leads to Joseph's exile into Egypt where he stumbles into the employ of the Pharaoh, saves all of Egypt and is reunited with his family.
Rice and Lloyd-Webber camped up this Bible story in 1968 and not an awful lot has changed since then. Perhaps the most notable difference has been to cast the biggest role of the Narrator as a woman, in this production skilfully handled by Lucy Kay. She has some fantastic money notes (if a tad unnecessary) and leads the story and the young chorus wonderfully, and is refreshing in this male-heavy show.
McElderry is sadly more of a name than a leading man. He keeps up with the production and the 100mph cast but whenever he sings it is more X Factor than musical theatre. Still, if Joe McElderry is what you go to see, you will see a lot of him.
Joseph's eleven brothers steal what remains of the show with their dance routines and comedy timing. Partly Rice's lyrics, partly the camaraderie of the eleven lads playing the brothers make their every number a highlight; add to that the three wonderful dancers, Amana Jones, Sallie-Beth Lawless and Gemma Pipe and you have a strong ensemble that do what they do, and do it brilliantly.
Vocally, Ben James-Ellis could have mastered a less ridiculous role, but as there aren't many of these in Joseph you have to hand it to him that his Elvis-Pharaoh was a show in itself.
Joseph has never tried to be anything other than a raucous sing song, and this production does not disappoint in the slightest. The show is successfully 'the gayest the Bible has seen' and if you don't look too closely, it's sure to be a tongue in cheek, good for laughs night out.
Running until 18th March, 2.30pm, 5pm, 7.30pm, 8pm.