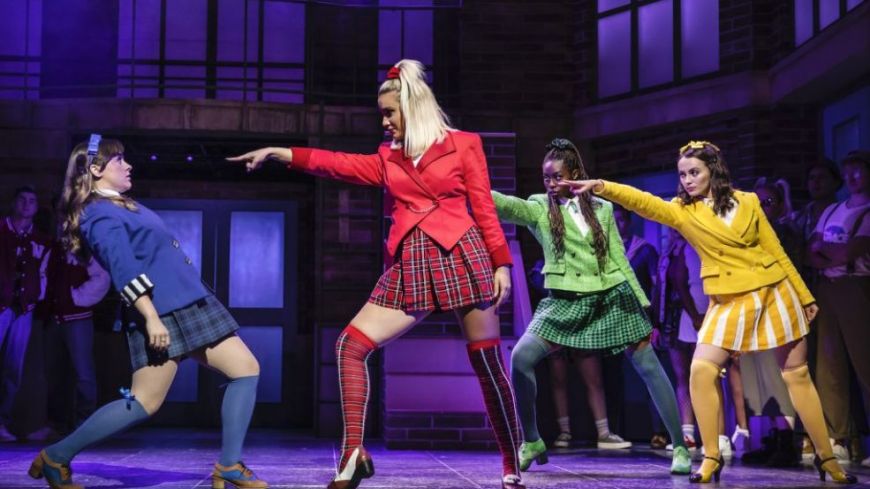 Company
Bill Kenwright and Paul Taylor-Mills
Production
Andy Fickman (Director), Phil Cornwell (Musical Director), Gary Lloyd (Choreographer), David Shields (Designer), Ben Cracknell (Lighting Designer), Dan Samson (Sound Designer)
Performers
Rebecca Wickes (Veronica), Simon Gordon (J.D.), Maddison Firth (Heather Chandler), Merryl Ansah (Heather Duke), Lizzy Parker (Heather McNamara), Georgina Hagen (Ms. Fleming/Veronica's Mom), Mhairi Angus (Martha), Liam Doyle (Kurt), Rory Phelan (Ram), Andy Brady (Kurt's Dad/Veronica's Dad/Principal Gowan), Kurt Kansley (Ram's Dad, Big Dud Dean, Coach Ripper), Benjamin Karran, Sam Stones, Callum Connolly, Rhiane Drummond, Bayley Hart, Daisy Twells, May Tether (Ensemble)
A horror love story with high school peppy angst at its core, this dark comedy entertains and delights despite an obnoxious narrative and little character redemption.
The musical is home to every genre now, and cult film classics have carved out a niche here with Heathers defiantly setting up camp right in the middle as it tackles Daniel Waters' 1988 cult hit starring Winona Ryder and Christian Slater. Yet unlike some adaptations, Kevin Murphy and Laurence O'Keefe's stage version could easily standalone as it doesn't rely on the source material for over-the-top nostalgia, instead offering a gritty parody that jilts, lilts, shocks and stirs in expected and unexpected ways.
Yet the source material poses potentially too big a bite of the apple. We follow outsider Veronica Sawyer (Rebecca Wickes) as her forgery skills see her accepted by Westerberg High's supreme clique trio Heather Chandler (Maddison Firth), Heather Duke (Merryl Ansah) and Heather McNamara (Lizzy Parker). But it's not long before peer-pressure sees Veronica betraying her best friend Martha (Mhairi Angus) and clashing with the inner circle, plus there's the additional disruption of the arrival of misanthrope J.D. (Simon Gordon) seeing things take a sinister turn with murderous intent, as he aims to eliminate the popular students with Veronica's unintentional help.
Dealing with many serious issues and themes – abuse, childhood trauma, mental health, bullying, homophobia, bulimia, rape culture and suicide – but only with the slightest hint of emotion, the action feels rushed to tick off references with Andy Fickman's direction delivering a zealous presentation played for laughs, with much of the comedy feeling over the top, jarring and a bit cringe. An extra complex layer to the preppy caricatured deliveries would improve this dedication to the glorification of a modern, mean-spirited current culture and strengthen the finished product.
Having said that, the ensemble cast deliver with precision and aplomb, led by an outstanding Rebecca Wickes who almost steals the show with her commanding turn as Veronica, with powerful vocals that can handle the strident compositions, like the standout 'Dead Girl Walking'. A mention must also go to Lizzy Parker and Mhairi Angus who both create highlight moments with heartfelt renditions and beautiful vocals.
The teen-angst pop rock sound suits the subject matter well, although most numbers are unremarkable and cacophonous. Ben Cracknell's lighting sets the varying scenes and moods perfectly as slick visuals and pounding rhythms collide in unashamed confidence, despite many chunks of lyrics hard to make out even though they drive forward the story. David Shields' sharp and bright costumes complete a spectacular visual package with a mostly static set allowing the action to remain the focus.
The best way to summarise this show is a mixed bag music showcase splattered with a lot of death, yet it gave everyone in the auditorium life, apart from a few who'd like a bit more substance with their slayings.
Heathers The Musical is on at the Edinburgh Playhouse until Saturday 11 December.
© Lindsay Corr, December 2021