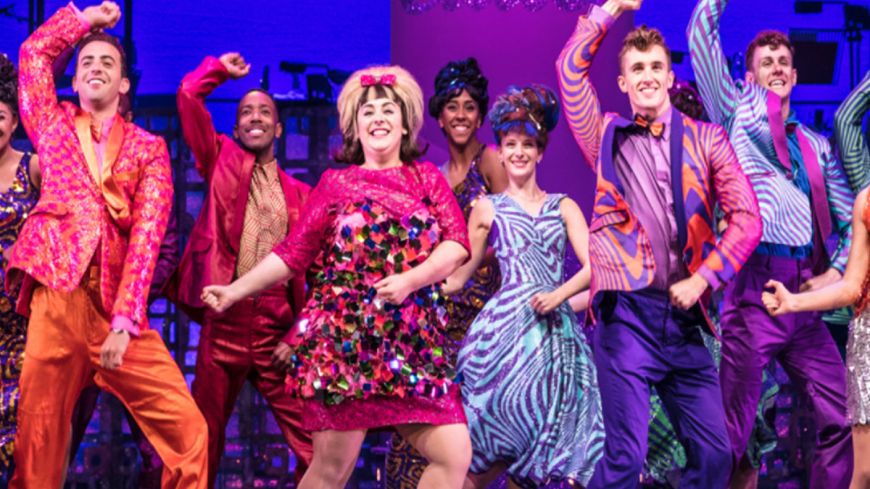 Company
Matt Goucher, Matthew Gale, Laurence Myers
Production
Paul Kerryson (Director), Drew McOnie (Choreographer), Ben Atkinson (Musical Supervisor), Takis (Set & Costume Design)
Performers
Matt Rixon (Edna Turnblad), Norman Pace (Wilbur Turnblad), Rebecca Mendoza (Tracy Turnblad), Brenda Edwards (Motormouth Maybelle), Layton Williams (Seaweed), Jon Tsouras (Corny Collins), Gina Murray (Velma Von Tussle), Aimee Moore (Amber Von Tussle), Annalise Liard-Bailey (Penny Pingleton), Edward Chitticks (Link Larkin)
Bigotry is at the heart of John Waters' most commercial success, Hairspray, and the message remains in its musical adaptation too. Unfortunately, bigotry is still all too relevant today, so the enduring appeal of shows like this is surely the hope they encompass – and in this case that message will dazzle you in the face with neon, sequins, big characters and big hair.
Naively upbeat and chubby Tracy Turnblad (Rebecca Mendoza) is transformed from chunky outsider to teen sensation thanks to Corny Collins (Jon Tsouras) and his local dance show, bringing her hefty mother Edna (Matt Rixon) and seemingly loony father Wilbur (Norman Pace) along for the ride.
On her journey, Tracy's eyes are opened to the realities of a less than perfect world. Not only does she fall foul of devious producer Velma Von Tussle (Gina Murray) and her carbon copy daughter Amber (Aimee Moore), but more gravely, the injustice of being black in a racially divided 1962 Maryland. With her optimism undeterred, she sets out to be crowned Miss Hairspray, end segregation and win the love of heartthrob Link (Edward Chitticks).
Mark O'Donnell and Thomas Meehan's book is a celebration of difference with a saccharine sweet layer covering the latent undertones of Waters' original. It's a strange mix; the edginess of Waters' original conception and latent sexual repression in teenagers, the seriousness of the race issue and the inevitable sweet delivery dominant in a feel-good musical of this calibre.
Yet it works. At its heart, this production is about the triumph of youth culture – the optimistic belief that the future will improve on the present with bigger-boned, darker-skinned and otherwise different folk taking revenge on the bigots and squares that conspire to keep them down. The show softly spoofs itself with sophisticated, tongue-in-cheek jokes sprinkled throughout the toe-tapping numbers, but some of the newer content (or ad-libs on the night) didn't always land so well.
Marc Shaiman and Scott Wittman lyrics and music replace the film's 60s soundtrack, energetically recalling the beats and tricks of early R&B records that will stay stuck in your head long after the show. A mention must go to The Dynamite trio (Emily-Mae, Melissa Nettleford, Lauren Concannon) for their stunning vocals during the contagious 'Welcome to the 60s' and Brenda Edwards' powerhouse performance of 'I Know Where I've Been', reprising her role as Motormouth Maybelle from 2015.
Mr and Mrs Turnblad's number 'You're Timeless to Me' is a great moment in the show and giving it their own twist, Pace and Rixon have wonderful chemistry to deliver a moving song of love and affection, with corpses and ad-libs on the night adding laughter aplenty from an audience lapping it up.
Mendoza's's Tracy is unflaggingly chirpy although her over the top approach can get slightly grating and her stalwart, sheltered best pal Penny is down played by Annalise Liard-Bailey, and a bit too Ariana Grande for this reviewer.
The omnipresent giddy eroticism that communicates as readily to teenagers today as it did in the swinging 60s means this show will always strike a note with the peers it is aimed at underneath the racial tension. The stellar cast performs with an abundance of energy creating an electric, buoyant atmosphere, filling Takis' stripped down, cartoon-esque set for easier touring, with the focus remaining on the characters and action, ensuring the light-hearted approach is emphasised and seamless set changes.
This exuberant production, like a can of hairspray, chokes all resistance and smothers all in its course, showcased in the finale as audience members leapt to their feet, encased in the energy of a show telling you to flaunt your inner self, and don't stop the beat.
Hairspray is on at the Edinburgh Playhouse until Saturday 17 March 2018