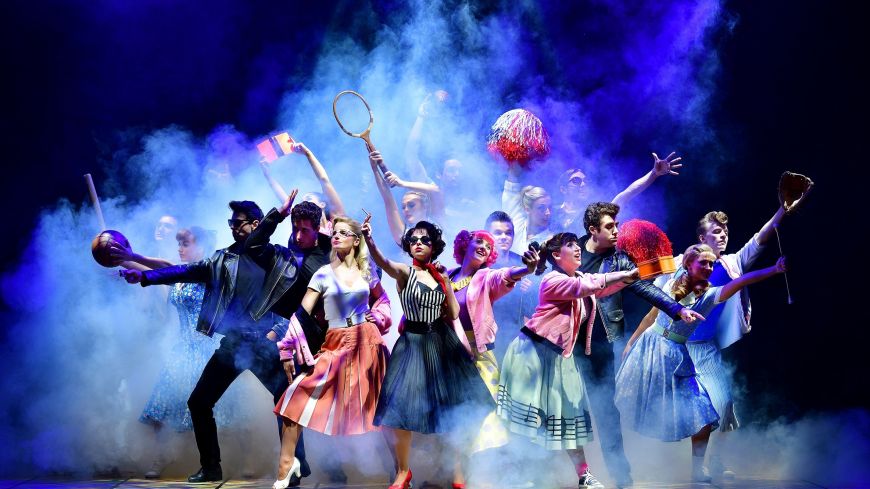 Company
Paul Nicholas & David Ian Associates Ltd
Production
Jim Jacobs (Book, Music and Lyrics), Warren Casey (Author, Composer and Lyricist), David Gilmore (Director), Griff Johnson (Musical Director), Arlene Phillips (Music Staging and Choreographer), Terry Parsons (Set Designer), Andreane Neofitou (Costume Designer), Mark Henderson (Lighting), Bobby Aitken (Sound)
Performers
Tom Parker (Danny), Danielle Hope (Sandy), Louisa Lytton (Rizzo), Tom Senior (Kenickie), Ryan Heenan (Doody), Oliver Jacobson (Roger), Michael Cortez (Sonny), Rhiannon Chesterman (Frenchy), Rosanna Harris (Jan), Lauren Atkins (Marty), George Olney
(Teen Angel / Vince Fontaine), Callum Evans (Eugene), Gabriella Williams (Patty), Ailsa Davidson (Miss Lynch), Natasha Mould (Cha Cha)

Anthony Hughes, Rory Phelan, Grant Thresh, Charlotte Coggin, Alessia McDermott, Anna Murray (Ensemble)

The title track of this hit show states 'It's got groove it's got meaning', as Grease tours with a fresh cast that don't quite electrify but cannot be faulted for enthusiasm.
Billed as a slick and fast-paced show, it's one of the best-known musicals; the easy combination of 50s rock n' roll paired with teenage angst a winning formula for a frothy jaunt through catchy tunes and gyrating torsos.
But if you're expecting characters like those in the iconic film version, which celebrates its 40th birthday next year, look away now, as the stage has no time for storytelling, with cliched characters only to drive forward the loose plot.
Its strength lies in some impressive set pieces utilising the ensemble, fantastic costumes by Andreane Neofitou (I want Rizzo's purple dress) and great choreography by Arlene Phillips. Yet, just like Danny and the T-Birds, this is all style with very little substance.
Taking on the lead roles of Danny and Sandy are Tom Parker of The Wanted fame and Danielle Hope, winner of smash BBC hit Over the Rainbow in 2010, who aren't bad at making sure they put their own stamp on the characters, albeit a light one.
Parker has the strut for Danny down, but his vocals are nasally lazy and he isn't much of a dancer. While Hope has a powerhouse of a voice used best in Hopelessly Devoted and Look at Me, I'm Sandra Dee (Reprise), she seemed to struggle with characterising the Goody-Two-Shoes-Come-Sex-Goddess.
The best number was We Go Together at the Rydell High School bleachers, sending the audience out for an interval drink to come back whooping stronger for the second act. The motley crews of Pink Ladies and T-Birds bring great energy, with a special mention for Ryan Heenan's Doody and impressive do whooping and ohhh's from George Olney's Teen Angel/Vince Fontaine.
However, Louisa Lytton as Rizzo is a disappointment. The talented actress can deliver the lines well, but she looks physically uncomfortable singing, with There Are Worse Things I Could Do a missed opportunity with subpar vocals.
At the end of the day, though, this is all about enjoying yourself, which the Playhouse audience did in abundance for the show's opening night in the capital.
In its simplest form, this is a slice of life from the teenage perspective, on the precipice of adulthood while trying to find yourself amidst societal expectations – an issue that's just as prevalent today, with a hopeful message, once again in the title track, which states, 'We start believing now that we can be what we are.'
Overall though, if Grease is the word, this one could use a bit more lubrication.
Until Sat 16 September