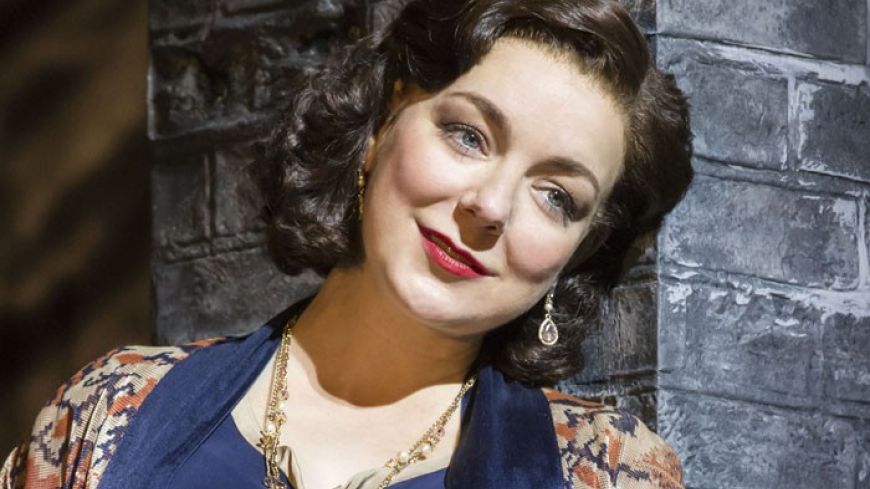 Company
The Menier Chocolate Factory
Production
Michael Mayer (Director), Lynne Page (Choreographer), Michael Pavelka (Set Design), Matthew Wright (Costume Design), Mark Henderson (Lighting Design), Richard Brooker (Sound Design), Alan Wiliams (Musical Supervision & Arrangements), Chris Walker (Orchestrations), Ben Van Tiernen (Musical Director).
Performers
Sheridan Smith (Fanny Brice), Jennifer Harding (Emma/Mrs Nadler), Lloyd Davies (John/Cornet Man/Ensemble), Myra Sands (Mrs Strakosh), Zoë Ann Bown (Mrs Meeker), Rachel Izen (Mrs Brice), Joshua Lay (Eddie Ryan), Martin Callaghan (Mr Keeney), Peter Nash (Cornet Man/Ensemble), Alexandra Waite-Roberts (Bubbles /Ensemble), Brontë Lavine (Ensemble), Alexandra Wright (Polly/Ensemble), Sam Wingfield (Ensemble), Gillian Parkhouse (Vera/Ensemble), Flora Dawson (Mimsey/Ensemble), Chris Peluso (Nick Arstein – advertised), Darius Campbell (Nick Arnstein -Performed), Tom Partridge 9Direcotr/Renauldi/Ensemble), Nigel Barber (Florenz Ziegfeld).
A rose of sheer perfection, Sheridan Smith has the UK's largest auditorium upstanding - loud and applauding - and even after the career she's had she still can't believe it. Tears prick her eyes at a curtain call to rival the best of them. Smith truly is the greatest star by far. In her biggest role yet, Britain's most captivating actress humbly treads the boards of theatres across the UK offering the performance of a lifetime.
Funny Girl tells the true story of Fanny Brice's rise to stardom and her doomed relationship with Nicky Arnstein, a man with a love for cards, dice and horses. Sitting wistfully in her dressing room at the New Amsterdam Theatre in a 1927 New York, Brice's nostalgia begins to spill onto the stage and the story of her career unfolds.
Originally embodied in 1964 by Barbara Streisand, the story of Brice became renowned and Streisand became a household name. 2015 saw the first revival of Brice's furs at The Menier Chocolate Factory, and after a run at Savoy Theatre, here she is in Edinburgh.
Impeccable in execution, each element of the production was unfaltering from start to finish, but yet the show still belongs to Smith. Overflowing with charm, her hilariously heartfelt portrayal of Brice filled the auditorium with a never-ending stream of giggles and tears. Much like Brice, Sheridan Smith possesses a broad smile that feels as if she were sharing a joke between two friends, not a full 3,000-seat auditorium.
Popstars contestant and Incredible singer Darius Campbell plays with undeniable weight (and height) the troubled, once devil-may-care husband, Nicky Arnstein. Somber, seductive and supportive, he strides alongside Smith in a perfect performance.
Fresh from playing Les Misérables's Madame Thénardier on Broadway, Rachel Izen plays a matriarchal Mrs Brice, with her impressively energetic rendition of Who Taught Her Everything She Knows alongside unrequited love, and tap dancing teacher Eddie played by a puppy-dog-eyed Joshua Lay.
Backed by her own 'Henry Street' community of supporting stars and creatives, Sheridan Smith is still the much-loved star. I'm not sure about Florenz Ziegfield popping in to offer her top billing but it is safe to say our adored, jack-of-all-acting-trades cum National Treasure is sure to be heading to Broadway in years to come.
Running until Saturday 22nd April At Edinburgh Playhouse.
www.atgtickets.com/Edinburgh
Further tour dates:
http://www.funnygirlthemusical.co.uk/uk-tour/