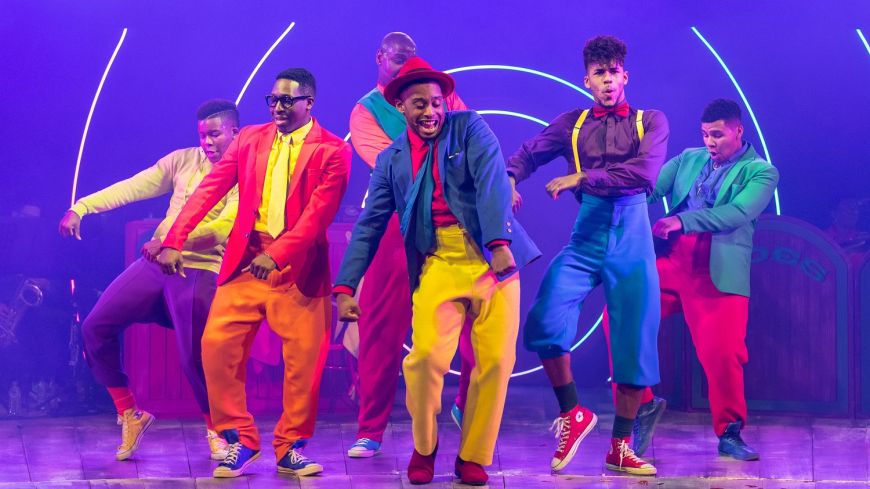 Company
Underbelly Productions
Production
Paulette Randall (director), Jason Pennycooke (choreographer), Tom Rogers (set and costume), Philip Gladwell (lighting), Ben Harrison (sound), Joseph Roberts (musical director)
Performers
Cameron Johnson (Big Moe), Jacob Maynard (Know Moe), Matt Mills (Nomax), Emile Ruddock (Eat Moe), Spin (Four-eyed Moe), Mitchell Zhangazha (Little Moe)
The storyline in Clarke Peters's hit is one of the most slender in comedy musical history: Nomax has the blues as he's lost his girl. Does he go woo her to get her back or draw a line and move on?
He's advised by five guys, named Moe, who, a bit like the ghosts of Christmas past, give advice in the form of Louis Jordan's songs.
Jordan is not a well-known name but his songs are, they were covered by everyone from Bing Crosby to Michael Bublé. Jordan sang with Ella Fitzgerald in the 1940s and his best-remembered numbers are "Ain't Nobody Here But Us Chickens" and "Is You Is Or Is You Ain't".
The guys make their appearance with the aid of glitter cannons and the walls and pillars of the Spiegeltent venue light up as if someone is pouring wild cocktails into them. The round, catwalk stage could double as a baggage reclaim carousel. There's a real danger of going home whistling the decor.
The Mos give guidance on how to straighten up and fly right with one even suggesting he leaves Lorraine ("stay safe, sane and single").
The songs come one after the other in almost hysterical haste – there's jazz, calypso, bebop, boogie-woogie and the swing-inflected "jump blues" that Jordan was famous for. There are even hints of rock 'n' roll that the entertainer helped pioneer back in the 50s.
Considering that some of the performers are not the fittest looking dancers, all acquit themselves well and even if the show doesn't always have the precise zip it should (the rather sedate Edinburgh audience was most reluctant to take up the boys' invitation to join a conga line and dance round the luggage belt) this is a tremendous show – wild, colourful and fearsomely feelgood and best enjoyed after a couple of cocktails. And for the coming Christmas season only Scrooge could complain about a bit of table-top tap-dancing.
Fri 18 November 2016 - Sat 7 January 2017 at 7.30pm