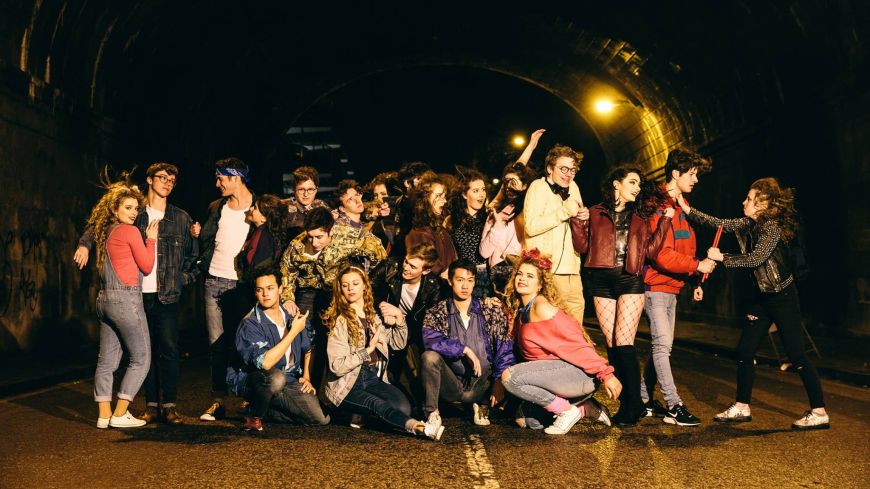 Company
Edinburgh University Footlights
Production
Caitlin Powell (Director), Caili Crow (Choreographer), Carey Andrews/Brodie Smith (co-musical directors)
Performers
Mimi Joffroy (Carmen), Adam Makepeace (Nick), Alice Hoult (Serena), Matt Galloway (Joe), Hannah Barnetson (Iris), Liam Bradbury (Jack), Connie McFarlane (Mabel), Andrew Hay (Schlomo), Brett McCarthy-Harrop (Lambchops), George Tomsett (Goody), Doug Stephenson (Mr Myers), Mhairi Goodwin (Miss Sherman) Anna Lawrence (Ms. Bell), Matthew Storey (Mr Scheinkopf)
This class of '84 is something special! This show gets off to a quiet start with the "wannabees" awaiting news about getting a place in the Performing Arts School, with the formidable Miss Sherman then issuing a warning that it is a School and that you need to succeed at your studies as well as honing your stage skills.
The quality of Nick's (Adam Makepeace) opening song is then replicated throughout the show. 'Fame' is set in the 80's in the aforementioned Arts School but is not so last century, as it deals with so many issues that are still current today. This adds some gravitas to a thin storyline mainly about the various couples and how their relationships develop.
While this Edinburgh University Footlights production is full of quality direction, choreography and performances, Mimi Joffroy is outstanding as the fiery but flawed Carmen. Mimi is your dream leading lady, she holds centre stage as if she was born to it and basically wherever she is on stage is centre stage.
Alice Hoult as Serena is in a much softer role, but there is a lot to admire about both her acting and singing. She and Adam Makepeace work well together. Equally the dancing couple, Iris and Jack (Hannah Barnetson and Liam Bradbury) catch the eye although I am no expert maybe some of the lifts were a bit shaky but that apart they were excellent. Connie McFarlane emerges in Act Two with a mighty delivery of Mabel's Prayer well supported by the ensemble who were excellent throughout.
Matt Galloway as the gallus guy and Andrew Hay as the geeky Schlomo perform their contrasting roles with style. It is a pity that the writers did not develop the parts of Lambchops and Goody as the actors seem to have a lot to offer.
In a young cast, the hardest roles are those of the mature adults and credibility can be a problem but not here. In the duet - or is it a duel? - between artistic and academic teacher's view of what is important, the lyrics, while powerfully rendered, were lost as the band seemed to prevail on the singers.
In an era of talent and reality shows, the achievement of fame or infamy is very current so this production will strike a chord with its new audience. There are a couple of scenes that might make it suitable for 14+ years. Last night's audience was mainly student age but most left the theatre with smiles at the end of a great show. It's a professional level show at amateur prices.
Runs to 10 February, 7.30pm (Saturday matinee, 2.30pm)