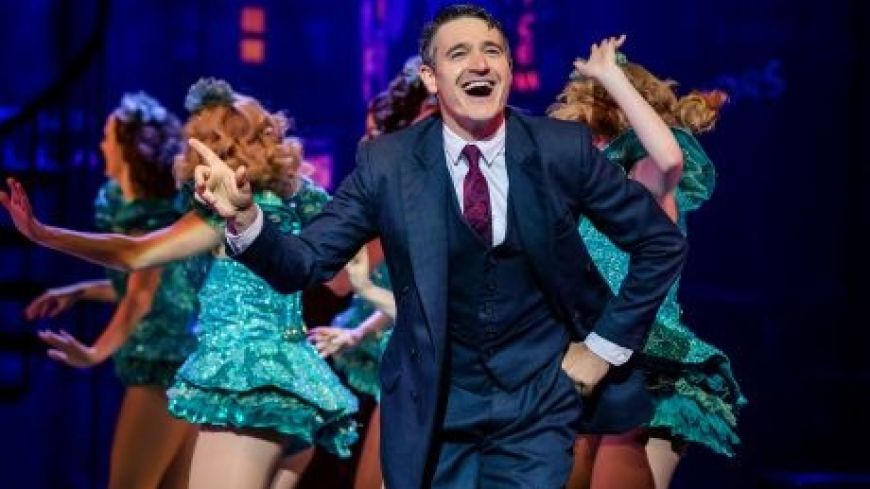 Company
Watermill Theatre
Production
George Gershwin and Ira Gershwin (Music & Lyrics), Ken Ludwig (Book), Paul Hart (Director), Catherine Jayes (Musical Supervisor and Arrangements), Nathan M Wright (Choreography), Diego Pitarch (Set and Costume Design), Howard Hudson (Lighting Designer), Tom Marshall (Sound Designer), Richard Peakman (Resident Director), Abigail Pickard Price (Associate Director), Jerome Van Den Berghe (Musical Director, Assistant to the Musical Supervisor and Copyist), Claira Vaughan (Associate Choreographer), Jennie Falconer (Costume Supervisor for Bristol Costume Services), Louise Nipper (Costume Supervisor for Bristol Costume Services), Campbell Young (Wigs Supervisor), Simon Gooding (Production Management for Simon Gooding Production Management Ltd.), Matt Jones (Production Management for Simon Gooding Production Management Ltd.), Julian Edwards (Executive Director for Jamie Wilson Productions and Casting Director), Jamie Wilson (Producer), Gavin Kalin Productions (Producer), Mark Cartwright (Associate Producer) Marlaina Darmody and Julian Edwards for Jamie Wilson Productions (General Management), Ian Wheatstone (Company Stage Manager), Daniel Kay (Technical Stage Manager), Ellen Lewis (Deputy Stage Manager), Katie Newton (Assistant Stage Manager/ Bookcover), Jay Adriaanse (Assistant Stage Manager Tech), Jordan Shingleton (Technical Swing), Callum Wills (Touring Sound 1), Simon France (Touring Sound 2), Phil Lewis (LX 1), James de Carle (LX 2), Rob Bicknell (Head of Wardrobe), Amber Harding (Wardrobe/ Wigs Swing), Isabella Trevisiol-Duff (Head of Wigs), Joanne Menon (Deputy Head of Wigs), Josh Richardson and Mickey del Buono (Production Sound Engineers), Victoria Brennan (Lighting Programmer), Tom Johnson and Jeremy Duncan (Production Electricians), Pete Bruus and Steven Heir (Workshop Fit Up Carpenters), Ed Ilsley (Rigger), Charlotte Ward, Rebecca White, and Marc Gee-Finch for EMG (Marketing and Advertising), Simon Raw, Amy Barder, Stacey Pedder, and Emily Webb for Raw PR (Press), Belgrade Theatre Enterprises (Set Builder), 20Ten Show Support Ltd (Rigging), Elspeth Morrison (Dialect Coach), Paul Benzing (Fight Director), John Young (Health and Safety), Hawthorn Theatrical Ltd. (Lighting Hire), Stage Sound Services (Sound Hire), Flying by Foy (Flying), Paul Matthew Transport Ltd. (Transport), Robert Israel for Gordon and Co (Insurance), James Jones for Clintons (Legal), Jamie Dagnall for Dial A Flight (Travel), Dominion Theatre Studio and Plymouth Theatre Royal TR2 (Rehearsal Venue), Julian Edwards, Natalie Crisp, Izzy Tranter and Jonny Godbold for Jamie Wilson Productions (Casting), Simon Freshwater and Daniel Oduro for Jamie Wilson Productions (Production Accountants), Sally Bourne and Natalie Crisp for Jamie Wilson Productions (Tour Booking), Meltdown (Artwork and Design), Kirsty O'Mahony for GMG Ltd. (Brochure Design and Print), Richard Davenport (Rehearsals and Productions Photography)

Performers
Tom Chambers (Bobby Child), Claire Sweeney (Irene Roth), Charlotte Wakefield (Polly Baker), Arthur Boan (Custus, Violin, Viola), Daniel Bolton (Guitar, Xylophone, Banjo, Double Bass, on stage Swing), Hollie Cassar (Tess, Alto Saxophone, Piano, Double Bass), Abi Casson Thompson (Betsy, Flute, Penny Whistle), Neil Ditt (Bela Zangler, Drums), Kate-Anne Fenton (Flute and Penny Whistle, on stage Swing), Christopher Fry (Lank Hawkins, Trombone, Double Bass), Stacey Ghent (Patricia Fodor, Trumpet, Flugelhorn), Matthew James Hinchliffe (Sam, Clarinet, Bass clarinet, Piccolo, Flute, Soprano Saxophone), Kieran Kuypers (Billy/ Eugene Fodor, Tenor Saxophone, Clarinet, Baritone Saxophone, Accordian), Kate Milner-Evans (Lottie Child, Xylophone, Alto Saxophone, Piano), Emma Jane Morton (Margie, Alto Sax, Baritone Saxophone, Oboe, Clarinet), Katie Robson-Stuart (Mitzi, Violin), Ned Rudkins-Stow (Moose, Guitar, Banjo, Double Bass), Seren Sandham-Davies (Patsy, Trumpet, Banjo), Mark Sangster (Everett Baker, Guitar, Drums, Piano, Double Bass)


Understudies:
Arthur Boan (understudy Eugene Fodor, Lank Hawkins, and Everett Baker), Daniel Bolton (understudy Bobby Child and Bela Zangler), Hollie Cassar (understudy Irene Roth and Lottie Childs), Kate-Anne Fenton (understudy Margie, Mitzi, Betsy, and Patsy), Stacey Ghent (understudy Lottie Child), Kieran Kuypers (understudy Everett Baker), Kate Milner-Evans (understudy Patricia Fodor), Emma Jane Morton (understudy Patsy and Tess), Kate Robson-Stuart (understudy Tess, Polly Baker, Irene Roth, and Patricia Fodor), Ned Rudkins-Stow (understudy Lank Hawkins and Eugene Fodor), Seren Sandham-Davies (understudy Polly Baker), Matthew James Hinchliffe (understudy Bobby Child and Bela Zangler)



Born from George and Ira Gershwin's 1930 musical Girl Crazy at the height of Depression-era escapism, the parallels are not lost that this 2018 tour of Crazy For You occurs during another demand for escapism in the present era of political tumult and economy-rebuilding. And there's nothing more escapist than a night at the theatre...red velvet seats, the hush of the crowd dying down as the overture of Rhapsody in Blue begins to play out on flute. While Crazy for You premiered in 1992 to great acclaim, these Golden Age of Broadway tunes are hallmarks of the quintessential American musical theatre repertoire today.
This musical revue of sorts honours these classic songs by weaving them through a story of Bobby Child, an aristocratic banker on the surface, but a daydreaming tap dancer underneath the suit. Child longs to dance in Ziegfie-- ehhem, Zangler's Follies in his town of NYC, but his pushy fiancee and stifling mother have other plans. He's sent off out into the American west to sweep up a theatre that's defaulted on its mortgage, but instead of reclaiming it, he stays to try and bring The Gaiety back to life. Oh, and the driving force behind this revitalisation? This city slicker has fallen in love-at-first-sight with this tumbleweed town's Venus of Nevada, Polly Baker. She's a spitfire, he's a hopeless romantic, and they'll tap, waltz, and sing their way through numbers like, Embraceable You , I Got Rhythm , and Nice Work If You Can Get It with mischief, heartbreak, and joy.
The outstanding part of this production is the constant flow and choreography of actors that sing, dance, and play their instruments live on stage. The Watermill Theatre is unique in that it maintains a commitment to actor-musicianship in their productions, and seeing a row of Follies Girls shuffle-ball-change into a complete brass band feels absolutely electric.
While this impressive step up in presentation certainly elevates this musical, Crazy for You unfortunately, falls into the musical revue trap where the music, no matter how classic and expertly played by actor-musicians, doesn't salvage the fact that a plot is loosely strung together behind the song showcase, a characteristic that should have remained in the early 1900s Follies tradition instead of written into more modern musicals. To add salt to the wound, Crazy for You doesn't manage to escape the dated script and cheese factor that comes with classic musicals. But, hey, a little cheese never hurt anyone, especially with talent at the helm and especially if you love a musical as light as Fred Astaire's feet.
Speaking of Astaire, he's certainly remembered in Tom Chambers' performance, the stand out title character from this production. He's goofy, nuanced, and an expressive dancer, a bit nasal when singing, but in an endearing, likeable way. Chambers' manages to coax more quirky character development from his Bobby Child than all the other performers combined, and it's charming. Together with Charlotte Wakefield as Annie Oakley-esque Polly Baker, the two of the dance up the sort of stuff that modern day La La Lands are made of.
Wakefield is a knockout in this performance as Polly Baker, with an excellent American accent to boot. Intonation, check. Personality, check. Dynamics, check. A vocalist in command of her mix and belt, and a dancer that does Ginger Rogers proud.
Crazy for You at the Edinburgh Playhouse is an elevated production of a possibly outdated musical, but beauty is in the eye of the beholder. If you, like Iris from The Holiday , are looking for corny in your life and dream of escaping into a Rogers/Astaire world, this musical is for you. Really, this musical at its core is about creating something from nothing, about salvaging a theatre and keeping the traditions that have gone a bit dusty alive and new, and the multi-talented company at Watermill Theatre certainly has done that.
Apr 4, 5, 7 - 14.30, 19.30
Apr 6 - 19.30