Image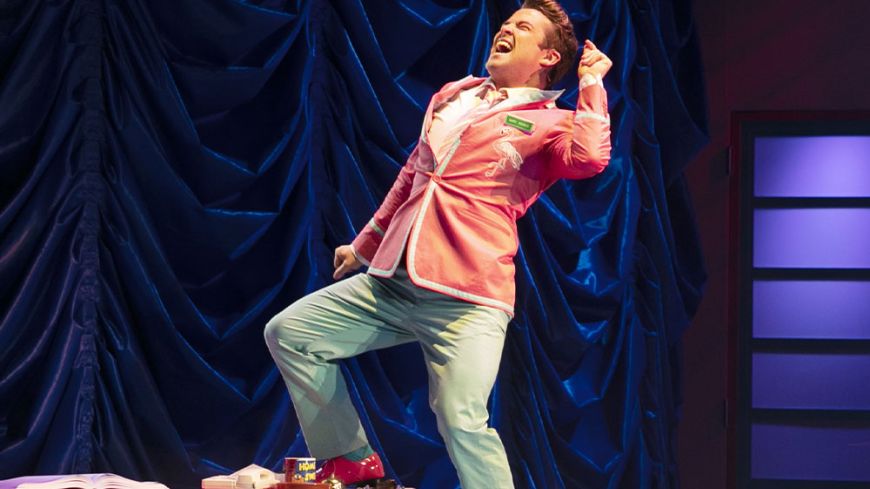 Company
Ambassador Theatre Group
Production
Michael Gyngell (Writer), Samuel Holmes (Director), Nick Winston (Director/ Choreographer), Diego Pitarch (Set and Costume Design), Tim Deiling (Lighting Design), Ben Harrison (Sound Design), Greg Arrowsmith (Musical Supervision and Arrangements), Jonathan Russell (Casting Director), Emma Waugh at Planet Costumes Ltd (Costume Supervisor), Betty Marini (Wigs Supervisor), Ally Brannen (Props Supervisor), Tom O'Connell (Producer), Alex Jackson (Resident Director), Production Manager (Sam Paterson), Melanie Bryceland (Company Stage Manager), Robb Mookhoek (Technical Stage Manager), Rebecca Spiller (Deputy Stage Manager), Owen Collick (Assistant Stage Manager), Amber Harding (Head of Wardrobe), Verity Pitt (Head of Wigs), James Marsh (Head of Sound), Chris Pearson (Head of Lighting), Zachary Woodman (Sound No 2), Jess Skibinski (Wigs and Wardrobe Assistant), Chris Andrew North (Wigs and Wardrobe Assistant)
Performers
Joe McElderry (Garry), Nye Rees (Robert), Amelle Berrabah (Serena), Cellen Chugg Jones (Olly), Ben Darcy (Ensemble), Karina Hind (Lorraine), Megan Louch (Swing), Rebecca Mendoza (Tracey), Alexandra O'Reilly (Swing), Joshua Pearson (Ensemble), Rory Phelan (Drew), Kate Robbins (Consuela), Camilla Rowland (Ensemble), Christina Shand (Ensemble), Courtney-Brogan Smalley (Ensemble), Emily Tierney (Christine), Tara Verloop (Andrea), Kane Verrall (Blaine)

Charlie Ingles (Musical Director/ Keys 1), Rachel Murphy (Assistant Music Director/ Keys 2), Joe Britton (Bass Guitar), Chris Gardiner (Guitars), Stu Roberts (Drums)
Practically panto-esque, 80s jukebox musical Club Tropicana revels in its massive cheese factor, with 2009 X-Factor winner Joe McElderry at the helm as this Spanish resort's ringleader, Garry.
It's a farce from top to bottom: girl leaves boy at altar; girl goes on the honeymoon with her mates; boy goes on the honeymoon with his mates. Will the two unknowingly find their way back into each other's arms at the resort nightclub's fancy dress party despite meddling friends and confused hearts? Meanwhile, the co-captains of Club Tropicana, Robert and Serena...will they realise their love for one another and pull off a stellar report from a lurking hotel reviewer? It's one big dance party; slapstick, shoulder pads and perms abound.
If you abhor all things neon, garish and giggly, skip this one; but, if you're down for the camp, this is a feel-good, can't-help-but-sing-along treat. Physical gags in no short supply, cleaner Consuela (Kate Robbins) consistently draws howls from the crowd, even if a few bits go overdone. Vocals satisfy, particularly the warm belt on Amelle Berrabah as Serena and that 80s power range on Tara Verloop as the bride's blonde sidekick Andrea.
Imagine the stereotypically British-populated Spanish holiday package resort; now imagine it's a musical set to classic 80s synthesizer pop. Some things just belong together, especially as the popularity of these holidays erupted in the 70s-90s, immortalised through TV programmes like Duty Free and Benidorm. Hits like The Look of Love and Take On Me get your head bopping, but the accompaniment often drives on away from the singers, with them having to chase the beat rather than direct it.
Summing up this show perfectly, Mark Goucher, producer of Club Tropicana as well as of the UK tour of Hairspray, shares that it's "a fun show with some great music. We are not trying to win any prizes, but to give you a good night out."
No age rating available, but described as "family friendly"
June 12-15, 19:30
June 15, 14:30
Get your tickets here: https://www.atgtickets.com/times/club-tropicana/edinburgh-playhouse/201…