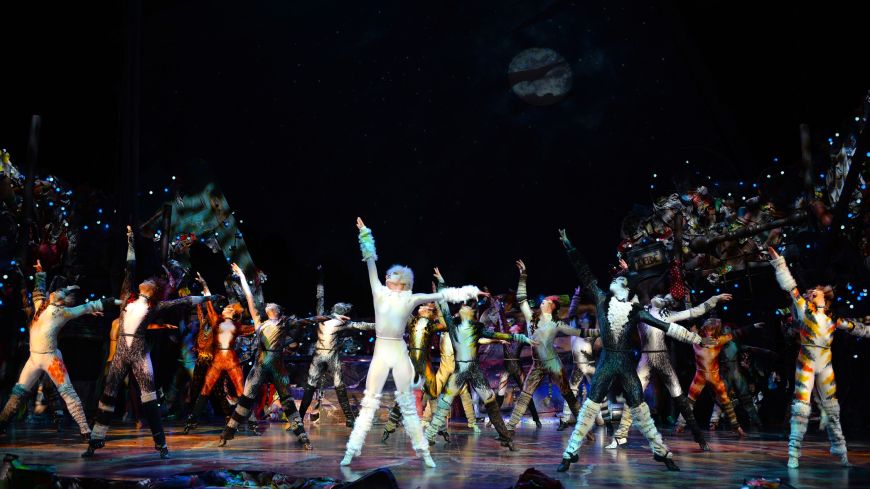 Company
David Ian Productions in association with Michael Watt
Production
Andrew Lloyd Webber (music), Trevor Nunn (director), Gillian Lynne (choreographer), Bill Deamer (Gumbie cat choreographer), John Napier (designer), Howard Eaton (lighting), Tim Davies (musical director). Based on "Old Possum's Book of Practical Cats", T.S. Eliot.
Performers
Sophia McAvoy, (Victoria), Greg Casatiglioni (Bustopher/ Asparagus/ Growltiger), Marianne Benedict (Grizabella), Javier Cid (Macavity/Admitus), Kevin Stephen-Jones (Old Deuteronomy), Marquelle Ward (Rum Tum Tugger), Shiv Rabeheru (Quaxo/Mistoffelees), Emily Langham (Rumpelteazer); plus ensemble cast. Cats Orchestra under Tim Davies (director)
"Jellicle Cats develop slowly,
Jellicle Cats are not too big;
Jellicle Cats are roly-poly,
They know how to dance a gavotte and a jig."
"Old Possum's Book of Practical Cats", (1939) by T. S. Eliot was a favourite childhood book for Andrew Lloyd Webber, and perhaps these lines about a group of fat cats dancing a jig sparked his imagination for a stage musical. The thumping rhythm and rhyming are indeed perfect to adapt into songs.
Eliot was a serious cat lover – (his own were named Pettipaws and George Pushdragon) - and he devised these ditties on kitties for his godchildren, fantasy tales akin to the nonsense literature of Edward Lear and Lewis Carroll.
In order to dramatise these poems, the director, Trevor Nunn and designer, John Napier had to create a secret world for a tribe of cats, their adventure playground in a giant mountain of a junkyard of rusty old cars, rubbish bins, massive tyres and bicycles. Here on one moonlit night of the year, all Jellicle cats meet at the Jellicle Ball where their leader, Old Deuteronomy, names the cat who will travel to the Heaviside Layer to be given another life. And so one by one, we are introduced to this motley crew of moggies.
Victoria is a pure white cute kitten with graceful balletic pirouettes and elegant poise. She's innocent and rather timid, yet flaunts herself in the company of the streetwise rapper, Rum Tum Tugger. His mischevious character, described as "Perverse, Preening and Independent', is demanding but never knows what he wants.
The Rum Tum Tugger is a Curious Cat:
If you offer him pheasant he would rather have grouse.
The Rum Tum Tugger is a terrible bore:
When you let him in, then he wants to be out;
One of the more rounded personalities is Bustopher Jones, a London gent, a well tailored toff, in his black coat and white spats, a Fat Cat in size and social manner.
He's the Cat we all greet as he walks down the street
In his coat of fastidious black:
No commonplace mousers have such well-cut trousers ..
The endearing, frail and elderly Grizabella has a key solo star turn, wandering slowly on stage with hunched shoulders and sad facial expression having lost her youthful glamour. Marianne Benedict gives a heart-warming rendition of Memory, the rousing, romantic ballad, the only memorable song in the show.
Costumes and make up combine cat and human traits to create colourfully eccentric caricature-characters. In sleek, black, tabby and tiger print cat suits, punk-rock hair, fluffy leg warmers it's all looking very dated now. The orchestral score flows along shifting in tempo from ballet and tap dancing routines to lively hip-hop by the energetic ensemble cast. The choreography is however rather repetitive with a tediously slow Act 1, lacking clear narrative and dramatic emotion.
Lloyd Webber himself must feel the same as he's staging a new production this summer with refreshed, revitalised choreography by Andy Blankenbuehler, who commented, " I don't want to break the DNA of the show, but I want to move it a little more quickly, deepen the storytelling and strengthen the characterisations which happens in a way that is not familiar."
Nicole Scherzinger was contracted to play Grizabella but left abruptly to be an X Factor Judge. Leona Lewis, X factor winner, 2006, will now star in this Broadway show.
The West End premiere in 1981 was reviewed as "a performance extravaganza and radical departure from anything in musical theatre." Unfortunately, this UK touring production does not offer such an exciting, magical experience.
Now celebrating its 35th anniversary, this phenomenally successful musical has been seen by 50 million people worldwide. Perhaps the 2016 Broadway production will give a tenth lease of life with contemporary vision to T. S Eliot's crazy cabaret of Practical Cats.
Show times
4 - 9 July, 2016
UK tour - www.catsthemusical.com