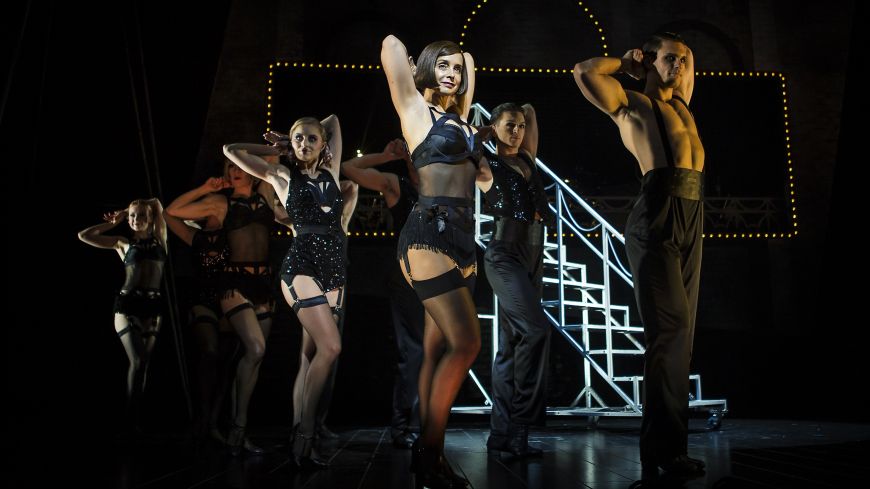 Company
Bill Kenwright presents
Production
Rufus Norris (Director), Javier De Frutos (Choreographer), Tim Whiting (Musical Director)
Performers
Will Young (Emcee), Louise Rednapp (Sally Bowles), Charles Hagerty (Cliff), Susan Penhaligon (Fraulein Schneider), Linal Haft (Herr Schultz)
Bill Kenwright's touring production has assembled a West End cast for this U.K. Tour. This musical has a bit of everything — great show tunes that stay in your head, slick and imaginative choreography, clever staging, drama, more than a little comedy, and some thought-provoking history.
Based over 1930-31 between the World Wars in decadent Berlin where anything seems to go, you are drawn into the Kit Kat Club and the lives of those staying in cheap lodgings in the city.
Will Young reprises the part of the camp Emcee he last played at the King's Theatre in 2013 and he captures the comedic role with panache and is not out of place in the various dance routines. One scene as a puppet master is very clever, as is a bedroom scene that brings a new meaning to the slang phrase 'having a giraffe' - you need to see it to understand it!
Louise Rednapp plays Sally Bowles, an English singer of doubtful morals, demonstrating that she has a full range of theatrical skills allied to a great voice that does justice to 'Maybe this Time' and of course 'Cabaret' itself.
The story is based on the memoirs of an American writer, played strongly by Charles Hagerty, who is befriended at the border into Germany leading him into lodgings and an invitation to partake of the delights at the Kit Kat Club and also naively to become a courier for the developing Nazi party, a development that is to underpin the plot.
The stand-out for me was Susan Penhaligon as Fraulein Schneider who used all her experience of stage and screen to be the focus of all the scenes she was in, ably abetted by Linal Haft as Herr Schultz.
The relationship between these two somehow sparked more empathy than the volatile match of Sally Bowles and Cliff the American.
At times the show is a romp with romance in the air and thoroughly enjoyable as that, but the anti-semetic theme that emerges is forerunner of what happened next in world history.
Being set in decadent times, the show has adult themes and some nudity and occasional bad language so not suitable for children.
The last time I saw 'Cabaret' was on the Fringe and in the nearby Greenside Church when you were in the Kit Kat Club rather than being an observer so same show but completely different production. This one oozes class, but maybe lost a bit on 'oomph' that its Fringe counterpart captured.
Runs to Saturday 18 December, 7.30pm (matinees Wednesday, Thursday and Saturday, 2.30pm)