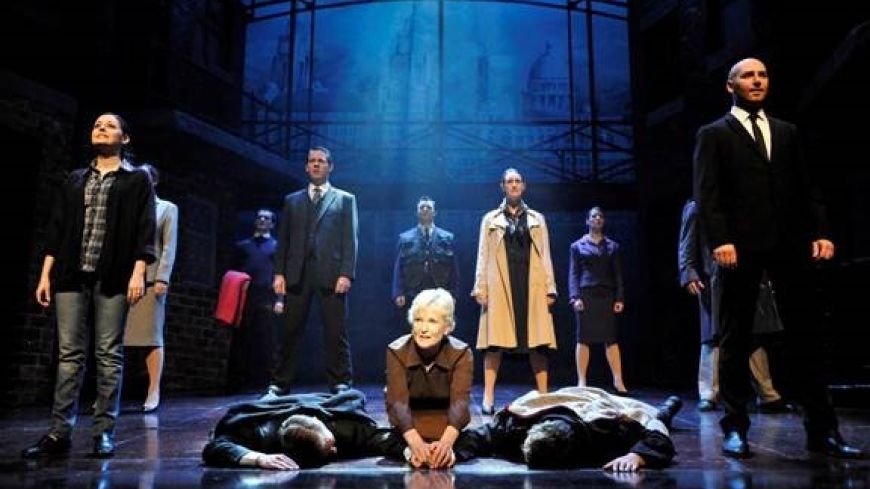 Company
Bill Kenwright presents
Production
Bob Tomson (Director), Bill Kenwright (Director), Richard Morris (Musical Director)
Performers
Lyn Paul (Mrs Johnstone), Sean Jones (Mickey), Mark Hutchison (Eddie), Danielle Corlass (Linda), Sarah Jane Buckley (Mrs Lyons), Mathew Craig (narrator), Daniel Taylor (Sammy)
This is a tale of twins separated at birth who unusually collide age seven and form a friendship of 'Blood Brothers' status where everything is shared including the girl in their lives.
Although a tragedy, the scenes in Act One are like comic sketches with some great songs that definitely carry the story through.
The leading lady, Mrs Johnstone (Lyn Paul), goes from young mum to downtrodden single parent, abandoned with five children and another on the way. A cleaning job with a childless couple and the discovery that she is expecting twins gives her employer Mrs Lyons (Sarah Jane Buckley) the idea, while her husband is abroad, that she take one of the twins and pass it off as her own.
The musical then follows the tales of Mickey Johnstone (Sean Jones) and his brother Eddie Lyons (Mark Hutchison) until near the end when Mickey screams out 'Why did you not give me away'.
Despite having seen this show, perhaps even the same production over the years, I think it is one of the best low-budget musicals that comes on tour every couple of years and the music, drama, and bits of stage 'business' make it an enjoyable evening even if you are stunned by the ending.
Sean Jones is amazing as 'Mickey' and Mark Hutchison presents the character of 'posh boy' as the perfect foil aided and abetted by Danielle Corlass as Linda.
The supporting cast who double and treble up in some cases are all very good.
The overture sounded a bit different from the cast recording and seemed a bit discordant to my ear and I was glad when they reverted to the usual musical arrangements.
Scenery wise, a change of set for the 'country living' would have enhanced the production while the final scene seemed to be affected by Police cuts which detracted from the drama.
Mathew Craig as the narrator was not the brooding presence that I had seen in the past although his delivery of 'Shoes on the table' was very powerful.
Lyn Paul was declared as the 'definitive Mrs Johnstone' on the posters and while she has the voice and the role off to a tee, it's one of these parts that have rarely disappointed over the years.
Runs to Saturday 10 March, 7.30pm (Matinee Wed 7 Sat, 2.30pm)