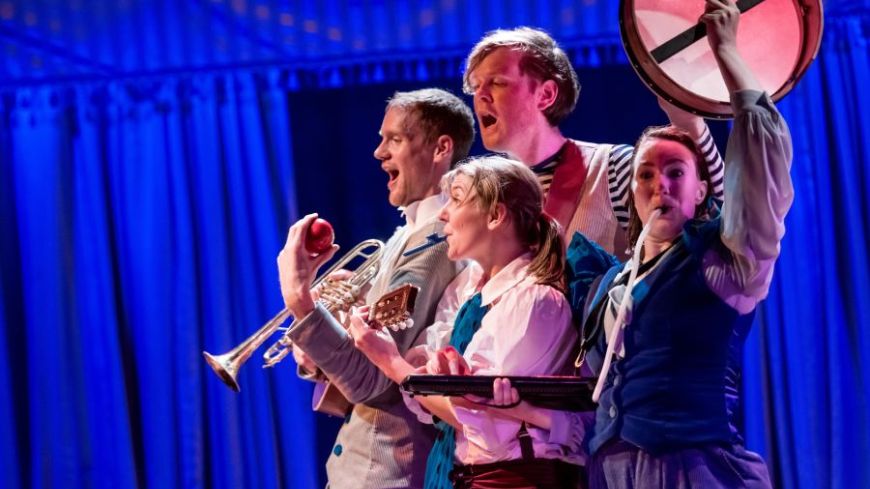 Company
Catherine Wheels & Red Bridge Arts
Production
Daniel Padden (Creator, Co-director & Composer/Sound Designer), Gill Robertson (Co-director), Katherina Radeva (Designer), Alison Brown (Costume Designer), Sergey Jakovsky (Lighting Designer),
Michael Sherin (Movement Director)
Performers
Rory Clark, Rory Haye, Sita Pieraccini and Claire Willoughby
Tap. Smack. Hit. Tap. Clap. Click. Stamp. Blow. Hum.
Daniel Padden's charming premiere show, Whirlygig, celebrates the joy in making music, and these are just a few of the noise making variations a talented quartet take us through as they experiment with sound and movement in an aural and visual treat for families. 
A chalk marked floor outlines instruments - familiar and foreign - which the four vaudeville-esque players interact with, inviting wonder, play and intrigue from the younger audience members, with arrangements ranging from gentle rhythms to rambunctious cacophonies. 
Under the command of a Cuckoo signalling the troupe to sit with instruments in hand and perform sheet music, they spring into play when released, to check what's possible with the tools they find, with the action becoming more chaotic and challenging as the possibilities grow. 
The simplicity of the message is reflected in the loose structure, as unrelated segments manage to perfectly hang together and retain attention. Each instrument is a puzzle to solve, a sound to discover and a piece to fit a bigger picture, highlighting no matter how big or small, everyone can contribute. 
With four performers - Rory Clark, Rory Haye, Sita Pieraccini, Claire Willoughby - who are extremely talented musicians and at ease with each other and the audience, interaction comes easy, making this madcap music feast a sure fire pleaser for fidgeters that will have all clapping and tapping along, and listening for music in many places beyond the theatre. 
At Traverse Theatre until Sat 14 February, on tour.