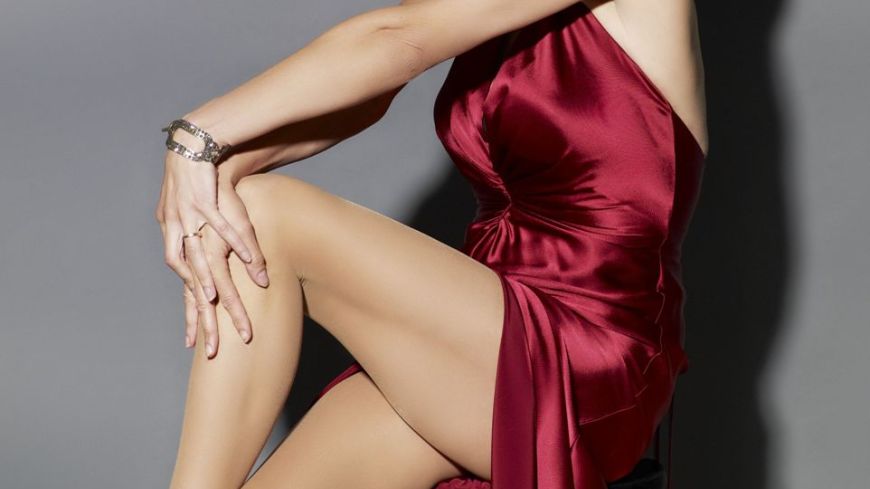 Performers
Ute Lemper, Vana Gierig (piano), Marcelo Nisinman (bandoleon)
A former Scottish church may seem like an odd venue to re -create a Weimar style cabaret, but the phenomenal presence of this international award winning cabaret star allowed the audience to suspend their disbelief and be transported back in time though her vital interpretation of the music of Brecht and Brel as she made a welcome return to Edinburgh on Friday night.
Before a midnight blue backdrop, the lithe and vibrant Ute Lemper slunk on to the stage in the cool elegance of a backless black satin concertina pleated dress that echoed the pleats on the stretchy bandoleon that accompanied her. The performance takes the form of a seamless narration and songs from 'between yesterday and tomorrow' from this multi- talented smouldering woman with her Veronica Lake hair style and voice that spills out sassy laughter between silky singing.
Much of the repertoire, sung in German, French  and English, may have been unfamiliar, like her song Surabaya Johnny about loving the lying sailor who passed himself off as a railwayman ,  but the atmosphere created by her relaxed, assured and thoroughly engaging vagabond presence made that unimportant and the inclusion of sometimes clichéd favourites superfluous.   In saying that, her passionate side- of –the- mouth sung version of Jacques Brel's Ne me quitte pas was heart wrenching and her very jazzy version of Mack the Knife went down well.
The music goes through the rhythms of tango, waltz, and a hint of salsa as she moves with vampish fluidity.  She is very much centre stage but always generously encompassing her accomplished accompanying musicians, Vana Gierig on piano and Marcelo Nisinman on bandoleon. Her comic tale of a political game of passing a red boa between female politicians was acted out to the audience's delight and her trumpet imitation was astonishing and funny.
In a sophisticated burlesque from this Berlin actress artist dancer, it fitting that she used the words 'wings of desire', the English title of the beautiful Wim Wenders film Der Himmel über Berlin about angels that inhabit her home city.
Top marks, by the way, to the Queen's Hall bar for providing plastic containers that look like wine glasses to take in to the show!  All part of a memorable night out that was flourished with standing bravos.  Wunderbar, merveilleuse, fantastic!
Event: Friday 4th May 8pm
International tour continues