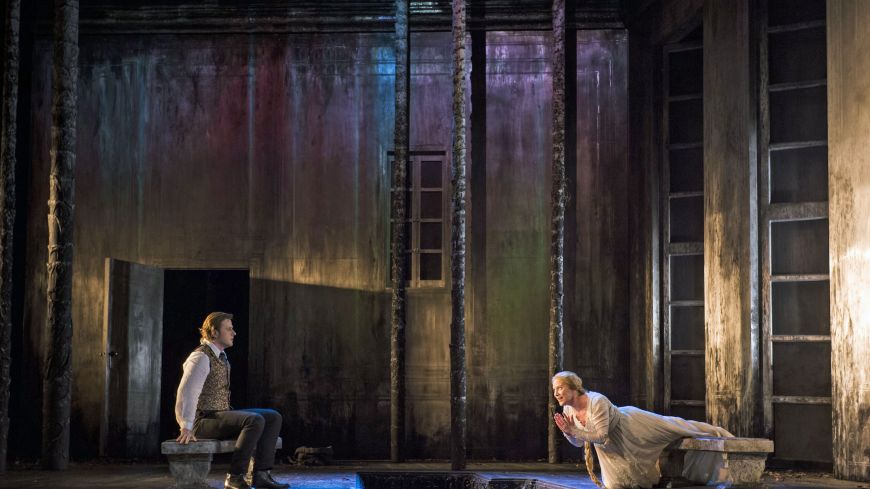 Production
Debussy, Pelléas and Mélisande

Performers
Andrei Bondarenko (Pelléas), Carolyn Sampson (Mélisande), Roland Wood (Golaud), Alastair Miles (Arkel, King of Allemonde), Anne Mason (Geneviève), Thomas John (Yniold), Jonathan May (Doctor), Sir David McVicar (director), Stuart Stratford (conductor).

This is a production every opera buff and every devotee of Debussy should see. Directed by Sir David McVicar for Scottish Opera it is a winner.
The adventure began when Prince Golaud got lost whilst hunting in his grandfather's forest. He came across a beautiful young woman with a crown, who was not prepared to say where she or the crown came from. Did we ever find out. They marry and before long Prince Golaud's step brother Pelléas stole her attention. Pelléas and Golaud's mother, Geneviève, had a love letter she needed to read out to the nearly blind grandfather, Arkel, King of Allemonde. His ongoing interest and the involvement of his great-grandson were part of the intrigue.
This was Debussy's only completed opera and it broke new ground in 1902. In Sir David McVicar's interpretation for Scottish Opera I was Immediately comfortable, finding it helpful that the orchestra played on while the curtain was down. This gave a convincing continuity which may well have been necessary. For although there were five acts, each had several scenes, fifteen in all, but each was eagerly awaited. The curtain itself produced a smaller and smaller rectangle as it closed on a set based on the grey and dreary inside of the castle to which were added trees for the forest scenes.
There was real delight among the audience on leaving the Festival Theatre.
Performance: Tuesday 7th March 2017 at 7.15pm. Further Edinburgh performances on Thursday 9th and Saturday 11th March both at 7.15pm