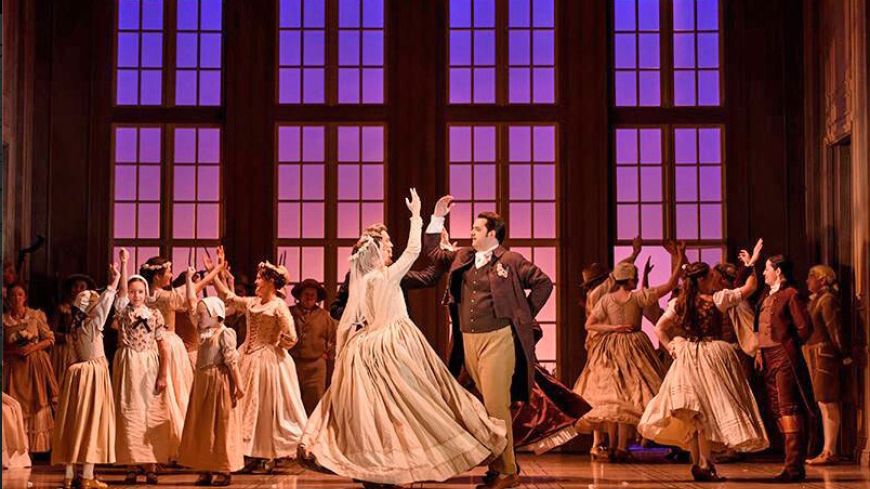 Production
Mozart, The Marriage of Figaro

Performers
Timothy Burke (conductor), Sir Thomas Allen (director), Simon Higlett (designer), Anna Devin (Susanna), Ben McAteer (Figaro), Eleanor Dennis (Countess Almaviva), Samuel Dale Johnson (Count Almaviva), Hanna Hipp (Cherubino), Donald Maxwell (Antonio), Marie McLaughlin (Marcellina), Graeme Broadbent (Dr Bartolo), Paul Curievici (Don Basilio/Don Curzio), Lucy Hall (Barbarina)

Sir Thomas Allen's production of The Marriage of Figaro was such a success in 2010 that it is no surprise to see it again in Edinburgh. Simon Higlett's 18th century setting is both warm and totally authentic. So too the clothes they were wearing - neither over-the-top nor boring.
Last time we heard the Overture before the curtain was raised, this year the Overture had begun without warning. Tobias Ringborg conducts on most nights but it was Timothy Burke with baton for the first night in Edinburgh.
The sheaves of wheat are waiting to be gathered in by the country yokels and meanwhile an old cart lugs Figaro and Susanna's bed which then has to be put together. The story begins and kept my concentration all the way through. I was particularly taken by the way we twice saw people so very realistically jumping over the balustrade down to the garden below. The old gardener was a hoot.
Sir Thomas Allen managed to bring comedy into a serious story together with just enough fun to make us feel the singers were all enjoying their performances. All were really good, and no one disappointed - a rare occurrence.
If you want to see a well known opera performed in a traditional manner, this Marriage of Figaro is strongly to be recommended.
Performance reviewed: Wednesday 9th November 2016 at 7.15pm. Further performances in Edinburgh: Friday 11 Nov at 7.15pm, Saturday 12 Nov The Marriage of Figaro Dementia Friendly at 3.00pm, Sunday 13 Nov The Marriage of Figaro Touch Tour at 2.45pm, Sunday 13 Nov at 4.00pm, Thursday 17 Nov at 7.15pm, Saturday 19 Nov at 7.15pm.