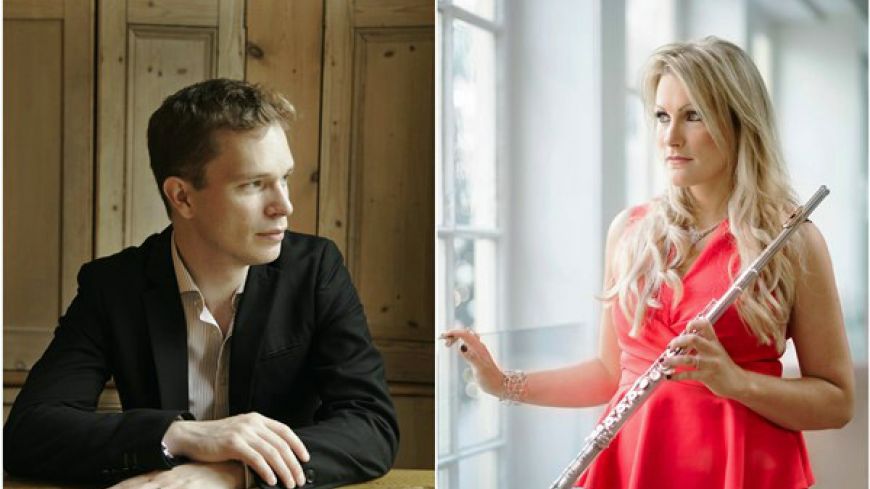 Company
Royal Scottish National Orchestra: Sir Alexander Gibson Memorial Concert
Production
Vaughan Williams arr. Katherine Bryan, The Lark Ascending; Suckling, Flute Concerto; Ravel, Daphnis et Chloé: Suite No 1; Ravel, Daphnis et Chloé: Suite No 2.

Performers
Arild Remmereit (conductor), Katherine Bryan (flute)
This was the night that the Royal Scottish National Orchestra's Principal Flute of many years, Katherine Bryan, was front of stage - not just for one work but two. And after the interval, there she was taking her normal place with colleagues in the flute section. The evening was a tremendous appreciation of her very considerable talent, and she did not disappoint.
Vaughan Williams wrote his The Lark Ascending for solo violin and orchestra. Katherine Bryan thought the skylark was better depicted by the flute and arranged the work accordingly. How appropriate it was. This was the talking point during the interval.
Whilst Katherine changed into another fabulous dress, the Scottish composer of the world premiere we were about to hear came on stage. Martin Suckling spoke about the experience of complete silence, remembering especially a walk as a boy with his parents in the west of Scotland. He had also taken note of ceramicist Edmund de Waal's obsession in his travelogue of porcelain of 2015, The White Road. Hence the same title for the work written by Martin Suckling for Katherine Bryan to fulfil a promise made almost twenty years ago when they were both in the National Youth Orchestra.
Although Manus Carey came with a list of questions he wanted to ask Martin Suckling at the pre-concert talk, he need not have bothered for Martin was in effusive mood - and fascinating it was to hear one of Scotland's leading young composers. We had a lesson in microtones, for instance. Composed over four months, The White Road was submitted to the flautist line by line to learn so that when we heard her play, she needed no music. I grew into the Concerto after finding the initial background drum beats disconcerting, even troublesome.
Katherine Bryan was right to regret Peter Oundjian's unavoidable absence before her encore. The audience had loved it all. After the interval Norwegian conductor Arild Remmereit came into his own with the two suites Maurice Ravel had extracted from his ballet Daphnis et Chloé. The second comes from the third and final act with its popular woodwind solos as the young dancers flirt followed by its final exciting outburst. We were treated to an Elgar encore. But the evening was certainly Katherine Bryan's.
Performance: Friday 3rd February 2017 at 7.30pm.