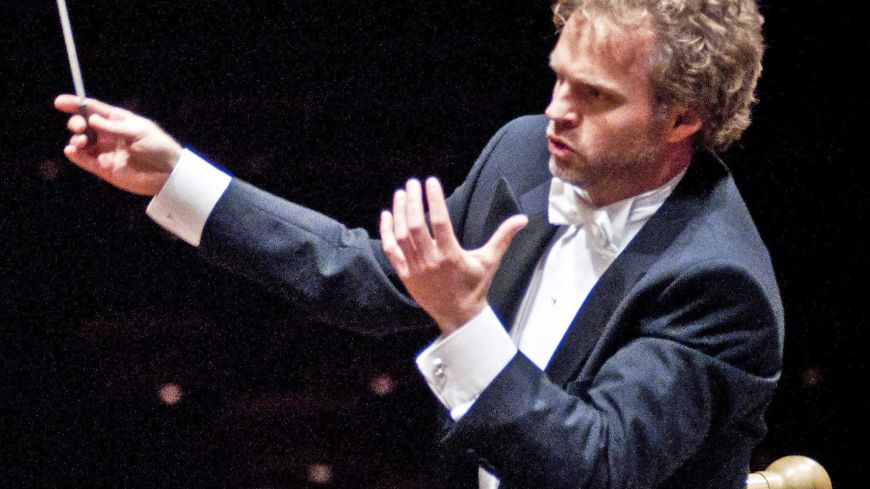 Company
Royal Scottish National Orchestra
Production
Brahms, Variations on a Theme of Haydn; Mozart, Piano Concerto K488; Beethoven, Symphony No 8

Performers
Thomas Søndergård (conductor), Federico Colli (piano), Royal Scottish National Orchestra
The Orchestra's Danish Principal Guest Conductor, Thomas Søndergård, told us at the outset that he had really been looking forward to conducting Szymanowski's Symphonie concertante - but it was not to be. Illness had forced the listed German pianist to cry off, and the Italian replacement whilst the winner of the Leeds Piano Competition in 2012 did not have the Szymanowski up his sleeve.
At the pre-concert talk, introduced by Bill Chandler covering another illness, Thomas Søndergård told us the Szymanowski was well down a pianist's play list but we were not to worry for the change of Mozart piano concerto from No 12 to the better known and much loved 23 was more than compensation. Not only a Leeds Piano winner but the Salzburg Mozart Competition in 2011 too, Federico Colli, smartly suited as any young Italian from Brescia would want to be, so apparently effortlessly showed us how Mozart should be played. His Bach Chorale encore won him every heart in the concert hall.
The concert had begun with Brahms Variations on a Theme by Haydn - a lively and joyful start to any evening and, not surprisingly, understood to be Brahms' favourite composition.
After the interval and from the original programme Thomas Søndergård conducted a very crisp clear Beethoven Symphony No 8. Earlier we had heard him tells us in the Upper Circle Bar just how different is the acoustic of the Usher Hall from the previous night at Glasgow's Royal Concert Hall. Perhaps that's why the last minute rehearsal went right up to the line.
From what must have been a behind-the-scenes nightmare having to rearrange the concert came an evening with three works which, had they been billed, would have filled far more seats in the Usher Hall. A really enjoyable feast. I was sorry, though, for those players listed to play who found they weren't wanted after all.
Performance: Friday 11th February 2016 at 7.30pm