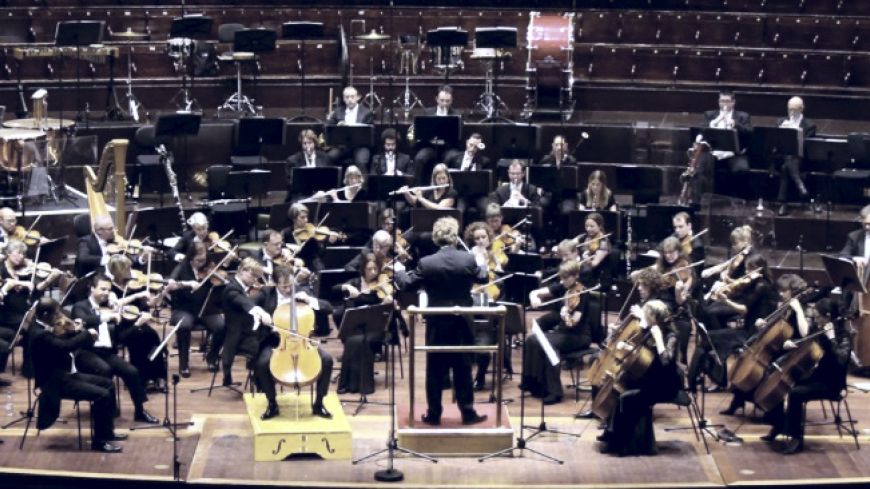 Company
Royal Scottish National Orchestra
Production
Poulenc, Suite from Les biches; Saint-Saëns, Cello Concerto No 1; Rimsky-Korsakov Scheherazade

Performers
Thomas Søndergård (conductor), Aleksei Kiseliov (cello)

The concert opened with the bright and cheerful Suite from Les biches. Poulenc was 24 when he wrote the ballet score Les biches for Diaghilev and at a stage in his life when he was high spirited. The title can either mean a female deer or lively young ladies - a double entendre. Harp, celeste and trumpets were memorable moments.
In the pre-concert talk Margarida Castro, the Associate Principal Double Bass player, was keen to know how the conductor felt about ballet music. The conductor, Thomas Søndergård, is about-to-be the Orchestra's Music Director and so we were all the more interested as he described the difficulty of conducting live ballet. The dancers take priority and the conductor has to be sure his orchestra keeps up. Not so for this evening's performance where he was very much in charge.
Aleksei Kiseliov is one of the Orchestra's stars. Three years ago we heard him perform Elgar's Cello Concerto, now it was the turn of Saint-Saëns Cello Concerto No 1. He told me a month or two ago that whilst he learned and played the work when he was 13 or 14 this was to be the first time since then, and with a professional orchestra. By way of a practice run he played it last month at St Paul's Covent Garden. We heard a star performance. Not surprisingly the audience wanted more and so for his encore Aleksei announced 'Same composer's Swan' where he was accompanied by Pippa Tunnell on the harp.
Scheherazade is Rimsky-Korsakov's most popular work and hardly a day goes by when it's not heard on the radio. It is based on a collection of Middle Eastern folk tales we know as the Arabian Knights. Scheherazade was the wife of the Persian Empire's Sultan Shahryar. We heard an exciting performance watching the hard working conductor allow individual players to shine, notably the night's guest leader Gordon Trajkovic. Percussion had to be just right, and it was.
A thoroughly enjoyable concert.
Performance: Friday 17th November 2017 at 7.30pm.