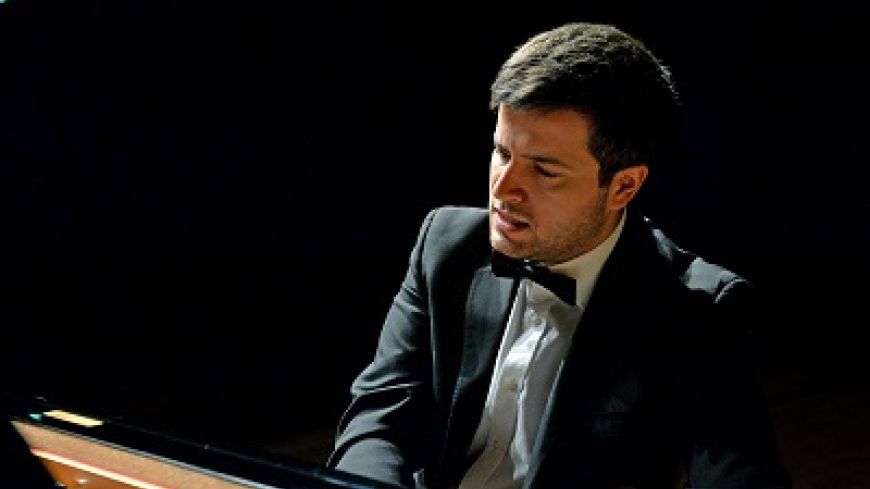 Company
Royal Scottish National Orchestra
Production
Bizet, Movements from Carmen Suites No 1 & 2; Khachaturian, Adagio of Spartacus and Phrygia from Spartacus; Grieg, Piano Concerto; Tchaikovsky, Romeo and Juliet Fantasy Overture; Mahler, Adagietto from Symphony No 5; Ravel, Boléro.

Performers
Michael Seal (conductor), Florian Mitrea (piano)

For the evening of the Feast of St Valentine, the Royal Scottish National Orchestra gave us a remarkably romantic and emotional programme with Grieg's Piano Concerto at its centre. Michael Seal was conducting, a man who appeared to have the support of the players in front of him and happy in his own skin. Since 2011 he has served as the Associate Conductor of the City of Birmingham Symphony Orchestra.
We first heard Movements from Bizet's opera Carmen, familiar and lively - to be followed by Khachaturian's Adagio of Spartacus and Phrygia from the ballet Spartacus, first performed in 1956.
The first violin players went off stage for a few minutes whilst the Steinway concert grand piano was put in place and ready for the arrival of Florian Mitrea. Born in Bucharest, he won a scholarship to London's Royal Academy of Music and has remained in this country. Already winning prizes, he came to the Glasgow International Piano Competition in September 2017 where the competing pianists were playing with the Royal Scottish National Orchestra under Thomas Søndergård, and was a double laureate. 
Ursula Heidecker Allen was in charge of the pre concert talk, describing it as an interview with Florian Mitrea. She hardly got a word in - a few questions all answered fully and interestingly by a confident erudite solo pianist narrowly avoiding arrogance. Florian Mitrea told us his performance of the Grieg Piano Concerto might be slower than many. For some years he had been teaching his pupils how to play the work without himself having prepared it for performance. But now that it is in his repertoire we were given a masterly and absorbing interpretation.
The concert continued with more romance. Tchaikovsky's Romeo and Juliet Fantasy Overture was followed by the Adagietto from Mahler's Fifth Symphony. Additional players joined the Orchestra for the exciting repetitions that build to a climax in Ravel's Boléro.
Performance: Friday 14th February 2020 at 7.30pm.