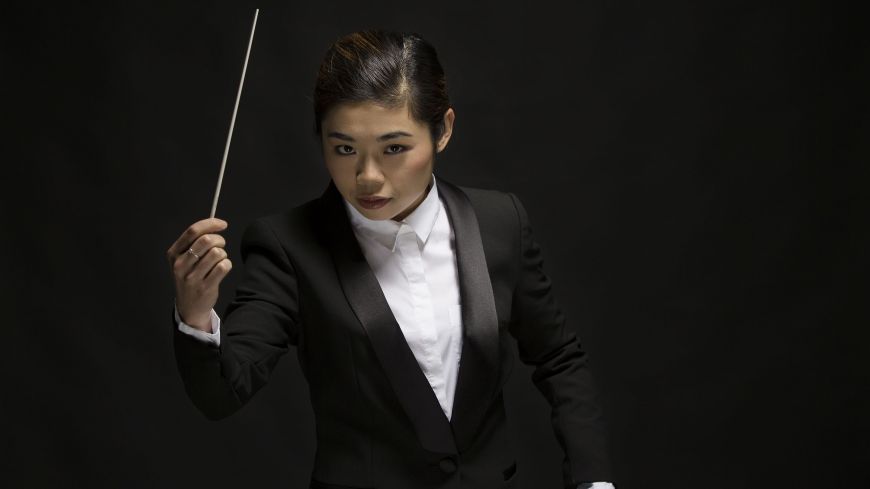 Company
Royal Scottish National Orchestra
Production
Fung Lam, Endless Forms (Scottish premiere); Sibelius, Violin Concerto; Elgar, Enigma Variations

Performers
Elim Chan (conductor), Benjamin Beilman (violin)

The concert's conductor, indeed the Orchestra's Principal Guest Conductor, Elim Chan came on stage with microphone in hand to tell us something of the opening work. Composer Fung Lam wasn't able to be present because of his duties with the Hong Kong Philharmonic Orchestra, she told us. She was keen that we understood the work, Endless Forms, derived from the final line of Charles Darwin's The Origin of Species. As we heard the music, ideas were presented - some developed, some faded away - and the world continued to evolve. The thirteen minute work ended with a long, really long, fading away which was thought provoking.
Ursula Heidecker Allen was in conversation with fellow violin player Benjamin Beilman in the Upper Circle Bar prior to the start of the concert. He was the soloist for Sibelius's Violin Concerto. We heard an interesting conversation with the 29 year old American, erudite but not arrogant, as Ursula teased out of him something of his journey to stardom as an international soloist. When the time came, his performance was impressive. Most of the questions from the pre-concert talk audience had been about the 1709 Stradivarius violin that he has on loan from the Nippon Music Foundation. On hearing his performance I felt the instrument played no small part, and was so suitable for Benjamin's Fritz Kreisler encore.
Junping Qian was telling me in the interval how difficult it was to change the ways of some players in orchestras when it came to national favourites. He was referring, of course, to Elgar's Enigma Variations. I lived in Elgar land, in Herefordshire, for some years and the eighth variation, coming just before Nimrod, recalls a distant relative's laugh. I heard and thoroughly enjoyed Elim Chan's Variations, all fourteen of them.
Performance: Friday 17th May 2019 at 7.30pm.