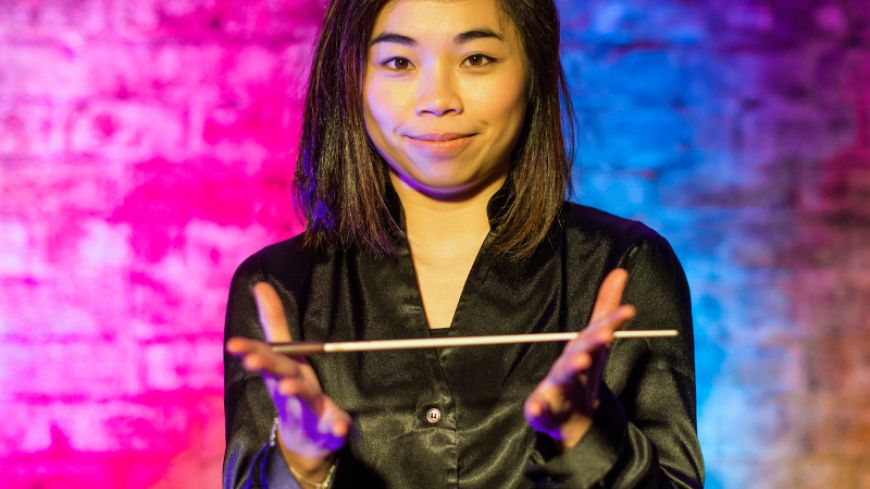 Company
Royal Scottish National Orchestra
Production
Dukas, The Sorcerer's Apprentice; Chopin, Piano Concerto No 2; Rachmaninov, Symphonic Dances.

Performers
Elim Chan (conductor), Benjamin Grosvenor (piano)

With this concert Elim Chan began her reign as the RSNO's Principal Guest Conductor, succeeding Thomas Søndergård now prompted to the top job, Music Director. That she came on stage with microphone to introduce herself and give us a run-down of what the Orchestra will be playing for us is just what Friday night regulars so appreciate. She was clearly delighted to be part of the Artistic Team. Elim Chan was first invited to conduct the Orchestra in January 2017 and again a fortnight later, unexpectedly, when standing in for Neeme Järvi who had been taken ill. Born and educated in Hong Kong and then in the United States, she now conducts around the world.
The music of French composer Paul Dukas found fame when his The Sorcerer's Apprentice was used in Walt Disney's Fantasia. Based on a Goethe ballad the apprentice takes advantage of his master's absence. After an uncomfortable start the familiar tune arrives to be followed by three bassoons which depict the troublesome broom. Once the broom is broken the bassoons are in league with the bass clarinet.
British pianist Benjamin Grosvenor was the soloist for Chopin's Piano Concerto No 2, first performed when Chopin was 20. He wrote another piano concerto a year later but that was it. Concerto No 2 gives the piano precedence over the orchestra and this obvious right from the start. The Orchestra played the opening lines before giving way. It was very easy and thoroughly comfortable to watch Benjamin Grosvenor. With a career that started early he is enjoying considerable deserved success. Our audience was rewarded with a short encore.
After the interval Elim Chan was in her element conducting Rachmaninov's Symphonic Dances. In three movements and first performed in 1941 it was the composer's last work. Mature Rachmaninov and thoroughly enjoyable. A great choice for the Principal Guest Conductor's premiere. I am glad she had told us to listen out for the alto saxophone in the Non allegro.
Performance: Friday 2nd November 2018 at 7.30pm.