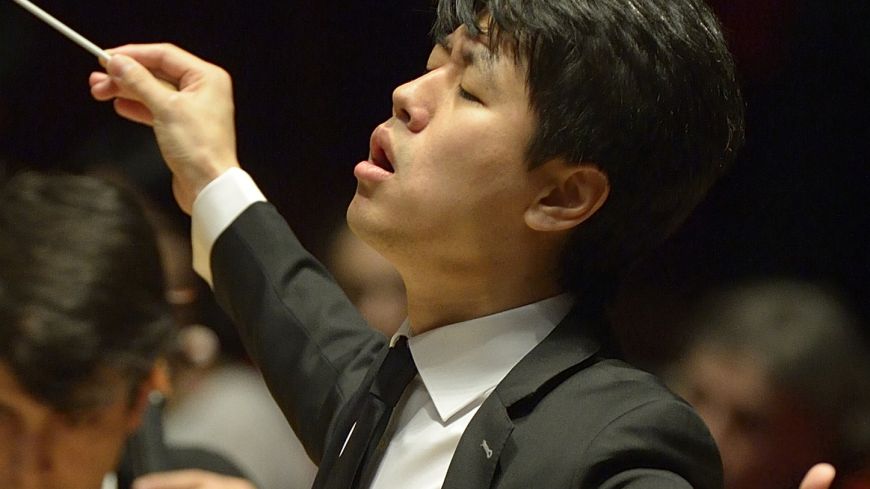 Company
Royal Scottish National Orchestra
Production
Beethoven, Piano Concerto No 3; Orff, Carmina Burana

Performers
Kensho Watanabe (conductor), Can Çakmur (piano), Fflur Wyn (soprano), Adrian Dwyer (tenor) ,Stephen Gadd (baritone), RSNO Chorus, RSNO Junior Chorus
 

The pianist for Beethoven's Piano Concerto No 3 needed no introduction to the Orchestra for they had accompanied him in September 2017 as he won the Scottish International Piano Competition in Glasgow. We were intrigued to see Can Çakmur, born in Ankara in Turkey in 1997. His was a confident and strong performance spoilt in my mind by his eagerness on hearing the applause to give us a slightly longer-than-normal encore based on Schumann Liszt and Bach, as he described it and which overshadowed his Beethoven. Be that as it may, let's hope we see him again.
The conductor was another newcomer. Kensho Watanabe is currently Assistant Conductor of the Philadelphia Orchestra, a violin player and a graduate of biology from Yale. He had in front of him not just the Orchestra but its Chorus and Junior Chorus, together with three soloists for Carl Orff's Carmina Burana.
Ursula Heidecker Allen's pre-concert talk on Carmina Burana was particularly enlightening; she had us clapping to time and then singing in order that we better appreciate what was ahead of us. Orff's career in Germany blossomed after the Second World War. Ursula Heidecker Allen had been able to consult her elderly aunt in Germany to discover just how important his work was at the time. Indeed it has become a considerable favourite everywhere.
Carmina Burana is based on 13th century manuscripts discovered in the nineteenth century from a Bavarian abbey, we heard about the delights of springtime, a maiden's lament and then a group of young women teasing young men in the art of make-up. Some of it slightly shocking. A distinguished senior clergyman in the audience wondered whether it was appropriate for the first week in Lent.
But it was the baritone solo of Stephen Gadd that was the most fun. Rising from his seat he needed the support of the conductor and even then found it hard to be upright as he described himself as the abbot of Cloud-Cuckoo Land with his assembly of fellow drunkards and wishing to be in the order of Decius. Decius was the saint he had invented for dice-throwers. It was then that I realised that it was a shame we weren't watching a fully staged version. The voices of the Chorus and the Probationary Choirs of the Junior Chorus were of the high echelon as we have come to expect. So too Fflur Wyn, soprano, and Adrian Dwyer, tenor. It ended, as it had begun with the very familiar O Fortuna.
Performance: Friday 8th March 2019 at 7.30pm.