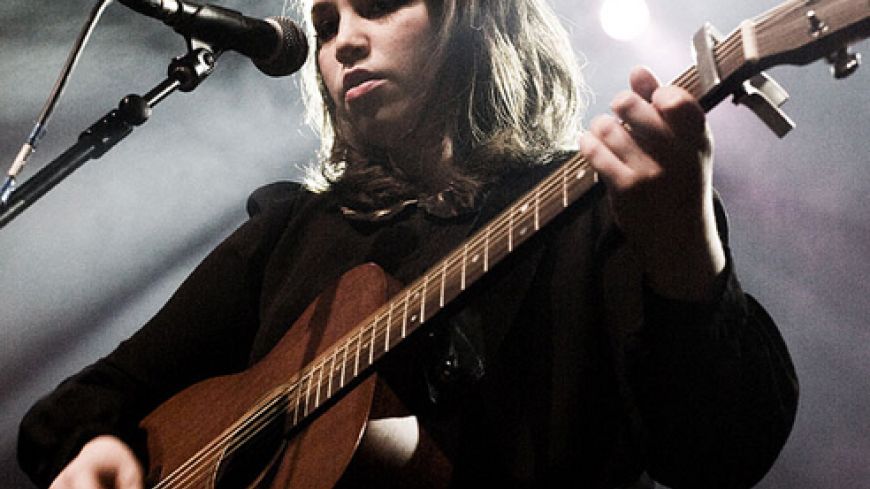 Performers
Jakil, The Scatter Rats, Pooch, Come On Gang, Kitty The Lion.
It's Sunday night and the Picture House is fit to bursting with hollering friends and families out to support their wee bairns for the final of Hog The Stage.
This contest has been set up by Edinburgh's Hogmanay, in tandem with Leith Records and ever-expanding listings mag The Skinny, with a view to picking a band out of the masses of Scotland's great unsigned to open the Waverley Stage in Princes Street on 31 December 2010.
150 hopefuls have been whittled down to the five performing this evening, and the final winner will be chosen via a combination of crowd voting and the deliberations of a panel of Scottish music industry "experts", which includes deservedly ubiquitous Vic Galloway, Radio Scotland DJ and all round nice chap. Clearly going for an X Factor vibe, this panel sits in judgement in a clumsily cordoned off area to the left of the stage. Actually, most of the time they don't sit there at all, but wander off to the bar leaving their designated section in the hands of a gofer who shoos away ageing grandmothers in search of a spare seat.
It's clear that tonight has been designed as an "event". The rabidly excited disembodied voice of a compere attempts to whip the crowd into a frenzy and, quite bizarrely for a venue the size of the Picture House, large TV monitor screens are situated either side of the stage. Quite why these are present is a mystery. To delight mums and dads as they watch their little treasures behave like proper rock stars? Or to enable the five bands, surrounded by whirling cameramen, to feel like they're playing Live Aid?
The Live Aid comparison is fitting, as none of these five bands seem to have any interest in producing music which could have existed beyond 1985. First up is Jakil, who apparently formed at secondary school. They perform a fairly perfunctory set of dated soft-rock with a dash of funk, while their many supporters in the audience go suitably mental. The singer bounces around the stage like a particularly excited Tigger and shouts "Thank You, Edinburgh!", while the guitar player throws his guitar pick at the crowd like a young Richie Sambora. I find myself in awe that a band like this even exists in 2010.
Next up, another bunch of blokes, looking altogether more earnest, called The Stagger Rats. They look a bit mod-ish and bash out a slightly psychedelically tinged blues rock racket, a bit like a young drunken Pink Floyd.
Following their departure, the compere excitedly announces that the next three acts ALL HAVE GIRLS IN THEM. Someone clearly never got over Suzi Quatro. Sure enough, Pooch take to the stage complete with lady singer moulding herself in a Kate Bush does Bat For Lashes style. They perform a rocky electro set, all feeling a little bit 2009, but efficient enough, although the singer's imperious demeanour feels somewhat artificially sustained.
Come On Gang are next. Despite a name which makes them sound like a kiddies entertainment troupe, this trio turn out a fine line in post-punk blast and clatter. Two anonymous chaps on guitar and bass, while centre-stage a young lady crashes away on both drums and lead vocals. To be honest, her voice sounds a little bit weak to withstand simultaneous drumming and the overall impression is of Karen Carpenter in a mild-mannered New Wave band. But they get my vote of the evening, in that if I was in a bar and Come On Gang came on I wouldn't immediately walk out.
Finally, Kitty The Lion perform a set of raucous folk-rock. They feel a very typical Scottish band, the kind of Scottish band which live in a permanent late eighties haze, the very same haze where so much of the mainstream Scottish music business has remained for twenty years.
Kitty The Lion win, by the way, and I can certainly imagine their hurlyskirlie sound going down well with a load of freezing and bevvied ravers at 9pm on Hogmanay (listen to their music on their MySpace page). There is plenty of exciting and original music being made in Scotland in 2010. None of it was on display tonight, but maybe that wasn't the criteria.
More on Edinburgh's Hogmanay