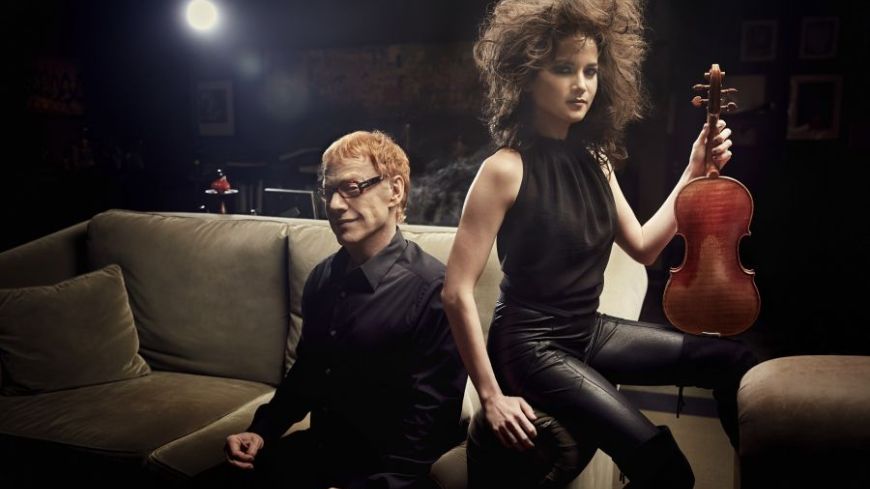 Company
Royal Scottish National Orchestra
Production
Danny Elfman, Serenada Schizophrana; Danny Elfman, Violin Concerto Eleven Eleven (UK Premiere); Danny Elfman, Batman Suite; Danny Elfman, Alice in Wonderland Suite; Danny Elfman, Edward Scissorhands Suite.

Performers
John Mauceri (conductor), Sandy Cameron (violin), Amy Higgins (solo), Alistair Hillis (solo), RSNO Chorus
In a concert devoted to the work of celebrated American film score composer Danny Elfman, we heard four works. And furthermore Danny Elfman himself was with us - appearing several times on the Usher Hall's stage to support conductor John Mauceri, who we remember from his seven years with Scottish Opera. To begin we heard 'I forget' the sixth and final movement of his Serenade Schizophrana, Elfman's first concert music composed some fifteen years ago. The ladies of the Chorus sang the Spanish lyrics with Amy Higgins as soloist.
The concert's centre piece was Elfman's Violin Concerto Eleven Eleven in four movements Grave Animato, Spietato, Fantasma, Giacoso Lacrimae. The title Eleven Eleven derives from the fact that the piece has 1,111 bars of music. First performed in Prague in 2017, this was its UK premiere - although the Royal Scottish National Orchestra was playing it in their recent West Coast of America tour with Thomas Sondergard and have recorded the work under John Mauceri, this concert's conductor. Written for violin player Sandy Cameron it will be hard to forget her major part in the Concerto as she danced as she played her Guarnerius violin. It was truly spectacular and particularly eye catching. A false start because of microphone problems was unfortunate but quickly forgiven.
With the full Royal Scottish National Orchestra Chorus behind the Orchestra we went on to hear Elfman's score for Batman which dates back to 1985. The audience loved Alistair Higgins' solo in End Credits from Elfman's Alice in Wonderland, the 2010 blockbuster. The evening ended with a Suite from Edward Scissorhands which had Johnny Depp in the lead role back in 1990. 
Performance: Friday 29th November 2019 at 7.30pm