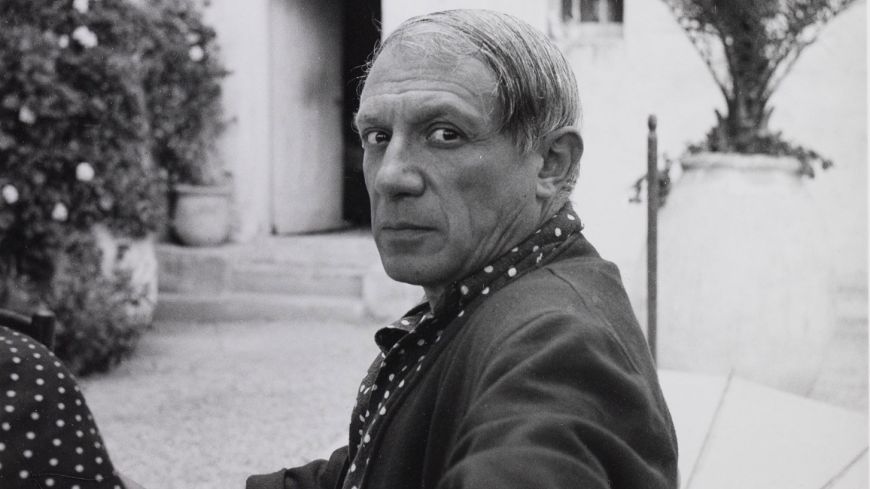 "Who sees the human face correctly: the photographer, the mirror, or the painter?" Pablo Picasso
When Roland Penrose introduced Lee Miller to Pablo Picasso in Mougins, South of France, it was a meeting of true creative minds. Miller, fashion model, Man Ray's muse and pioneering photographer, made quite an impression on the most influential and dominant artist of the 20th century.
This exhibition of photographs by Miller offer an intimate, revealing observation of Picasso's private life and work, and in contrast, his portrait of this free-spirited woman painted during that first symbolic summer, 1937.
So who was Lee Miller, this glamorously enigmatic, artists' muse?
Ten years earlier, aged 20, in Manhattan, she was nearly knocked over by a car when crossing the street, but was fortunately saved by a gentleman, Condé Nast, the Magazine publisher. It was fate and this beautiful woman soon became a Vogue supermodel cover girl.
In 1929, she decided to leave the U.S. for the sophistication of Europe and pursue her own art career. She managed to become a pupil of the American Surrealist photographer, Man Ray, who did not take apprentices. The story goes that she marched into his studio and announced, "I'm your new student."
Over the next few years he became obsessed with her, while together they developed innovative techniques in photography. Fast forward to 1937, Paris when she met Roland Penrose, the Surrealist artist and writer, and travelled with him to Greece, Romania and the south of France.
At the Hôtel Vaste Horizon, Mougins, Picasso was staying with his lover, Dora Maar when Penrose arrived with Lee Miller in tow, camera in hand. This stunning photograph of Picasso (shown above), illustrates her talent as a portraitist. In this quickly snapped picture, she captures his quiet intelligence as if he suddenly turned to stare at the lens, in serious, thoughtful reflective mood.
Pablo Picasso painted six colourful portraits of Lee Miller during that summer reflecting her energy and personality. The bold geometry of "Portrait of Lee Miller as L'Arlesienne" shows the deformed, yet distinctive shape of her face, expressive eyes and smiling mouth.
Penrose was captivated by this image in which he saw her " vitality, beauty, mystery and intensity." He bought the painting for £ 50.
Years later, when their 2 year old son Antony saw the portrait, he is reputed to have cried out, "Mummy, Mummy". For a young child to recognise the facial profile shows how Picasso caught a sense of truth and reality behind its fragmented style.
The photographs cover the pre and post war years, many depicting the leisurely life at play on the Cote d'Azur. Here is Picasso, surrounded by his artistic circle of friends, wives, lovers and children … such as a charming holiday snap of his baby son Claude, naked and laughing, as his father carries him for a splashing dip in the sea.
"The Picnic" shows Roland Penrose, Paul Éluard, Nusch Éluard, Man Ray and Ady Fidelin at Île Sainte-Marguerite, Cannes. The composition is no doubt a clever pastiche of Manet's "Le Déjeuner sur l'Herbe" which originally caused certain controversy when first shown because of the nude woman sitting with fully clothed men, having a picnic lunch.
Earlier that year 1937, Picasso had ompleted his epic mural, Guernica, a powerful political statement on the tragedy of the Spanish Civil war. After the outbreak of World War II, it was soon Miller's turn to observe the brutality of war close up and personal, when she became the sole correspondent for British Vogue.
The challenge to report on the combat front line produced extraordinary war photography and a valuable photo-journalism stories as she followed the Allied advance through Europe, all the way to their arrival at the death camps in April, 1945.
With Life magazine photographer David Scherman, she entered Hitler's secret apartment in Munich where she stripped off her clothes and her muddy boots.
"Mein host was not home," she reported. But his telephone line was still working. "I took some pictures of the place and I also got a good night's sleep in Hitler's bed. I even washed the dirt of Dachau in his tub."
Happier times were soon to follow with her marriage to Roland Penrose and the birth of their son, Antony. They bought a dairy farm in East Sussex and Picasso was a frequent guest here. Their enduring friendship is also illustrated here by archive correspondence, papers and books, such as Penrose's biography, "Picasso, A Life and Work" (1958).
In this exhibtion there are 100 photographs but only a couple of paintings by Picasso; it would have been more illuminating perhaps to have included more of his iconic portraits of Lee Miller; or perhaps, "Portrait of Dora Maar" or "Weeping Woman".
"Lee Miller and Picasso" tells the extraordinary story of their close relationship, creative collaboration and their respective passionate pursuit to illustrate life, people, love and war through Art.
"Art is a lie which makes us realise the truth". Pablo Picasso
"Lee Miller and Picasso", Scottish National Portrait Gallery - The Robert Mapplethorpe Gallery: 23 May – 6 September, 2015.
The exhibition is part of the 2015 Season of Photography and Edinburgh Art Festival.