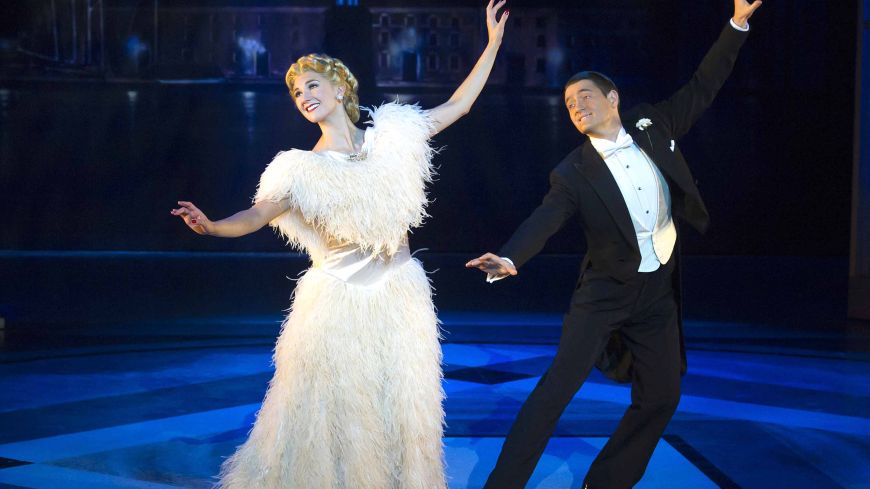 Production
Irving Berlin (music and lyrics), Matthew White (director, adaption), Howard Jacques (adaption), Bill Dreamer (choreographer), Dan Jackson (musical director).
Performers
Tom Chambers (Jerry), Summer Strallen (Dale), Martin Ball (Horace), Vivien Parry (Madge), Stephen Boswell (Bates). The Ensemble of actors, singers and dancers. The Orchestra.
The series of legendary and much beloved romantic musicals starring Fred Astaire and Ginger Rogers are lavish, glamorous excuses to show off their dancing talents on screen, and  "Top Hat"  (1935) is regarded as one of the greatest dance movies of all time. Now, 76 years later, the world premiere of the stage musical of "Top Hat" is touring the UK prior to a West End season.
"Ginger Rogers did everything Fred Astaire did. She just did it backwards and in high heels"
Even if you have never seen the film, you are sure to recognise some of the foot tapping numbers from the soundtrack composed by Irving Berlin.  All five songs reached the U.S. Hit parade at the time, including "No Strings," "Isn't This a Lovely Day," "Top Hat, White Tie and Tails" and "Cheek to Cheek."
The narrative is based on a crazy, contrived, timeless tale, reminiscent of a Shakespearean comedy, in which Jerry Travers, an American tap dancer arrives in London to star in his first West End show.
At his hotel, Jerry meets a beautiful blonde, Dale Tremont, who is not taken by his seductive charms, or late night dance routine, and the couple soon become caught up in tangled web of mistaken identity.
The action, music and dance is performed against the elaborate backdrops of Grand Hotel lobbies and suites, ballrooms, nightclubs and the Lido in Venice, with slick scene shifting and costume changes from frocks and swimsuits, to evening gowns, tuxedos, top hats and tails.
It's a glamorous fashion parade all the way, interspersed with glorious choreography, from quiet duets to show-stopping numbers, and Berlin's famous love songs, while the hilarious storyline is rich in wise-cracking jokes and farcical characters.
Performed by a large cast, accompanied by an orchestra, this is not a small scale touring company, but the forthcoming London production which has come to town. Playing Jerry and Dale are Tom Chambers and Summer Strallen, who recreate the unique chemistry of the Astaire –Rogers song-and-dance double act with pure elegance, gliding gracefully around the stage; fabulous, faultless dancing.
Summer (recently starring in "The Sound of Music", and "Love never Dies"), has a silky singing voice while Chambers was compared to Astaire when he foxtrotted his way to win the BBC show, Strictly Come Dancing.
The whole ensemble is superb, many playing various roles, with notable lead performances from Martin Ball as the accident prone producer, Horace Hardwick, Vivien Parry as his cocktail-drinking wife, Madge, and Stephen Boswell as the reliable butler, Bates.
The original Top Hat movie provided wish-fulfillment for the 1930's Depression-era society, as shown in Woody Allen's The Purple Rose of Cairo, when the heartbroken Cecilia (Mia Farrow) watches the famous Astaire and Rogers' "Cheek to Cheek" scene and her sad face slowly transforms into one of rapturous joy.
The near-capacity audience left the Playhouse on Tuesday night with a smile on their face and a skip in their step.  This new stage adaptation of "Top Hat" is a classic, oh-so-romantic, feel -good musical comedy for all ages. Book your tickets now for a truly joyful experience.
Showtimes

Edinburgh Playhouse, 22nd - 26th November.
On tour before a season in London in 2012.
Read Irene Brown's Review of Top Hat at the Festival Theatre Edinburgh, 2014.