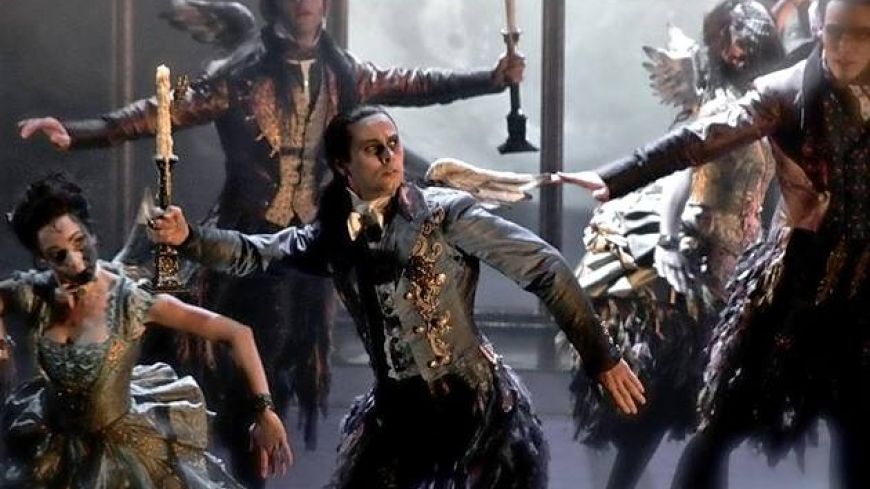 Production
Matthew Bourne (choreography, direction, scenario), Lez Brotherston, (set and costume design), Paule Constable (lighting), Paul Groothus (sound).
Performers
Edwin Ray (King), Daisy May Kemp (Queen), Hannah Vassallo (Aurora), Dominic North (Leo), Christopher Marney (Count Lilac), Tom Jackson Greaves (Carabosse) and the company as fairies, suitors, and Palace staff.
The story of "The Beauty Sleeping in the Wood" by Charles Perrault, later reworked as "Little Briar Rose" by the Brothers Grimm slowly evolved into the fairytale, "The Sleeping Beauty" about the Princess cursed to sleep for 100 years before she finds her Prince.
New Adventures under the inspirational choreographer Matthew Bourne is well named: he creates exciting, revitalised versions of favourite classic ballets - the all male Swan Lake, a witty, irreverent Nutcracker and Cinderella set in 1940s London.
In 1889, Tchaikovsky was invited to compose the music for a new ballet, "Sleeping Beauty", working with choreographer Marius Petipa, finishing the score in just 40 days. In a letter to one of his benefactors he wrote: "The subject is so poetic, so inspirational to composition, that I am captivated by it".
As a clever timeline link, 1890 is the starting point for Bourne's "Sleeping Beauty", the era of Victorian Gothic novels, supernatural tales and the creation of Dracula. With gender bending artistic licence, Lilac Fairy becomes a Vampire, Count Lilac, and Carabosse/Caradoc, (as father and son), the charming, dark fairies.
A very cute baby girl, little Princess Aurora sits in her crib to be blessed by the good fairies with gifts of beauty and joy, while Carabosse plants a curse that she will prick her finger and die. Count Lilac breaks the spell to ensure she will fall asleep from which she can only be awakened by her lover's kiss. The nursery with a central open sash window is reminiscent of Peter Pan, as these feather-winged, wild woodland creatures of the night creep in and out.
1911: Aurora's coming of age birthday party is an elegant Edwardian English picnic, all parasols and white dresses, in the landscaped Palace garden. Hannah Vasselo as Aurora portrays a wild and carefree girl – a free spirit of blossoming femininity and sexual awareness. She dances barefoot with an Isadora Duncan sense of wicked adventure, catching the eye of Leo, the boyish, lovesick gamekeeper. But then the sharp thorn of a rose pricks her finger with dire consequences.
Act II – fast forward to 2011: the fashion of hooded tops and trainers capture time and place in an instant, as the continuing battle between good and evil, love and revenge is fought out with imaginative camp and vampish dramatic flair.
The ensemble of fairies and sinister sprites flit and fly, scamper and skip; they glide along moving pathways to denote speed of light and flight as dance steps switch from fast and feisty to graceful and romantic. In moody scenes of evil doings, the atmosphere is rather spooky - perhaps inspired by the witch and flying monkeys in the Wizard of Oz.
In "Sleeping Beauty – a Gothic Romance", Bourne creates a thrilling, theatrical vision embracing the art of simple storytelling, puppetry, masks, painterly scenes, time travel and vivacious choreography to complement Tchaikovsky's flowing, narrative score.
This glamorously-designed production with its ornate set and fabulous costumes is like a child's colourful pop up storybook come alive on stage. The show takes you on a magical, dreamlike journey -on which you will believe in fairies!
Show times
27 November-1 December, 2012, 7.30pm (Mats: Thu & Sat 2.30pm)
and then on UK Tour.
Ticket Prices
£42.50 - £16