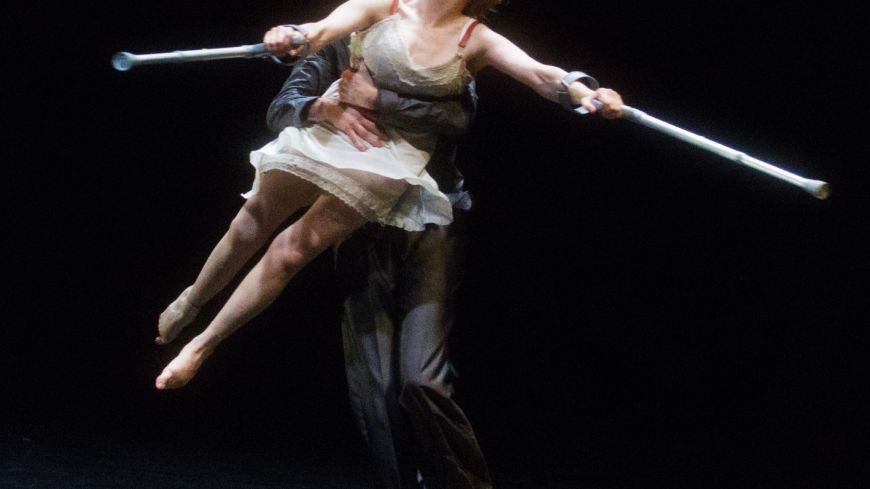 Company
National Theatre of Scotland
Production
Claire Cunningham and Gail Sneddon (devisers and directors), Gail Sneddon (video designer), Matthias Herrmann (composer), Rachana Jadhav (designer), Karsten Tinapp (lighting designer) , Kevin Pollard(costume designer), Steve Tiplady (puppet consultant), Davey Anderson (dramaturg), Bruce Cameron(animator ), Margaret –Anne O'Donnell (producer)
Performers
Claire Cunningham, Christopher Owen
It is truly a wonderful thing when the promise of a performance chimes perfectly with its reality. The projected snowstorm that danced on the stage with rods of silver light, swirling letters and electric waves to haunting sounds before the performance began, more than set the scene for the intense and fabulous world of imagination that was Claire Cunningham and Gail Sneddon's Ménage à Trois.
The piece is autobiographical and deals with Claire Cunningham's long term relationship with her crutches as she looks at her search for love with the constant accompaniment of this silent, metallic chaperone. She describes them and her as being "Like a clique, a trio, a Ménage à Trois."
Like in the highly emotive Slava Polunin's Snow Show, where a lover is created from a coat on a stand, Cunningham creates her imaginary companion and ideal man by putting a jacket over her reassembled crutches creating a scarecrow shape that, through clever puppetry, becomes the vehicle of her dreams. This man manifests in the form of dancer Christopher Owen who, dressed in metallic grey to echo the metal supports, sensitively partners Claire in her dream sequence of an exquisite fantasy relationship.
The spare, yet profound text is narrated and simultaneously displayed through Gail Sneddon's brilliant video design and graphics that also gives us video games, aquatics, fireworks and skeletons in projected perfection over the piece. In her gorgeous orange ball gown by Kevin Pollard, Claire delivers Susanna's aria from Mozart's The Marriage of Figaro, Deh, vieni, non tardar, oh gioia bella (Oh, come, don't delay, my beautiful joy), the letters dropping and symbolically breaking up the words as the giant lines of light touch and deflect each other like fleeting relationships.
With magnificent music from Matthias Herrmann and a dark fairy tale set by Rachana Jadhav that includes a colossal cabinet that looks like a giant metronome, and clever use of the clutch of crutches as props, this is a beautiful piece played with intense grace that although clearly informed by Claire's condition, speaks universally of the very human longing for closeness; the unnaturalness of the lack of touch; the desire to have the beautifully expressed 'smile pressed in to my neck'.
It is a greatly moving and poetic work played with touching vulnerability that reminds us that we all need someone to lean on.
Ménage à Trois was commissioned by the Unlimited Cultural Olympiad programme and was part of the London 2012 Festival. Unlimited encourages collaborations and partnerships between disability arts organisations, disabled and deaf artists, producers and mainstream organisations to celebrate the inspiration of the Olympic and Paralympic Games and to create original and exciting works.
Show: Wednesday 19 September, 7.30pm. Tour ended