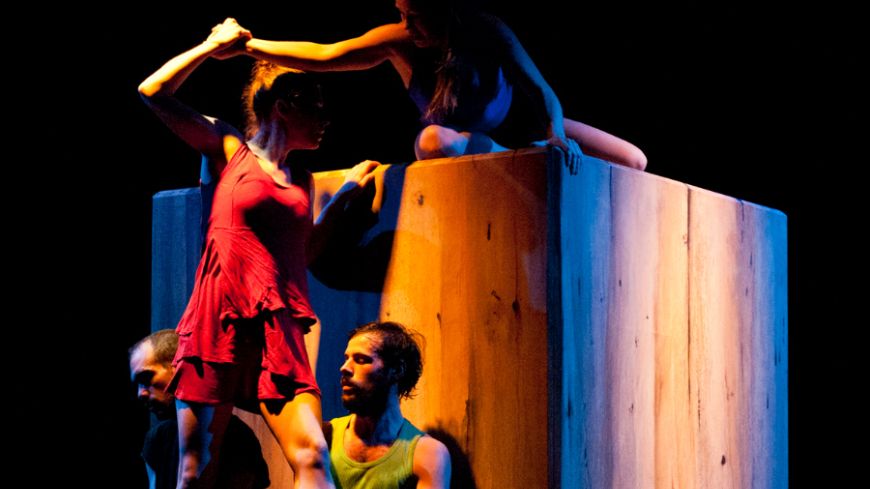 Production
Thomas Guerry (Choreographer), Camille Rocailleux (Composer), ), Benoit Riot Le Junter (Technician), Laurent Bazire (Technician), Audrey Jardin (Production Manager).
Performers
Thalia Ziliotis (Dancer), Quelen Lamouroux (Musician), Sylvain Robine (Musician), Come Calmelet (Dancer).
Bounce, from French company Acrosm, is a playful blend of music, dance and song aimed at young people aged 7-13years.
Formed in 2001 by choreographer Thomas Guerry, together with composer Camille Rocailleux, Acrosm creates performances that probe into the relationships between different artistic disciplines and in doing so, brings them closer together. In Bounce, movement and music is woven into an increasingly complex soundscape that appears to incorporate the full range of sounds a human body can produce. The overall effect is both witty and intriguing.
At first the massive wooden cube that dominates the stage is ignored, as two smartly dressed musicians stride across the floor to take up their places at the side, soon followed by two barefoot dancers who take centre-stage in loose, layered clothing. The dancers are chatting away to each other, oblivious to the air of disapproval wafting over from the stiff violinist and stuffy double bass-er. By the end of the performance, they are united in their barefoot, hot and sweaty, happy and relaxed demeanour. But getting there is quite a struggle.
As the musicians tune up and get going, the dancers warm up with free, loose movements that develop into a synchronised routine of swings and spins – until the male dancer crashes into the box. And so begins a chain of, often repeated, events with the cube as their focus. They try to push the cube away, with the male musician getting so frustrated he's spitting-shouting and tearing his shirt. This sets the others off laughing, morphing into rhythmic, repetitive vocalisations that end in groovy, group soul-singing.
All fired up, they scramble to be the first to climb to the top of the cube, pushing each other out of the way, frenzied movements synchronising into rhythmic slaps and beats. There's some down-time too, the female violinist playing mournfully while the male dancer turns her upside-down and balances her across his shoulders. Finally, in a slow-motion display of gymnastic ability, the four offer each other support to move silently up the sheer face of the cube to reach its summit.
The quality of musicianship, acrobatics and movement is, at times, breathtaking. The use of the human voice as percussion, melody and expression adds another dimension, allowing the audience a closer connection with the characters and personalities of these physical performers. It's quirky and fun, but seriously clever.
Runs 31st May – 1st June,