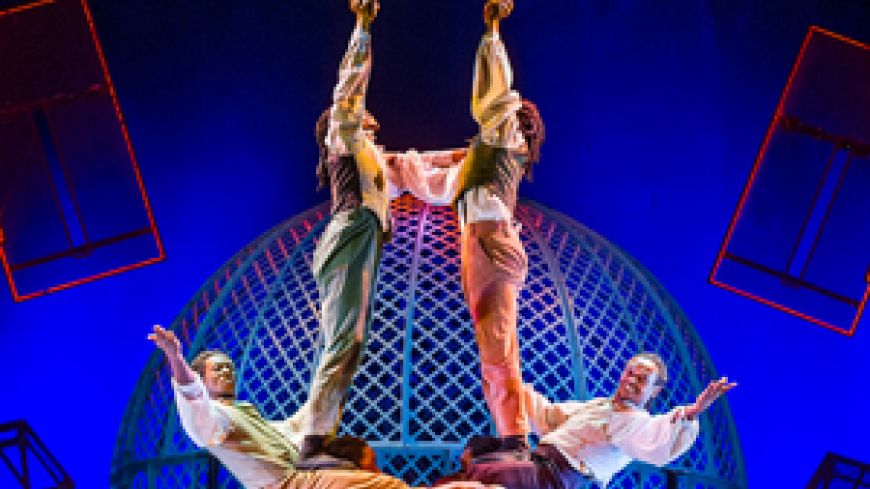 Production
Julius Green (Creative Director), Dede McGarrity (Choreographer), Sean Cavanagh (Set Design), Mike Robertson (Lighting Design), Matthew Bugg (Sound Design), Dianne Kelly (Costume Design), Leah Sams (Costume Associate)
Performers
Lucius Team (Globe of Death), Timbuktu Tumblers (African Acrobats), Tropicana Troupe (Cuban Springboard Troupe), Germaine (Foot Juggling from France/Bolas), Luciano Gabriel (Bolas From Argentina), Carina (Bolas and Dancer), Jose & Gaby (Hand to Hand from Colombia), Tweedy (Clown from Scotland), Odka (Contortion with Bow & Arrow, silks - Mongolia), Laci (Robot & Aerial Pole - English), Rosey + Jackie (Aerial Silks - English), Toni (Knife Thrower - Czech), Zula (Tower of Chairs - Mongolia), Eva, Kata & Vanessza (Berserk Dancers from Hungary)
Ladies and gentlemen, roll up! Roll up! Come and witness as the Cirque Berserk troupe unpack all of the 'Big Top' necessities onto the Festival Theatre stage. Drawing in the crowds for their fifth year, the self proclaimed 'Berserkers' are here to impress, thrill and sate any cravings that Hugh Jackman's latest Barnum movie may have caused.
Founded by Zippo's Martin Burton, this company have left no skill behind - sourcing talent from across the globe. With tumblers from Timbuktu, dancers from Columbia and even a clown from Scotland, diversity appears to be Cirque Berserk's middle name. The 35-strong cast cover every essential act with death defying courage.
Circus classics drive the show, witnessing lots of aerial performances on poles, silks and hoops, a contortionist who can fire arrows with her feet and even the good 'ole tower of chairs. However it is the lesser known performances that wow. Have you ever seen a woman juggle with her hands and feet simultaneously? Or have you seen Argentinian's use their traditional throwing weapons, bolases, as an interesting musical alternative to tap shoes? These are the moments that the 'Berserkers' really come into their own.
Sadly, not every act runs seamlessly, with Tweedy the clown's juggling falling short of the expected, forcing you to lose interest in his clumsy gags in the later appearances. Yet, not all failings leave the audience disappointed as when an acrobat from the Tropicana Troupe fails to make her landing - she gets back up on her seesaw and tries again - gaining a triumphant roar from the crowd.
The pièce de résistance of the evening comes at the end of both acts in the aptly named 'Globe of Death'. Multiple bikers squeeze into the oversized hamster ball and reach speeds of 60mph whilst inside, at the same time!
A proven hit, that still continues to astonish audiences across the globe, the 'berserkus' circus is a travelling show that is not to be forgotten. No really, that stomach-in-your-mouth feeling when the fourth bike enters the globe really doesn't leave you!
Runs until 24 February 2018.
Tickets available at edtheatres.com