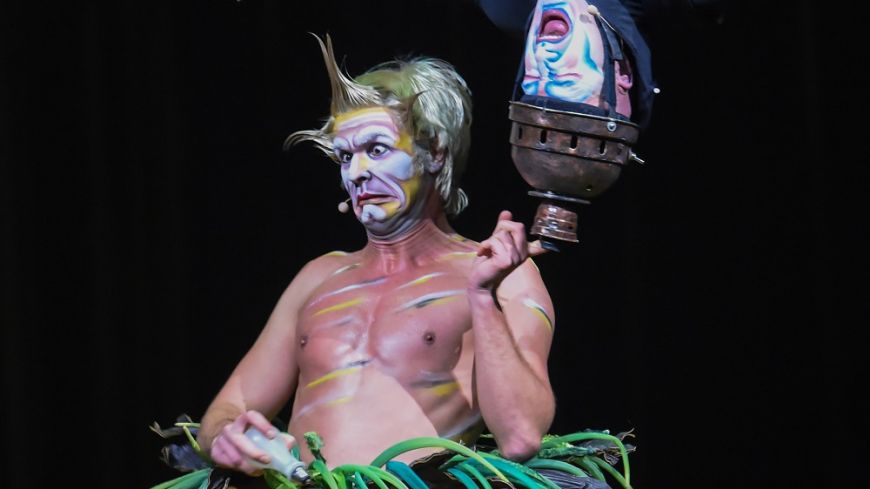 Production
Dominic Champagne (director)
Performers
Fernando Miro (Net - Puerto Rico) Hayami Yumita, Yuta Takahashi, Ryota Asadome,
Nahirito Tonosaki (Synchronized Tumbling - Japan), François Gravel (Single Point – Trapeze Canada), Rodrigue Proteau and Emily Carragher (Clown Magic Canada and USA),
Levan Torchinava and Tornike Zabakhidze (Georgian Dance - Georgia), Aleksandr Kurennoi, Camille Van Betsbrugge, Anastasia Gorbatchuk, Ayla Ahmadova, Kateryna Sytnikova, Anastasyia Melnychenko, Sanne Van Overberghe (Slippery Surface- (Russia, Belgium, Azerbaijan, Ukraine), Raphael Nepomuceno (Solo on Crutches (Nightmare)Brazil), Oleksii Kozakov and Alexander Romashyn (Duo Straps -Ukraine), Cédric Bélisle (Roue Cyr / Cyr Wheel -Canada), Skywatcher (Andrey Kislitsin - Russia) The Guide (Sam Sturt - UK), Darina Mishina (Canes - Russia), Andrey Babyshev, Sergey Cherkasov Sam Sturt Alexey Maksimov, Vitalii Alekseev, Andrey Kartashov, Keiran Bourke, Konstantin Kolbin, Evgeny Mitin, Dmitriy Liubashenko (Russian Swings - Russia, Ukraine, Australia and UK), Jamieson Lindenburgh and Isabelle Corradi (Singers- US and Canada), Brigitte Larochelle (Canada) and Conrad Askland (USA) (Band Leader / Keyboard), Paul J. Bannerman (Drums - Canada), Jose Manuel Pizarro (Instrumentalist – Spain), Damion Corideo (Percussions USA), Mikey Hachey (Bass - USA), David Piché (Violin - Canada)

There is an air of quiet anticipation as Glasgow's massive venue, SSE Hydro, slowly fills to face the modern circus ring in the form of an open circular stage. Behind it are what looks like a shimmery bamboo forest with a piece of winding scaffolding like a rickety roller coaster going who knows where. A whooshing wind sets a haunting tone as we prepare for the thrill of the redoubtable Québécois circus troupe, Cirque du Soleil with their latest show, Varekai
When the host of fantastical nymphs and creatures start slithering and shifting across the stage, it feels like you would need ten pairs of eyes to take in the kaleidoscope of activity. They are led by Andrey Kislitsin as The Skywatcher, a satyr like character who looks and acts like the master of misrule that he appears to be and all are accompanied by a parade of strolling players making some heart rending sounds.
From the exquisite and breath-taking arrival of Fernando Miro as the fallen angel that is Icarus, we are treated to the soaring skills of these masters of circus. He performs flawless moves on a twist on aerial silks in the form of a net.
There's the synchronicity and hair's breadth accuracy of the troupe of Japanese tumblers; then François Gravel's spiralling single point trapeze that's accompanied by a serenade from Isabelle Corradi as The Muse, who looks like a female Pierrot with her giant purple ruff, and the virtuoso jaw dropping cyr work from Cédric Bélisle; the beauty and transporting magic of the flying airship called Lightbulb, not to mention the swirling red Russian Swings to some hot drumming.
All exactly what Cirque du Soleil is about.
Since its inception in 1984, Cirque du Soleil has delivered circus performances not only of a superlative standard, but with shows containing narratives with live music and singing that have allowed the company to set the gold standard for animal free nouveau cirque.
Their latest show Varekai means 'wherever' in the Romany language and in director Dominic Champagne's words "pays tribute to the nomadic soul". Romany people are nomads, wanderers, but sadly there was some unfortunate straying from the path of Cirque du Soleil magic.
It comes in the form of some bizarre kitsch cabaret from two performers as an Elvis wannabe and an adult baby doll that sat as incongruously as the boot on Shirley Bassey's glamorous foot on the 1971 Morecambe and Wise Show against the feral elegance of Varekai.
These strange and unsubtle segments managed to burst the magic bubble and completely break the spell that Varekai had so beautifully woven. Quel dommage!
Glasgow performances run till Sunday 19th March before tour ends – times vary