Image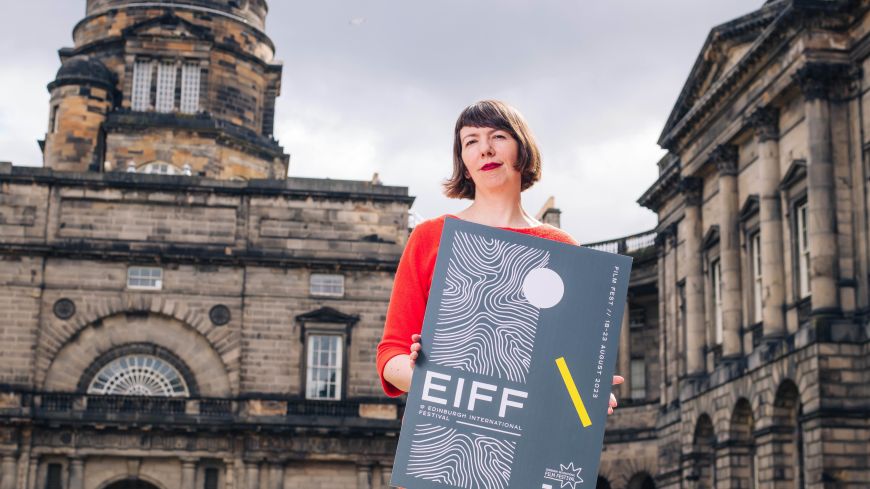 More details about talent, guests, and programming for this year's shortened Edinburgh International Film Festival (EIFF) have been released. 
As part of this year's fest, running from 18th to 23rd August, the EIFF is hosting a series of panels under the banner "Encounters", where audiences can meet filmmakers and guests, in conversations that "go beyond the post-screening Q&A". Each session will feature BSL interpretation. Tickets are priced as Pay What You Can, £6, £4, £2. Three Encounters have been announced today and are listed below.
The EIFF has also announced details of an online programme of films in partnership with Curate-It programmed by new curators based in Scotland, Beulah Ezeugo and Zainab Ashraf (details listed below).
Having faced down the prospect of its own demise, the EIFF has had to be innovative this year in putting together a programme with limited time and resources. In the absence of its usual industry programme, this year the Festival is calling on the EIFF "alumni" with a talent assemble on Saturday 19th August, "a celebration of our community" with BBC Film, BBC Scotland and MG ALBA. 
"So if you've ever been a participant in EIFF's Talent Labs or development programmes, been a Trailblazer, a Young Critic or Young Programmer, or if you've ever screened a film at the Festival in the past, consider this a bat signal: we want to hear from you," it says on the Edinburgh International Festival site, its partner this year.
Details have also been announced for daily filmmakers and talent who will be coming to this year's festival, including Shane Meadows, Irvine Welsh, David Hayman, Charlotte Regan, Ella Glendining, and Ira Sachs. Details are below.
Film Festival Talent (details provided by EIFF) 
On 18 August, the Festival opens with the world premiere of Silent Roar, the debut feature from BAFTA-nominated Scottish writer and director Johnny Barrington. Barrington will be in attendance to present the film, alongside the film's stars Ella Lily Hyland (Fifteen Love), Louis McCartney, Mark Lockyer, and Chinenye Ezeudu (Sex Education). 
On 19 August, acclaimed director Ira Sachs (Love is Strange, Little Men) will be on hand to present his intimate new feature Passages, the thorniest and horniest film of the year. Sachs will also be taking part in a special Sunday Salon event on 20th August, discussing queer cinema and representations of intimacy with 2020 Booker Prize nominated writer Brandon Taylor (Real Life, The Late Americans). 
Filmmaker Ella Glendining will be at the festival to present her smart, honest and beautifully illuminating documentary Is There Anybody Out There? which examines questions of disability on a journey to find herself in others.
Writer/director Karoline Lyngbye joins the Festival to present Superposition, her stylish and chilling existential thriller.
While in the Festival's weekend of outdoor screenings, Cinema Under the Stars, director Charlotte Regan presents her Sundance award-winning feature film Scrapper. 
On the 20 August, feel-good LGBTQ+ romance Chuck Chuck Baby receives its World Premiere, with director Janis Pugh in attendance.
Filmmakers Sam H. Freeman (whose television work includes Industry and This Is Going To Hurt) and Ng Choon Ping attend the Festival to present their tense, stylish thriller about desire and self-loathing, Femme.
Director Bette Gordon joins the Festival for the special 40th anniversary retrospective screening of her neo-noir feminist classic Variety.
Huw Lemmey (host of podcast Bad Gays) presents Ungentle, a thought-provoking study of British espionage and homosexual identity.  
At Cinema Under the Stars, artist Julia Parks presents Wool Aliens (and other films), a series of short films, created during a residency in Hawick in the Scottish Borders. The screenings are preceded by a performance from musician Miwa Nagato-Apthorp.  
-
On 21 August, Director Hope Dickson-Leach (The Levelling) joins cast member David Hayman to present the World Premiere of her atmospheric Edinburgh-set period thriller The Strange Case of Dr Jekyll & Mr Hyde.
David Hayman also joins writer/director Paris Zarcilla to present his chilling debut film Raging Grace, a haunting gothic horror which recently took the Grand Jury Prize at South by Southwest (SXSW) Film Festival. 
Jeanie Finlay arrives in Edinburgh to present her rousing portrait of author, activist and podcaster Aubrey Gordon in Your Fat Friend.
-  
On 22 August, Kill, a nail-biting debut feature from director Rodger Griffiths, assembles an exceptional cast of Scottish talent in a gritty and bloody revenge story. Griffiths will attend the Festival alongside the film's stars Paul Higgins (The Thick of It), Daniel Portman (Game of Thrones), Callum Ross, Anita Vettesse, and Brian Vernel (Dunkirk). 
A forgotten gem of American indie cinema, Tokyo Pop is newly restored to mark the film's 35th anniversary, and the Festival is thrilled that writer/director Fran Rubel Kuzui (who later went on to direct the original Buffy the Vampire Slayer movie) and producer Kaz Kuzui will present the film.
Lead actor Thomas Schubert of Afire is in town to present the Festival's screening of the film: a sharp and funny take on the struggles of creativity. 
Dead Man's Shoes, Shane Meadows' radical revenge thriller, had its world premiere at the Edinburgh International Film festival in 2004. Now nearly twenty years on, Shane Meadows joins the Festival alongside producer Mark Herbert for a special retrospective gala to celebrate the film's extraordinary legacy. 
-
On closing night 23 August, celebrated author Irvine Welsh will join director Ian Jeffries to present the World Premiere of their collaborative new documentary Choose Irvine Welsh, charting the author's life and philosophy in his own words and those of his collaborators and admirers.
The 2023 Edinburgh International Film festival closes with stylish deadpan dramedy Fremont, presented by the film's director Babak Jalali and writer Carolina Cavalli (Amanda).
The Edinburgh International Film Festival has announced more information about guests involved in its Encounters discussion sessions, along with details about this year's Curate-It programme.
Encounters
Encounter 1: Casual Intimacy  
Sunday 20 August 14:15-15:45 Everyman 3 [BSL]
What does it take to make a film about somebody else, or about your own lived experience? How much can you really know about a person or character through the act of filming them? The panel of creatives from across film, literature and performance will explore crafting intimacy in storytelling. Speakers will include the co-directors of queer revenge thriller Femme, Sam H. Freeman and Ng Choon Ping, writer and performer Colm McCready (whose show Scaredy Fat is playing at this year's Fringe), author Kirsty Logan (The Unfamiliar: A Memoir of Queer Motherhood) and filmmaker Ella Glendining (Is There Anybody Out There?)  
Encounter 2: Creative Survival  
Monday 21 August 16:30-18:00 Everyman 3 [BSL]
Survival as an artist is a question of resilience. How do we make work without sacrificing ourselves or others? A panel of multidisciplinary creatives convenes to discuss how to keep on making art when everything seems stacked against artists. Author and critic Katie Goh (The End), author and agency founder Nikesh Shukla (The Good Immigrant, Brown Baby), author and filmmaker Guy Gunaratne (Mister Mister), author and screenwriter Huw Lemmey (Ungentle, Bad Gays) and filmmaker Paris Zarcilla (Raging Grace).  
Encounter 3: Defining Belonging  
Tuesday 22 August 16:30-18:00 Everyman 3 [BSL]
The sense (or absence) of belonging permeates this year's most powerful works. How do we shape stories about fitting in, or standing out? Babak Jalali, director of Fremont, the EIFF Closing Night film, joins author Heather Parry (Orpheus Builds a Girl, This Is My Body, Given For You) and writer and editor Anahit Behrooz (BFFs) to discuss how the exploration of belonging has informed their work, and what makes these stories feel so universal. 
Curate-It online film programmes
Curate-It is a digital training application developed, with support from Screen Scotland, to provide users with the information and skills needed to implement their own film screening events. 
The platform has been designed to actively ensure that knowledge of film curation is easily accessible within the digital space and is focused on providing access to curatorial talent from backgrounds that are underrepresented in the film sector.
As part of this year's edition, EIFF and Curate-It offered two fellowships to early career curators and programmers working in Scotland. Beulah Ezeugo and Zainab Ashraf have undertaken the Curate-It course and are each presenting a programme of events.
no gaze or hand can hold you there
From 19:00 Friday 18 August
Curator Beulah Ezeugo presents a programme that centres on 20th-century photography through the black gaze. The selected films invite audiences to examine the importance of visual agency and how the ability to represent oneself can become means for salvation, for revelation, for pleasure, for exposure, or for emergence.
Heritage Withheld.
From 19:00 Monday 21 August
Curator Zainab Ashraf invites viewers to look at the importance of heritage. Juxtaposing work from filmmakers working in Scotland and Palestine, the programme explores forms of resilience where an aspect of heritage is withheld.
Each Curate-It programme will be available for audiences to watch for free for 72 hours on Curate-It's VoD platform Screen-it.