Image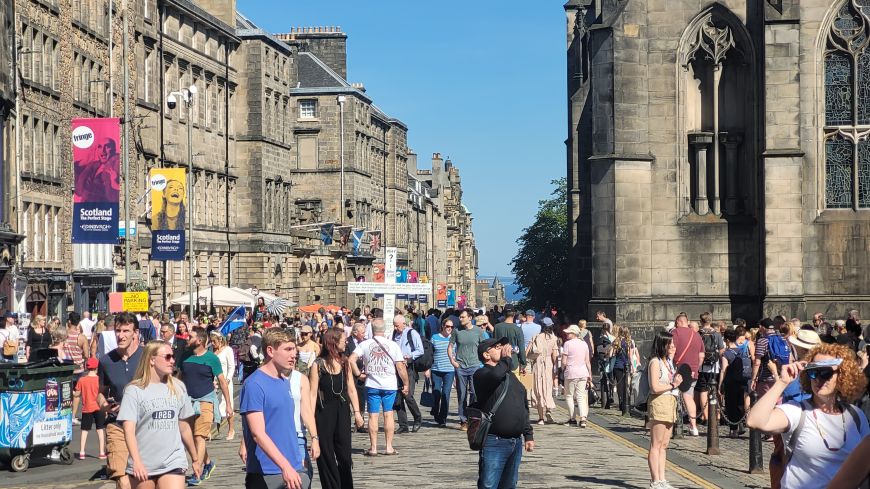 Scotland's busiest airport saw the number of international fliers flood back in 2022. The number of people travelling through Edinburgh Airport went from 1,530,909 in 2021 to 8,197,756 in 2022, an increase of 6,666,847 people or 435%.
In spite of the huge rise, due to waning pandemic restrictions, the figures were still below the airport's previous record year in 2019, which saw over 9.4 million international fliers pass through its gates.
The number of domestic fliers saw a less pronounced jump, going from 1,500,231 in 2021 to 3,064,117 in 2022, an increase of 1,563,886 or 104% and still significantly lower than the 5,338,511 domestic fliers recorded in 2019.
In total, 11,261,873 people travelled through the airport in 2022, up from 3,031,140 in 2021.
"We are encouraged by the ongoing recovery in passenger numbers in 2022," said Gordon Dewar, Chief Executive of Edinburgh Airport.
"There is little doubt that people want to travel – both from Scotland for holidays or business opportunities or those international tourists coming to experience the best of Scotland's visitor attractions and beautiful places and landmarks."
However, the rapid ramping back up of passenger numbers at Edinburgh Airport brings back into focus the tension between Edinburgh's climate aspirations and the airport's expansion plans.
Edinburgh is pursuing an aggressive goal to be net-zero by 2030. In the transition to a low-carbon economy, de-carbonising the aviation industry will be one of the thorniest problems to resolve, if it can be at all.   
"The important challenge for us," says Dewar, "in partnership with the city, the Scottish Government and others, is to facilitate growth in a responsible way and in a way that protects the vast number of high-quality jobs that airports provide, both directly and indirectly through airlines, handling agents among others, and the supply chain that supports us all."
Edinburgh Airport Adds Destinations
Edinburgh Airport currently flies directly to around 150 destinations worldwide, from short haul flights to a variety of British airports such as Kirkwall, Cardiff, and Manchester, to European cities such as Cologne, Pisa, Madeira and Prague, and intercontinental flights to Washington DC, Orlando and Toronto.
The airport has been seeking to expand its international travel. It recently announced Qatar Airways is increasing the frequency of its Doha route to ten flights each week from February.
Delta Air Lines is introducing a new, daily service between Edinburgh and Atlanta, a major North American aviation hub, this Summer. Running from 25 May to 5 September, it was originally introduced as a 5-day service but was increased to 7 days due to "continued strong demand for transatlantic travel". 
Delta also operates daily services from Edinburgh to New York JFK all year round, and seasonal routes to Boston.
For the first time, WestJet is introducing a new seasonal route between Edinburgh airport and the western Canadian city of Calgary, starting 17th May and running to 9th October.   
The airport has taken some initiatives to green its own operations. Also, a recently commissioned new report will look at the role of Edinburgh Airport in a net-zero world and how Scottish airports can provide "sustainable growth" to local economies.
Scottish academic Professor Duncan Maclennan will be comparing Edinburgh Airport's broader role in civic Scotland, with international cities like Sydney and Toronto.
Professor Maclennan said:
"Scotland has to shift to net zero, but we also have to sustain growing prosperity not least to support a fairer Scotland and improve fraying public services. Prosperity can be enhanced by community wealth building but for most Scots innovation, productivity and trade will be the route to well-being. And that requires connectivity.
"Technological change in aircraft design, engines and fuels, available globally, will be part of the solution but it is clear that strategic approaches, at national and metropolitan scales, to the economic roles of airports and the infrastructure systems they are part of can radically alter the steepness of economy-emission trade-offs for the future. Scotland needs to explore these options, and for the long term."
Sir John Elvidge, Chairman of Edinburgh Airport added:
"It is also important, in this context, that we have a serious and informed conversation about our climate, aviation and its role in a net zero economy. There are many exciting developments in aviation, which is pioneering new fuels and the technology that will reduce its impact on the climate and reduce the amount of carbon it uses. We can and will be environmentally, socially and economically sustainable."