Image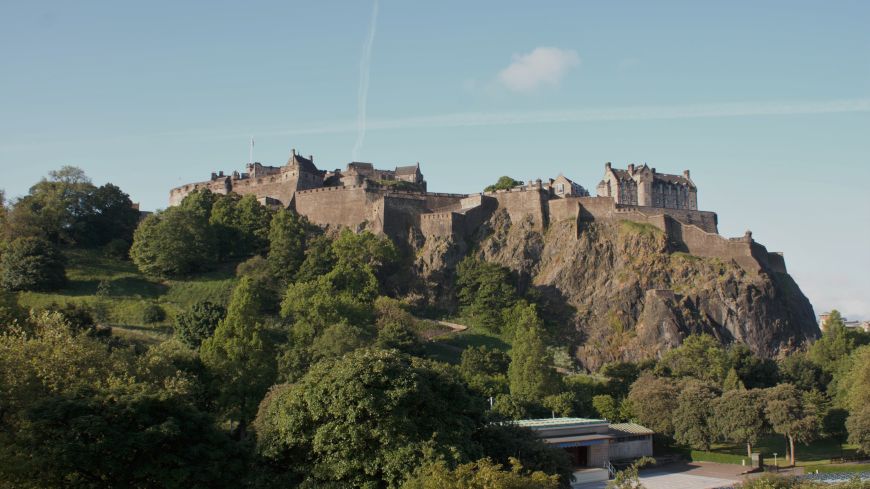 Earlier this month, Edinburgh Airport reported the busiest year in its history after it tallied a total of 14,747,830 passengers through its gates in 2019.
Passenger numbers grew 3.1%, with growth in international passengers making up for a drop in domestic fliers. EDI, as it is known by its IATA code, is the sixth biggest airport by passenger numbers in Britain.
It's the kind of result that Gordon Dewar, Chief Executive of Edinburgh Airport, takes great pride in.
"We're delighted to deliver a record year for any Scottish airport as passengers continued to take advantage of new routes, new airlines and the opportunity to expand their horizons and travel the world," said Dewar.
But is EDI's record-breaking growth really a cause for celebration or concern?
Cheap flights and abundant short-let accommodation have been a double-edged sword for Edinburgh - a boon for the tourism industry but a strain on city services and the patience of residents.
Crucially, we live in a time when Edinburgh and Scotland have declared a Climate Emergency, and are targeting net zero carbon emissions in just a matter of 10 and 25 years.
How can we possibly justify the carbon profligacy of an aviation industry that is roaring in the opposite direction?
Reaching for the skies
Edinburgh Airport originally opened in 1916 as Turnhouse Aerodrome, Britain's most Northerly defence base with a grass runway. With the outbreak of the Second World War in Europe, the airfield was paved and RAF Turnhouse played an important part in the defence of Britain. A spitfire from No 603 (City of Edinburgh) Squadron claimed the first Luftwaffe bomber to be shot down over the British mainland. A replica spitfire at the entrance gate to Edinburgh Airport is a reminder of those years.
The post-war years saw the base gradually transition from a military to a civil role with a landmark in Edinburgh Airport's development coming in 1977 when the Queen opened a new terminal and longer runway, big enough to accommodate Concorde. At the time, the number of passengers using the airport was around 1 million a year.
By 1987, at the time of the airport's privatisation, that had risen to 1.85 million passengers per year. Passenger numbers continued to rise in subsequent years as the era of low-cost flying around the world took hold. Over 9 million fliers passed through the airport in 2012, the year that owner BAA Edinburgh sold it to private equity group Global Infrastructure Partners.
Under new management, the airport started targeting more aggressive, year-round expansion. Scotland's busiest airport broke through the 10 million passengers a calendar year in 2014.
Following expansion of the terminal and routes, the latest numbers for 2019 have smashed the airport's own growth goals, outlined in its 2016 Masterplan. The goal was 13.1 million passengers in 2020. It just blew through that number by over one and a half million passengers, even with growth slowing from a million a year since 2014 to under half a million in 2019.
Like airports around the world, more growth is being planned. Edinburgh Airport's Masterplan envisages it handling up to 35 million passengers annually by 2050 with 261,000 air traffic movements.
The airport has added new aircraft stands to handle the growing airline traffic using its main, operational runway, known as 06/24, and car parking has continually expanded over the years. Since 2014, fliers have been able to take a shiny new tram from the airport to the city centre.
As part of its £250 million,10-year expansion phase, the airport is currently expanding its check-in hall, upgrading its baggage handling system, and adding a new access road to the airport to cope with the growing numbers of fliers passing through its gates. A new East Terminus will be opening for licensed black cabs and private vehicles.
The Masterplan envisages growth out to the distant horizon, even raising the possibility of building a second runway around 2040 to complement the existing 2,560m 06/24 runway.
"Conduit" to Edinburgh
Situated 8 miles (13km) West of Edinburgh, the 367-hectare Edinburgh Airport is often thought by the 5,000 or so people that work there as a self-contained village or campus in itself.
But it exists in a symbiotic relationship with Edinburgh.
In the foreword to Edinburgh Airport's Masterplan CEO Gordon Dewar describes that relationship as such:
"Scotland is a great product. Our growth is driven by that product. Edinburgh is Scotland's attack brand, it leads the rest of the country and will continue to do so, whether in terms of tourism or business. Scotland itself has a great global draw. Edinburgh Airport is an enabler – a conduit for prosperity for all. So yes growth is good."
As the number of fliers swells, Edinburgh's tourism industry has boomed. But it's come at a cost: overcrowding in the historic Old Town, increasing pressure on rental housing supply as housing stock is converted to short-term lets, gridlock on the roads, ticket price inflation, and pressure on daily services.
As the debate has heated up about the creeping commercialisation of public space, Dewar has accused Edinburgh residents and heritage groups who have spoken up of creating "animosity and conflict".
During the recent backlash over the expanded Christmas Market in East Princes Street Garden and accusations of the "disneyfication" of public space, Dewar leapt to the defence of the events' producer Underbelly saying "the recent debate has not been balanced".
Edinburgh isn't the only city with a tourism "problem" and like other destination cities it is responding with a suite of policies. These include a tourist tax, controls on short term lets, and a mobility plan to reduce traffic congestion.
Edinburgh City Council says it is listening and responding to residents' concerns but how these policies play out has yet to be seen. As the capital tries to square growth in the lucrative tourism sector with its ambition to make the city net zero carbon by 2030, the tensions within the city may only be felt more acutely.
Not our emissions
Edinburgh Airport doesn't talk much about the climate. The page on its website dedicated to environmental issues doesn't mention the high carbon cost of jetting people in great metal tubes around the planet. There's rarely any mention of climate or carbon footprints in the airport's press releases - unless you include a statement welcoming a cut in Air Passenger Duty, a measure designed to reduce emissions.
When BBC One Scotland aired a two hour documentary in 2014, Inside Edinburgh Airport, climate change was a non-issue.
Dig into the latest annual company report there is little mention of the climate consequences or responsibilities of the airport's growth and carbon or climate are not among the list of metrics used to assess the airport's achievements. Carbon emissions do get a passing mention as a potential risk that could act "to jeopardise its ability to operate and grow". But it's a relatively scant mention.
The Corporate Responsibility Report does provide more detail on some of the measures that the airport has taken to reduce emissions on the ground - changing light bulbs, recycling, better energy use in buildings, and improvements in public transport to the airport. But these past and promised emissions savings on the ground are eclipsed by the emissions that arise from the airport's general growth trajectory.
Although Edinburgh tourism and Edinburgh Airport are in the business of encouraging highly emitting activities, namely flying, at the end of the day they don't have to account for the carbon burned.
Emissions from international aviation are accounted for by a separate international agreement overseen by the UN's International Civil Aviation Organization (ICAO). Flights within the European Union are also captured by the Emissions Trading Scheme - of which Ryanair has infamously been a top 10 emitter along with Europe's dirtiest power stations.
The Bigger Picture
From the point of view of the climate, constant growth in mass air travel is disastrous.
Air travel has a huge and rising carbon footprint: 2.4% of global CO2 emissions. Its impact is higher when accounting for other gases emitted at high altitude.
The problem is that while you can replace coal power stations with a low carbon mix of renewable energy like wind and solar power, there is currently a lack of alternatives for fossil-fuel powered flight. At least, nothing that can be scaled to accommodate the doubling or tripling in growth the industry envisages in the relatively short time scale of a few decades.
The aviation industry has taken some steps to burn its carbon more efficiently. They have introduced fuel standards for planes which should lead to more inefficient planes being retired, carriers are getting better at filling planes to capacity, and companies are prototyping short haul flights with electric planes. Much has been made of the potential for biofuels, but they are still marginal, and scaling their use up requires a large landbase that, among other things, could be used to feed the world's growing population.
Yet aviation emissions are still rising.
In short, there's no reliable alternative on the horizon to replace fossil-fuelled air travel.
The Magic of Offsets
Aviation emissions are forecast to double at best and at worst triple out to 2045.
In spite of this, the International Civil Aviation Organization (ICAO) has committed to keeping emissions at 2020 levels while aviation traffic continues to grow into the future.
How? Through the magic of offsets.
ICAO's controversial CORSIA plan (it stands for "Carbon Offsetting and Reduction Scheme for International Aviation") came into operation this year. Offsets have been criticised for being like medieval indulgences to assuage flight shame. Fliers can offset their climate-damaging lifestyle by buying stakes in tree-planting or emission-reduction schemes.
To borrow an analogy from climate scientist and non-flier Kevin Anderson, it gives you permission to eat your cake and let someone else do the dieting.
The aviation industry sees offsets as a temporary measure, but the fact remains that the greenhouse gas emissions created by today's fliers will eventually need to be sucked out of the atmosphere by future generations using yet untested and largely theoretical Negative Emissions Technologies (NETs).
The UK Department of Transport published a detailed backgrounder on ICAO's approach to limiting aviation emissions and concluded:
"Since aviation's current goals are inconsistent with the Paris Agreement, in the absence of additional measures, then more ambitious goals should be set."
Faced with this stark reality, travellers concerned about climate change are foregoing flying whenever they can.
Growth at Edinburgh Airport appears to be slowing. Domestic flights to Edinburgh Airport fell 8.9% in December and 0.7% for the year, which may reflect the start of a trend away from short haul flying in favour of rail.
The airport said that Ryanair's decision to reduce its flights between Edinburgh and Stansted was responsible for the drop.
China Ready!
Edinburgh Airport more than made up for the drop in domestic fliers last year, with a boost in international passengers. International fliers increased 10.2% in December over last year and there was a 5.3% in 2019 as a whole.
In recent years, the tourism industry in Edinburgh has been targeting overseas visitors, particularly from China. The Edinburgh Tourism Action Group, of which elected members of Edinburgh City Council, executives at Scottish Government agencies, Edinburgh Hotels Association, and Edinburgh Airport, among others, are participants, have been encouraging local tourism businesses to "Get China Ready!" with training sessions, marketing opportunities, and "China Ready" conferences.
The organisation celebrated a successful campaign to introduce a Beijing-Edinburgh air route in the summer of 2018, Scotland's first direct air connection with China.
ETAG joined forces with The Scottish Confucius Institute for Business & Communication at Heriot-Watt University to launch an "inaugural" Chinese New Year festival celebration this month.
The strategy is having an impact. VisitScotland statistics reveal that while the number of domestic visitors to Edinburgh is flatlining or falling, the number of higher-spending, international visitors has climbed 37% from 2013-2015 to 2016-2018 with some of the highest growth from India and China.
2030 Strategy
A week ago, Edinburgh City Council approved ETAG's draft tourism strategy for 2030 with a suite of recommendations. A key emphasis was on moving "from driving growth to managing growth";.
The strategy aims to meet Edinburgh's goal of going net zero carbon by 2030 and "help visitors to reduce the environmental impact of their visit".
At the same time, among its principal recommendations was putting a "focus on lower-volume, higher-value visitors" which could mean more overseas visitors and it also recommends increased promotion of the city abroad "as a place to live, work, study, invest and visit".
Both recommendations imply a reliance on frequent flying, which would undermine sustainability actions.
It would be more sustainable for Edinburgh's tourism industry to pivot toward markets closer to home, accessible by low-emissions transport. Better to encourage repeat visitors from nearer by, rather than target those with high carbon footprints looking to tick off another item on their global bucket-list.
But how would it impact Edinburgh's tourism sector and what impact would such a policy have on the capital's 33,000 tourism jobs?
These are difficult questions, the kind of questions that are going to be grappled with at the ETAG 2020 Conference at the Assembly Rooms tomorrow and into the future.
Edinburgh is not alone in facing these challenges, but it will take a greater willingness to address the elephant in the room - tourism's dependency on cheap flights - to find a practical and effective plan that is sustainable from both an ecological and economic view in the long term.