Image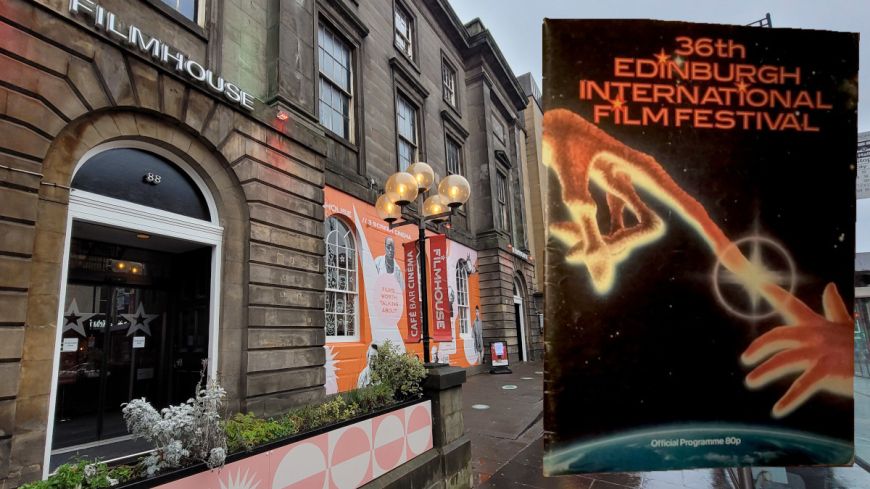 The Filmhouse and Edinburgh International Film Festival announced on Thursday that they are ceasing trading. This is a personal response to the sudden announcement.
My love affair with cinema began at the age of 14, in August 1982, at the Filmhouse during the Edinburgh International Film Festival.
I was taken to see a low-budget, independent film in grainy black-and-white called Stranger Than Paradise, Jim Jarmusch's debut feature. I also saw (at too young an age probably) The Loveless, Kathryn Bigelow's first feature (as co-directer) starring a much lesser known and then much younger Willem Dafoe.
One or both of my parents would come home on other nights of that year's event to tell me how much they'd enjoyed the first screenings of Jean-Jacques Beineix's Diva, Peter Greenaway's The Draughtsman's Contract and Ridley Scott's Blade Runner. The festival that year was finished off by the European premiere of E.T. which I attended (admittedly this was actually at The Playhouse) and I've never forgotten the experience of the mass sobbing and 10-minute standing ovation it received.
Above is the cover of that year's programme for the 36th EIFF in 1982, sold to me in The Filmhouse for the shocking sum of 80p.
Just a tiny handful of the other films also showing at that year's event included Neil Jordan's Angel, Paul Bartel's Eating Raoul, Werner Herzog's Fitzcarraldo (and its 'companion' film Burden of Dreams), Sam Raimi's The Evil Dead and John Carpenter's The Thing.
What a year 1982 was for movies. What better year could there have been for me to be captured by its magic and what better place to find and experience it than at The Filmhouse? 
At the film festival the following year I was taken to see (again a bit too young as it turned out) Francis Ford Coppola's Rumble Fish and that film so stunned me (it still does) that I started thinking about becoming a filmmaker. I'm not a fully fledged one, but I've been involved with films and filmmaking in one way or another for most of my life and that's thanks to my formative experiences at Filmhouse.
My first really rotten job was at The Filmhouse - a glamorous affair as a dishwasher behind the scenes in the kitchen. It didn't pay much but I made some pals and it got me free films, and that was the point.
I eventually got fired as it happened, but by the time I was 17 or 18, Filmhouse had become my home from home. Around that period I paid to see Luc Besson's Subway so many times to thrill in its exhilarating superficial visual flair and deafening soundtrack that the staff just started letting me in for free. It's not the best film ever made but its still the coolest.
There are so many memories of the place I could write a book (like the time I got thrown out the projection booth once whilst complaining the sound had cut out. I nearly got myself arrested!)
I volunteered one year in the art department of the film festival and one of my jobs was helping to collect and transport from Perthshire to The Filmhouse the dozen or so giant fish tanks that formed part of the display in the bar,  whose theme that year was inspired by the Stanley Donen film Bedazzled starring Peter Cook. The interior of The Filmhouse was turned into both heaven and hell for two weeks.
An alleged incident I heard about during that festival was that  the screenwriter Robert Towne was apparently having a chat in the bar with the actress Diane Ladd next to some of the fish tanks when one or two of them...er well....they sort of exploded and made one hell of a mess. The rumour is this gave Robert Towne the idea for the exploding fish tanks scene in the first Mission Impossible film. Filmhouse says you're welcome Tom Cruise.
I've probably seen hundreds of films there over the years, maybe more (including many posts and reviews on these pages), and I've made so many equally nerdy friends and filmmaking colleagues in the foyer and the bar. The chance to see, hear, talk to and sometimes meet filmmaking legends as well as first-timers is a privilege and experience that can't be beaten.
As it happens, the last film I saw in the cinema was at The Filmhouse at this year's EIFF when I went to the world premiere of Heading West: a story about Scottish folk-rock band Shooglenifty, an excellent music documentary by Don Coutts. To indulge in a bit of Trainspotting (cinematic pun intended) this means I've been to every film festival there but one since 1982, which is 39 of them.
Before the pandemic, the EIFF had been running yearly since 1947 making it the longest continually running film festival in the world. Let's hope it can find its feet again before next year.
The cultural, social and spiritual loss of The Filmhouse (and perhaps the EIFF with it) to Edinburgh and beyond is incalculable (as no doubt The Belmont is to Aberdeen) and inexpressible.
I'm still taking it in. It almost feels like a really good mate whose always been there has just died suddenly. I'm hoping it's all a temporary blip. Perhaps some rich philanthropist will save the day but it's probably a better notion that people get together to come up with a plan.