Image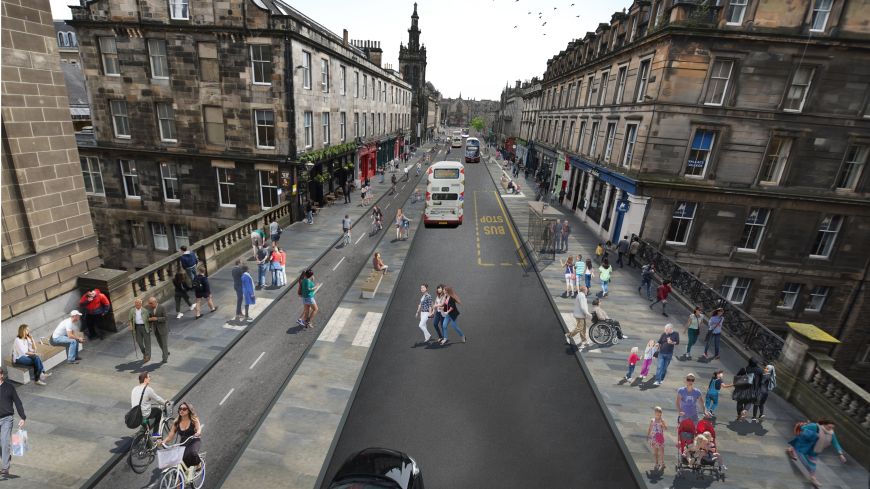 Edinburgh will mark World Car Free Day next month, belatedly, at a location that already is car-free.
Over 2,000 cities around the globe have marked World Car Free Day, which officially took place on Thursday 22nd September, the last day in EU Mobility Week (16-22 September).
Edinburgh's World Car Free Day will take place on Sunday 2nd October (11am-7pm) on Waverley Bridge which has been closed to cars since June 2020.
In a release, organisers Edinburgh City Council and event management company Crexcell, said that the original Edinburgh event had been postponed "as a mark of respect following the death of Queen Elizabeth II". The 2nd October is also, fittingly, the final day of Scotland's climate week which runs from 26 September.
Organisers are promising to transform Waverley Bridge "into an inclusive community hub
of information, inspiration and activity encouraging people to consider alternatives to car travel in Edinburgh".
Critics have been quick to point out the low ambition of Edinburgh's World Car Free Day, at a time when we face the twin crises of sky-high fossil fuel prices and escalating climate risk caused by burning of said fossil fuels. Edinburgh doctors have also called for the Council to enhance active travel measures brought in during the pandemic for "the beneficial and protective health effects of physical activity".
Go Large
World Car Free Day events have taken a variety of forms, but generally they involve closing off highly trafficked, central roads to cars, and handing the city - or parts of the city - over to community celebration and play in a safe, non-motorised environment. Some local authorities also offer free buses and trains for the day (often during the weekend).
Paris, for example, in its Car Free Day (Journée sans voiture aka "Paris Breathes Day"/"Journée Paris Respire") this past Sunday practically shut down the whole city to cars. Videos posted online show cyclists riding throughout the French capital with barely any motorists around.
Brussels opened the city centre to rollers and walkers only, and Berlin made transit free as well as shutting down 37 streets for play.
Chicago cyclists organised critical mass style Bike Bus rides and Vancouver, Canada, has several, festive car free days in different parts of the city.
The London Car Free Day events were understandably more muted this year given the period of national mourning, but the borough of Hackney still had play streets last weekend as part of London's Car Free Day and Brompton Bicycle reimagined an old petrol station in Central London in a world with much fewer cars.
What to expect at Edinburgh Car-Free Day
When it comes to getting people into sustainable ways of getting around town, the emphasis in Edinburgh's car-free event at Waverley Bridge is to encourage and educate.
The event will have a hosted reception and information point, additional bike parking, a well-being area with health and fitness demonstrations and classes, and a chill-out zone.
Local musicians Sara Forshaw, Folk Drama, and The Wispz will provide the musical entertainment.
The Bike Station, which refurbishes and sells second hand bikes, will be offering bike safety checks and bikes to try out. The team will also have information on safe cycle routes throughout the city, and bike to work and cycle friendly employer schemes.
Staff from Lothian Buses and Edinburgh Trams will be offering practical advice and answering questions about their services. Police Scotland will also be there "offering support to cyclists and walkers with cycle security advice, personal safety, bike marking and general crime prevention when moving around the city".
Edinburgh Council has a 2030 target to reduce distances that residents travel by car by 30% as well as reaching Net Zero. In theory, fewer cars should benefit everyone in the long run and help the city hit its targets.
Many people already walk in the city but sheer numbers of visitors at busy times of year means traffic congestion can be a problem in the city centre, with cars moving to a crawl and jamming main roads (as you can see in this video of biking along George IV Bridge to the New Town during the Festival).
"We need to rethink the way we move around the city to meet these targets. I would encourage people to come along on 2nd October to find out more about the different ways we can travel around the capital," said Councillor Scott Arthur, Transport and Environment Convener for The City of Edinburgh Council.
There are a number of projects and initiatives that the council is currently working on that will impact city transport: City Centre Transformation, Trams to Newhaven, George Street and First New Town, 20-Minute Neighbourhoods and the extension of 20mph speed limits, as well as "behaviour change initiatives" and seamless public transport ticketing.
Edinburgh's ten-year City Mobility Plan states as its main aims to move from a "traffic dominated city centre" to "a people friendly one" with "a pedestrian priority zone and a network of connected, high-quality, car-free streets".
Car Free Day should offer people a chance to experience and anticipate the car-lite city of the future. Edinburgh's Waverley Bridge event may not have that kind of excitement, but it will provide an opportunity to find out more on many of the transport initiatives that are happening right now in the city.
Picture: artist rendering of George IV Bridge with bicycle lane