Image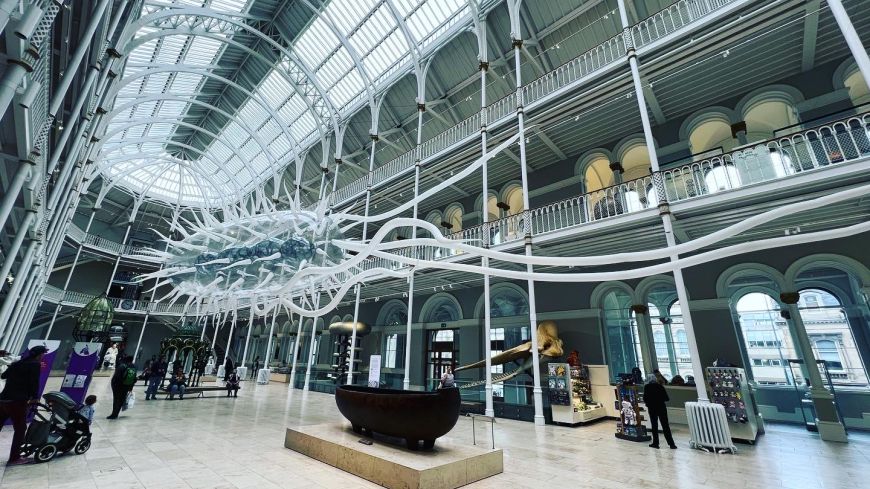 A 90ft long inflatable E. coli sculpture, which is 5 million times bigger than the real bacteria, has been suspended from the ceiling of the National Museum of Scotland's Grand Gallery for the first time.
Bristol-based Luke Jerram's E. coli is part of this year's Edinburgh Art Festival which began on 28 July and runs til 28 August.
E. coli is one of the earliest forms of life on Earth and it's been speculated that if there's life on other planets it'd look similar to this.
While E. coli is often associated with food poisoning from drinking or eating fouled water or food, and can cause serious illness and even death, most E. coli are considered harmless and beneficial.
The bacteria normally lives in your intestines and helps to maintain the health of your digestive tract.
"Making visible the microscopic world around us, the artwork was made as an experimental object to contemplate," says Jerram.
"When standing next to it, does the bacteria alter our personal sense of scale? Does it look scary, beautiful, comical or alien? Will audiences be attracted or repelled by it?"
The sculpture ties in neatly with the Museum's exhibition "Anatomy: A Matter of Life and Death" which draws on  Edinburgh's rich medical history.
The giant inflatable E.coli sculpture was made for the KREBS Fest and has since been presented in other venues around the UK including the Eden Project.
It has been brought to Edinburgh with the support of the University of Sheffield and the and UKRI strategic priority fund "Building collaboration at the physics of life interface".