Image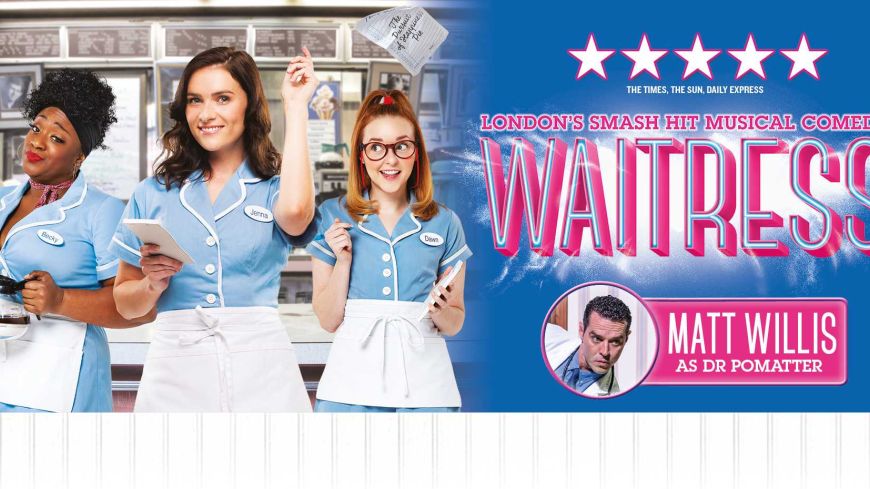 This popular stage musical is based on the 2007 movie, Waitress which was selected for the Sundance Festival, became a box office hit, making nearly $22 million on a $1.5 million-dollar budget.  Written and directed by Adrienne Shelly, it tells the classic American tale of Jenna, a small-town girl who works in a diner but has big dreams.
When producers Barry and Fran Weissler saw Waitress, they knew it would make a great Broadway show: "I saw the movie and thought, 'This is heart-wrenching, touching and funny.  An all-female creative team behind the book, music and director led to four Tony nominations including Best Musical, Best Original Score and Best Actress.  It then played in London for a year until forced to close in March 2020.
Tragically, Adrienne Shelly was murdered in November 2006 and would never know of the international success to follow from cinema screen to theatre stage.
After lockdown, Waitress has been on tour for several months in 2021 starring Lucie Jones, * Sandra Marvin and Evelyn Hoskins who reprise their West End roles. The realistic stage set depicts the colourful Joe's Diner with counter, stools, tables, booths, blackboard menu, and outside, a panoramic rural scene of telegraph poles against a blue sky.
The show kicks off in a colourful, rousing manner with a medley of songs, as we are introduced to the terrific trio of waitresses, Cal, the diner manager and old Joe, the owner, who loves to try the speciality dish of the day. Jenna is a talented baker devising her own Couch Potato and Polka Dot Peach Pies.  She plans to enter a local Pie contest with the chance to win $25,000 which would solve her financial worries and escape her domineering husband, Earl. 
Becky and Dawn are close workmates and loyal friends, offering advice on love, dating and marriage, woman to woman.  With her vivacious, sunny personality, Becky cheers the girls up, boosting their confidence. Petite with a high pitched girly voice, the cookie, cute Dawn is rather naïve but keen to find a man (who likes 'history's mysteries') on a dating site. 
The song lyrics drive the storyline along such as the upbeat, What Baking Can Do in which Jenna remembers how she made cakes with her mother, who encouraged her to do well.
So with flour on my hands
I'll show them all how
Goddamn happy I am
Sugar, butter, flour ..
Jenna cracks eggs into a bowl, sifts flour and rolls out pastry dough while she acts and sings, all at the same time with neat, multi-tasking talent.  A Soft Place to Land sung in perfect unison by the three girls relates how they are all determined to change their lives for the better.
The arrival of a new doctor in town quickly sparks an immediate romantic interest although unfortunately he is married. And so is she.  Think 'Brief Encounter'. The intimate scenes with Dr. Pomatter (Matt Willis) are in slow motion in a shimmering light – is this really happening or a fantasy of her imagination.? 
The topical narrative centres around Jenna who smiles happily, serving cakes in Joe's diner, hiding the dark secret of Earl's bossy, bullying behaviour at home.  She is vulnerable, lost and afraid but has a strong-minded spirit illustrated in a beautiful ballad, She Used to be Mine: Lucie Jones is a true opera diva, showing off her soaring vocal range and deep emotion, enhanced with an echo effect.
If I'm honest I know I would give it all back
For a chance to start over
And rewrite an ending or two
For the girl that I knew.
Sassy, smart and soulful, Waitress is a feel good, feminist, musical comedy with heart-warming, dramatic punch.  Fine characterisation, sharp dialogue, charming songs and witty lyrics all flows along to the lively score performed on stage by the six piece band.  Slick choreography too for the ensemble numbers with high flying pie dishes galore. 
Imagine the Great British Bake Off as a musical: Expect a savoury slice of meat, a chunk of cheesy romance, and a sprinkling of spice, the perfect recipe for a perfectly baked show, as sweet as American blueberry pie.  
Show times:
Edinburgh Playhouse, 19 - 23 April, 2022
Tuesday to Saturday @ 7.30pm. Wednesday and Saturday @ 2.30pm
Tickets:  £13, £19.50, £22, £29.50.
Note: This is a preview to promote Waitress at the Edinburgh Playhouse, based on the show at the Manchester Opera House. Chelsea Halfpenny has now taken over the role of Jenna, with, as above, Sandra Marvin as Becky, Evelyn Hoskins as Dawn and Matt Willis as Dr Pomatter.