Image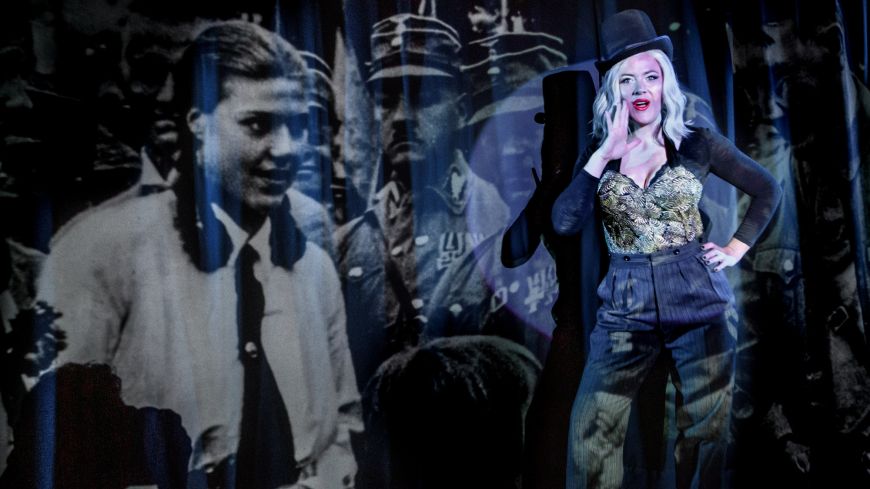 Ten thousand miles away from Edinburgh, actor-producer Joanne Hartstone has been scrambling to get a package of shows ready for when the Fringe officially kicks off on Friday.
Last-minute tightening of health restrictions in South Australia are playing havoc with shows that Hartstone and her partner Tom Kitney planned to stream  this month from theatres in Adelaide to the Edinburgh Fringe, and live to the Hollywood Fringe in Los Angeles.
Before the pandemic struck,  Hartstone-Kitney Productions was well known for its live shows in Black Box Theatres at the Adelaide Fringe. Hartstone has worked at the Edinburgh Fringe since 2008, notably with her acclaimed solo show The Girl Who Jumped Off the Hollywood Sign, and Kitney has been coming to Edinburgh since 2013.
Live performance has been the duo's bread-and-butter. But like many in the theatre world, the pandemic forced changes upon them. In spite of Hartstone's initial reservations about the "disconnecting" experience of watching digital productions of theatre - bad audio quality, rough-shod, single camera setups, and generally poor production values - the duo pursued the idea of webcasting theatre recorded in front of a live audience. 
The idea evolved and took shape as the Adelaide Fringe (the second biggest annual arts festival in the world after Edinburgh) approached at the beginning of 2021 - and with it the ever-present threat of a Covid shutdown.
Their team was able to shoot multiple live shows with a four-strong crew, using three high-end cameras, binaural microphones and integrated "switching" technology. 
As well as selling 5,500 in-person theatre tickets at the Adelaide Fringe, the team put together 48 live-streams of 16 of their programmed 20 shows.
The digital platform that came out of that, Black Box Live, is one of the online "venues" listed on the Edinburgh Fringe website.
After the Fringe Society's most recent programme refresh, of the 114 listed venues, 23 are online and the rest are in-person venues. 
The Fringe web site lists 290 shows online of which 92 are scheduled - with a dedicated start and end time - and 198 are on demand, meaning that they can be watched at any time.
Shows online seem to vary as wildly as those performed in person, from ensemble productions on Assembly Showcatcher and Pleasance Online to comedy acts over Zoom.
There's also shows that you wont currently find on the Fringe website like shed-based series Shedinburgh, which just announced the addition of Simon Callow, with a show about acting, to its line-up.
Finding a digital theatre model
For Black Box Live, the model has been straightforward, rooted in a passion for live theatre: make a high quality recording of the show, in one take, in front of a live audience, with minimal post-production work, other than technical tweaks to polish the final presentation. 
Hartstone says any effects ("clever technical stuff that looks beautiful") are created in the live show.
"I'm firmly of the mind that digital theatre will never replace live theatre, but the hybrid model will be here to stay," she adds. "It's a new art."
The major benefit has been that in an uncertain era for artists, where travel and live performance have been disrupted, the digital product offers a stronger plan B.
"Adapting our craft to a virtual platform has allowed us the freedom to engage with the international art scene at a time when that just isn't happening for Aussies," says Hartstone.
While the Black Box Live online model has shielded it from the uncertainty of the government health orders in Scotland, it has nevertheless been impacted by changes in local Covid orders in the last couple of weeks.
In mid-July, the publicist announced Black Box Live would carry six shows to the Fringe. 
No sooner had the press release landed, then Adelaide introduced a strict lockdown. 
One show, The Breast Is Yet To Come with cabaret performer Amelia Ryan, was cancelled.
A dance double-bill Spaces Between Us + Satori is going ahead, but without a live audience as planned because Covid rules in Adelaide don't allow live audiences for shows with singing and dancing in them.
"The choreographer has not just had to pivot, but is pirouetting like a ballerina," says Hartstone.
In another bout of ill luck, Erin Fowler, the performer in Egg, had to go into quarantine for two weeks after discovering she'd visited a Covid hotspot, so the show online will be of the Adelaide Fringe performance rather than a new performance as previously planned.
A live performance of Hartstone's solo show The Girl Who Jumped Off The Hollywood Sign will be live-streamed from The Bakehouse Theatre in Adelaide after the show narrowly avoided closure. It's going ahead with a small invited audience due to Covid restrictions, on Thursday 12th of August, then made available on demand for the rest of August.
And Gill Hick's Still Alive (and Kicking) is set to be filmed on Tuesday August 17th from The Lab on Light Square in Adelaide ("again hopefully with a live audience") and will be available on demand.
In August, online Fringe-goers will get a chance to see Hartstone's new solo work, a Weimar cabaret show with modern soundtrack, stage and lighting design.
When theatres went dark due to Covid, Hartstone took on a job for a semester teaching a course on the Weimar Republic. It gave her the inspiration for the show The Reichstag Is Burning (pictured) which will be showing as an on-demand recording from the Adelaide Fringe earlier this year.
As a live practitioner, putting on shows in Edinburgh ("a mecca for creative people," says Hartstone) has been a career-shaping experience.
"Edinburgh has made me a much better practitioner because of the pressure cooker environment," she says.
But, as Hartstone points out, Edinburgh is also very costly in August, particularly for performers living on the other side of the planet. There are flights, accommodation, and food to pay for.
Add to that growing concerns about carbon footprints from flying and now health concerns thrown up by the pandemic and there's an expanding role for digital theatre productions, even if it will never replace the live, in-person experience.
Assuming the Scottish government lifts many restrictions on August 9th, theatre companies will no doubt be gathering footage of their in-person Fringe shows. If nothing else, as some form of insurance against further shutdowns.
Black Box Live is available from Friday.