Image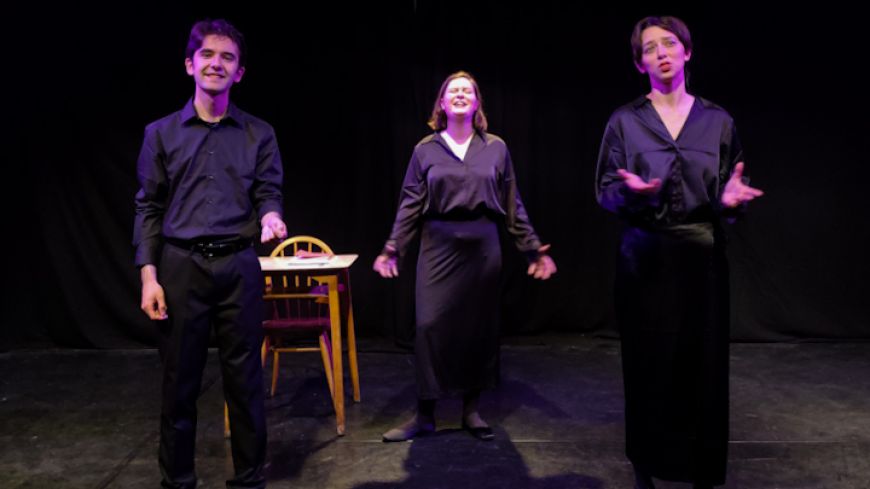 Company
English Cabaret with C Theatre
Production
Sue Casson (book, music and lyrics), Tom Blackmore (director)
Performers
Lily Casson (Katherine Mansfield), Lucas McQueen (Jack Middleton Murry)
Emily Mahi'ai (Leslie and Ida), Sue Cssson (Podcaster Avril Gilchrist)

Two Tigers was first staged at the Fringe in 1988 to commemorate Katherine Mansfield's birth, and now this revised production marks the centenary of her untimely death.  Born in New Zealand, Mansfield came to London in 1903 to study at Queen's College.  A great admirer of Anton Chekhov, she experimented with a fresh literary style for her short stories, to write 'a new kind of fiction.' She is widely considered one of the most influential authors of the modernist movement.
The structure of this musical show combines dramatised scenes and a medley of songs while at the side of the stage, Avril is a commentator recording a podcast.  Katherine and her lover, (future husband), Jack Middleton Murry, have escaped to the south of France in November 1915, after hearing the news that her brother Leslie had been 'blown to bits' at the Western front.  His death haunts her memories and her dreams, as together they reminisce their carefree days of childhood.  She doesn't know how she can live without dear 'Bogey', as she explains in a gentle song, 'I wonder why the sun keeps on rising, how can it still shine without you', the emotional lyrics reminiscent of Auden's poem, Funeral Blues.  
This is a brisk canter through Mansfield's life and career, editing and contributing to exciting literary magazines, Rhythm, Blue Review, New Age.  Her book Prelude is accepted by the Hogarth Press - Katherine had a close friendship with Virginia Woolf who said of KM, 'the only writing I was ever jealous of.'  
While Katherine scribbles furiously in her notebook, inspired by Murry's encouragement, there's no real emotional chemistry between them and neither do they portray two powerful, prowling Tigers 'shaking free' as the modern, artistic heartbeat of Literary London. Indeed, there should be more extracts to illustrate Katherine's lyrical voice in her exquisite short stories. 
Due to her turbulent marriage, Katherine resumes her former lesbian affair with a college friend, Ida Constance Baker, but also pursues a relationship with a French writer Francis Calco, her heartfelt feelings captured in a love song: 'I can't get him out of my mind.' 
Without a cast list and dual role playing, it may be difficult to identify characters and the zigzagging dream of storyline, date and place (London/Bandol, France?) is confusing.  Except for Avril in a yellow shirt, all wear black shirts, skirts or trousers, with no attempt to create fashionable period costume and style.  Breaking up the flow of the narrative, the ensemble suddenly steps out of character to quote from a selection of biographies and memoirs.  Why? 
The score by Sue Casson presents a lively sequence of songs with a couple of catchy numbers akin to Gilbert & Sullivan's witty rhymes and rhythm.  Vocal accomplishment is slightly uneven, occasionally sharp in pitch on high notes.  As Leslie and Ida, Emily Mahi'ai has a pure, delicate tone and clear diction.  
The present day concept of a Podcast certainly gives all the facts and figures but this often distracts from the drama.  Centre stage however, Two Tigers is a quietly charming musical tribute to Katherine Mansfield who died aged just 34 in her literary prime. 
Show times: 
2 – 27 August, 2023 @ 13.15 (not 14th) 
Ticket prices: £ 8 - £14 (£6-£12)
Age 12+ 
https://tickets.edfringe.com/whats-on/two-tigers