Image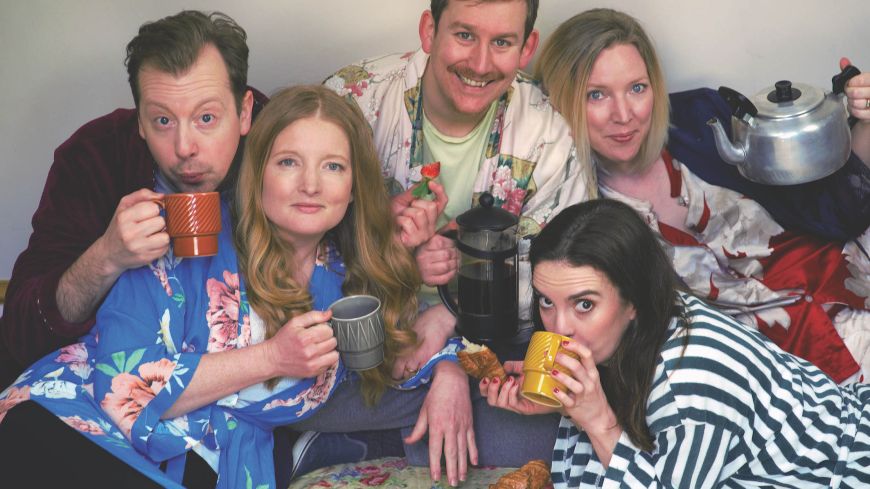 Company
White Room Theatre Ed2023 Partnership
Production
Barry Wood, Thomas Willshire, J. Joseph Cox, John Cannon, Thomas Willshire (Playwrights on Menu Two); Tom Linden-McCarron (Director); Nicholas Brice (Artistic Director); Bite-Size Plays (Producers)
Performers
Claira Amy Parr; Rose Edwards; Tom Hartwell; Polly Smith; Thomas Willshire
As the name suggests, this production provides not only bite-sized plays, but also free breakfast (a large croissant and a very good quality coffee/tea), excellent value for money. There are three different sets of mini plays, performed on different days, so if you liked one day, you could return for different plays on other days. This review occurred on Menu Two day.
The managing of providing breakfast and seating people was handled very well, extremely important during the time-sensitive constraints of the Fringe. This is a popular show: chatting to audience members led to discovery of several being returners, due to the quality of the pieces.
These performers are highly skilled and keep up the pace very well in the transitions from one character to another. These short plays are beautifully written: there is much humour in the different texts (Of Their Own by Thomas Willshire is particularly hilarious, sending up period drama). What makes this all work exceptionally well is that the actors are not only performing with tongue firmly in cheek, but they are also fully committed to the characters in tone, physicality and in execution, which takes a great deal of talent in such a quick turnaround. You feel that you are getting to know people and complete a whole storyline in what is approximately only 10 minutes of play for each story. It takes exceptional skill in writing, directing and performance to carry this off and the Bite-Sized Breakfast team manage this with aplomb: a perfect start to a Fringe day.
Show Time: 17-28 (not 25) August @ 10:20
Pleasance Courtyard
Ticket Prices: £15.50-£17.50
https://tickets.edfringe.com/whats-on/big-bite-size-breakfast-show
Accessibility: Queue in cobbled courtyard. Access to space via locked lift ask staff or at Box Office. Wheelchair access type: Building Lift. Stairs: 11- 20. Age: 12+ (guideline)