Image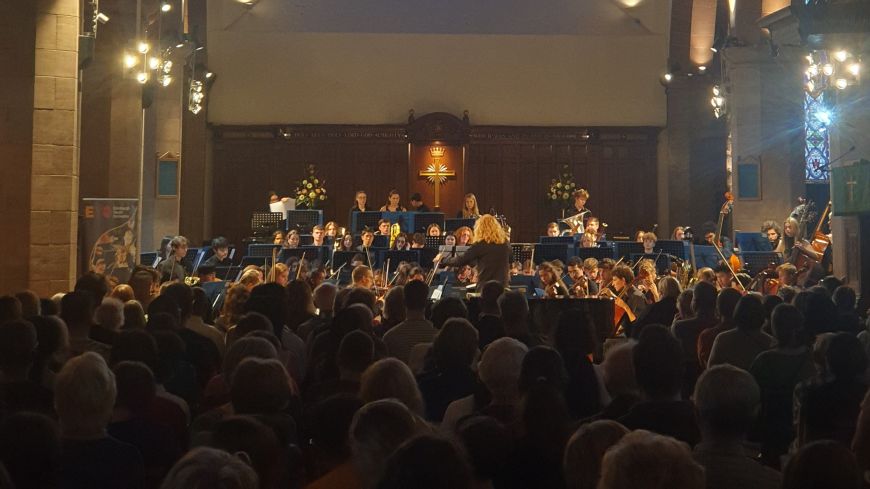 Company
Edinburgh Youth Orchestra
Production
Candide Overture (Bernstein); Black Dog (Scott McAllister); Rhapsody in Blue (Gershwin); Romeo and Juliet – selected movements (Prokofiev)
Performers
Sian Edwards (conductor), Lawrence Gill (conductor), Tom Wilson (Leader), Raj Bhaumik (soloist – clarinet), Ben Shankland (soloist – piano)
There was nothing beige or magnolia about this performance – a really uplifting evening of inspiring music, showcasing excellent collective and individual talent.
The recital burst into life from the outset, with the Overture to Candide. The acoustics at the Kirk are amazing, the sound of the orchestra filling the whole building. The Overture gathering together the operetta's most memorable themes, this was a lively, exuberant and punchy performance. 
There was something strangely hypnotic about Raj Bhaumik's playing of the Black Dog – there was real style and class here, and even the sunglasses worn all aided the image. Under Lawrence Gill's unintrusive but masterful direction, it was a lovely touch that he was conducting his former pupil. The piece is challenging both to play and to hear, with its extremes of scope and range, its shrieks and slides – and all this was executed excellently. 
Those of us with a fondness for a certain chocolate were delighted to hear Gershwin's 'Rhapsody in Blue' with an outstanding solo piano performance by Ben Shankland, playing with flair and finesse. It was a joy to hear the exciting excursions around the memorable melodies, that both bond and pivot the piece.
After the Interval, we concluded with eight pieces from Prokofiev's 'Romeo and Juliet' – from the whole work, this was a great selection, taking us on a roller-coaster of emotions and moods that the movements embody. There was nothing Apprentice-like about this recital, with only our pleasure and enjoyment being fired. 
The performance finished at 9.25pm.
Edinburgh Youth Orchestra, Friday 11th August, 7.30pm, Greyfriars Kirk
Also Saturday 12th August, 7.30pm: tickets £10