Image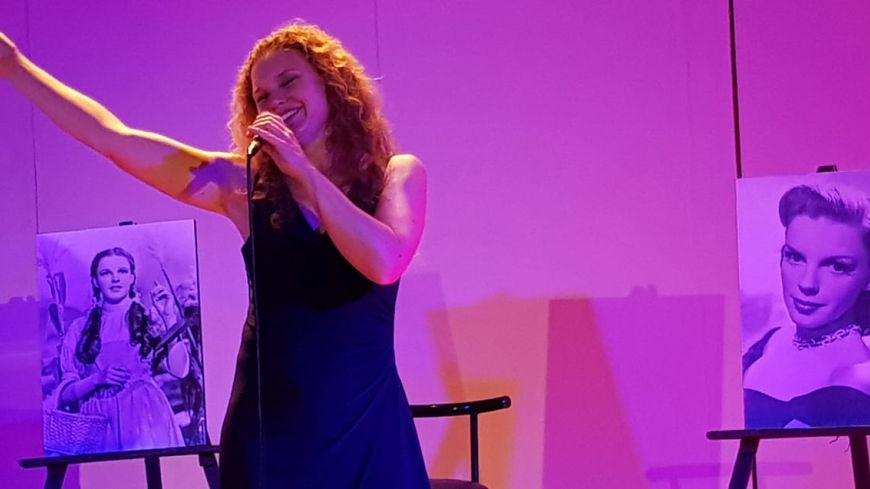 Company
Wela Kapela Productions, South Africa
Production
Amanda Bothma (writer and director)
Performers
Kerry Hiles (singer), Germaine Gamiet (keyboard)
Judy Garland's showbiz career began aged just two and a half in her family's Vaudeville show, going on to win an Academy Award aged 17,  but at the age of 47 she tragically died of an 'accidental' drug overdose.  
This is a colourful, dramatic portrait of the much adored, World-class stage, screen and music star featuring many of her unforgettable songs from Meet Me in St. Louis to Over the Rainbow. 
On a small thrust stage, the simple setting is just three iconic photographs of Judy Garland over her extraordinary career.  Wearing a long blue silk dress, from the moment Kerry Hiles kicks off with 'The world is a stage; the stage is a world of entertainment!', she captures the same rich, husky voice as well as clarity of lyrics. 
A snapshot biography of Garland is cleverly related between the numbers, with many illuminating and surprising anecdotes. Life on contract at MGM was a gruelling routine: aged just 13 she was prescribed Amphetamines to boost her energy, diet pills to suppress her appetite and finally, at 4.30am, sleeping pills.  No wonder she becomes anxious and depressed.  However, experiencing the thrill of performance and sound of applause kept her going. 
There's a delightful, delicious rendition of Dear Mr Gable, which Judy was invited to sing at Clark Gable's birthday party.  In front of Hollywood royalty, a star was born.  Fast forward to the first of five marriages: Hiles is a real comedienne when she gleefully describes how husband #2 Vincente Minnelli is found cheating on her, swiftly dispatched with a snapping finger whoosh, as Sidney Luft arrives on the scene with a lip smacking kiss.
Judy Garland suffered an emotional rollercoaster of a ride but as the Queen of Comebacks, she would not allow her spirit to be broken.  A concert at Carnegie Hall in 1961 was an outstanding success due to her magnificent, magnetic performance - 'true, honest, real.' 
With smooth, sassy, live keyboard accompaniment by Germaine Gamiet, this imaginative musical drama flows along from jazzy songs, with a few neat dance steps, to romantic ballads such as The Man that Got Away and of course, Over the Rainbow.  
Kerry Hiles does not try to impersonate Garland in mode or manner, but presents her own cool, classy cabaret with pizzazz and passion, interweaving the songs, stories, humour and heartache of Judy's life on and off stage. Yes, this is Entertainment with a capital E.   
Showtimes: 
4 – 12 August, 2023 @12,05 
Ticket prices: £10 (£8/£5)
https://www.thespaceuk.com/shows/2023/a-star-is-born-the-rise-and-fall-of-judy-garland/