Image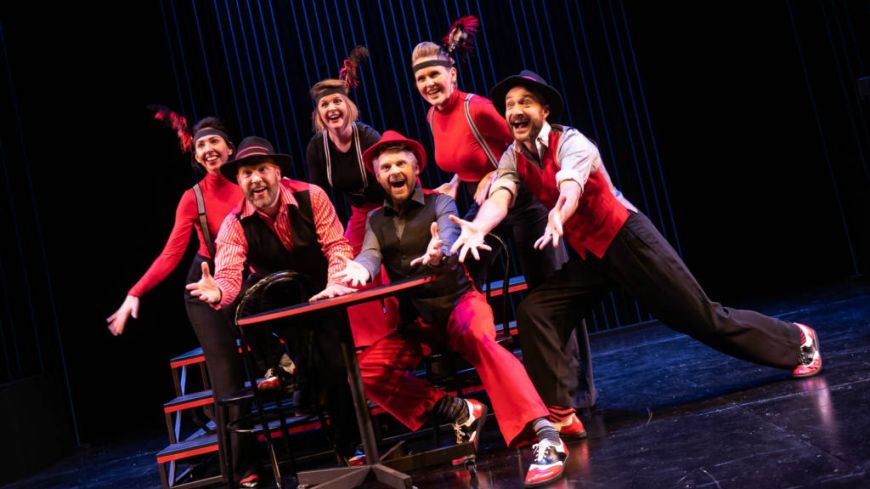 Company
The Showstoppers / Something for the Weekend
Production
Keith Strachan (producer), Adam Meggido (producer), Dylan Emery (producer), Adam Meggido (creator), Dylan Emery (creator), Andrew Pugsley (associate artistic director, photography, video production and graphic design), Duncan Walsh Atkins (musical supervisor), Chris Ash (assistant musical supervisor), Ali James (movement director), Simon Scullion (set designer), Gabriella Slade (costume and properties designer), Damian Robertson (lighting designer and lighting improviser), Tom Clutterbuck (lighting improviser), Karla Gowlett (photography), Alex Harvey-Brown (photography), Geraint Lewis (photography), Muse Communications (artwork concept design), Hugo Glendinning (photography), Impressive PR (press representation)
Performers
Jonathan Ainscough, Ruth Bratt, Justin Brett, Matt Cavendish, Dylan Emery, Pippa Evans, Susan Harrison, Joshua C. Jackson, Ali James, Adam Meggido, Sean McCann, Philip Pellew, Martha Pothen, Andrew Pugsley

The band:
Lauren Shearing, Joy Tan, Lucy Trodd, Heather Urquhart, Duncan Walsh Atkins, Chris Ash, Jordan Clark, Alex Atty, Craig Apps, Nathan Gregory, Calie Hough, Pete Furniss, Chloe Potter, Andre Woolf
Cameron Mackintosh is on the phone. He needs a new musical and we, the audience, are just the experts to give him one. With the amazing Fringe favourite Showstopper! The Improvised Musical, the audience design the show, calling out suggestions for the setting, influences and even the title.
Lights Out is tonight's freshly improvised smash-hit, set on a lighthouse in Ireland and to the musical influences of Stephen Sondheim, Hadestown, War of the Worlds and generic pop music. This troupe is consistently jaw-dropping, to the point where some people just cannot believe the entire piece is made up by the actors and band on stage, on the spot and in the moment. Ballads, sea shanties, comedy, intrigue, and rousing hits like "Oncoming Storm", "Live Laugh Love" and "A Million to One" leave the audience gobsmacked and cheering. 
The ability to create songs, harmonies and score on the spot is an unbelievable skill in and of itself, but, equally, this troupe awes by inventing a sound plot as they go. This story explored the lighthouse keeper's life, his partner Margie, brother Seamus, (talking) dog Jack, Margie's ma and a mysterious Airbnb guest with a hidden motive. A treacherous storm blew through the village on the night he met Margie, forsaking the light atop the tower in light of his first date with her. That neglect resulted in a shipwreck that took the lives of Raymond Briggs' family, and now he's rented the lighthouse suite and returned to take his revenge. There's been a darkness in the lighthouse keeper's heart ever since that fateful night, and has Margie turned away from him in his despair. Come hell or high water, the lighthouse keeper must now choose to save the relationship and embrace light in his own life, not just the light he vigilantly now watches for the seafarers looking for a beacon home. 
This is not a spoiler, of course, because there is a new show every night. Never disappointing, always exciting, this is a Fringe must.
Showstopper! The Improvised Musical tickets: here
Aug 14-15, 17-28
Suitability: 12+ (Guideline)